Breakfast Recipes
4-Step Fried Cheese Breakfast Taco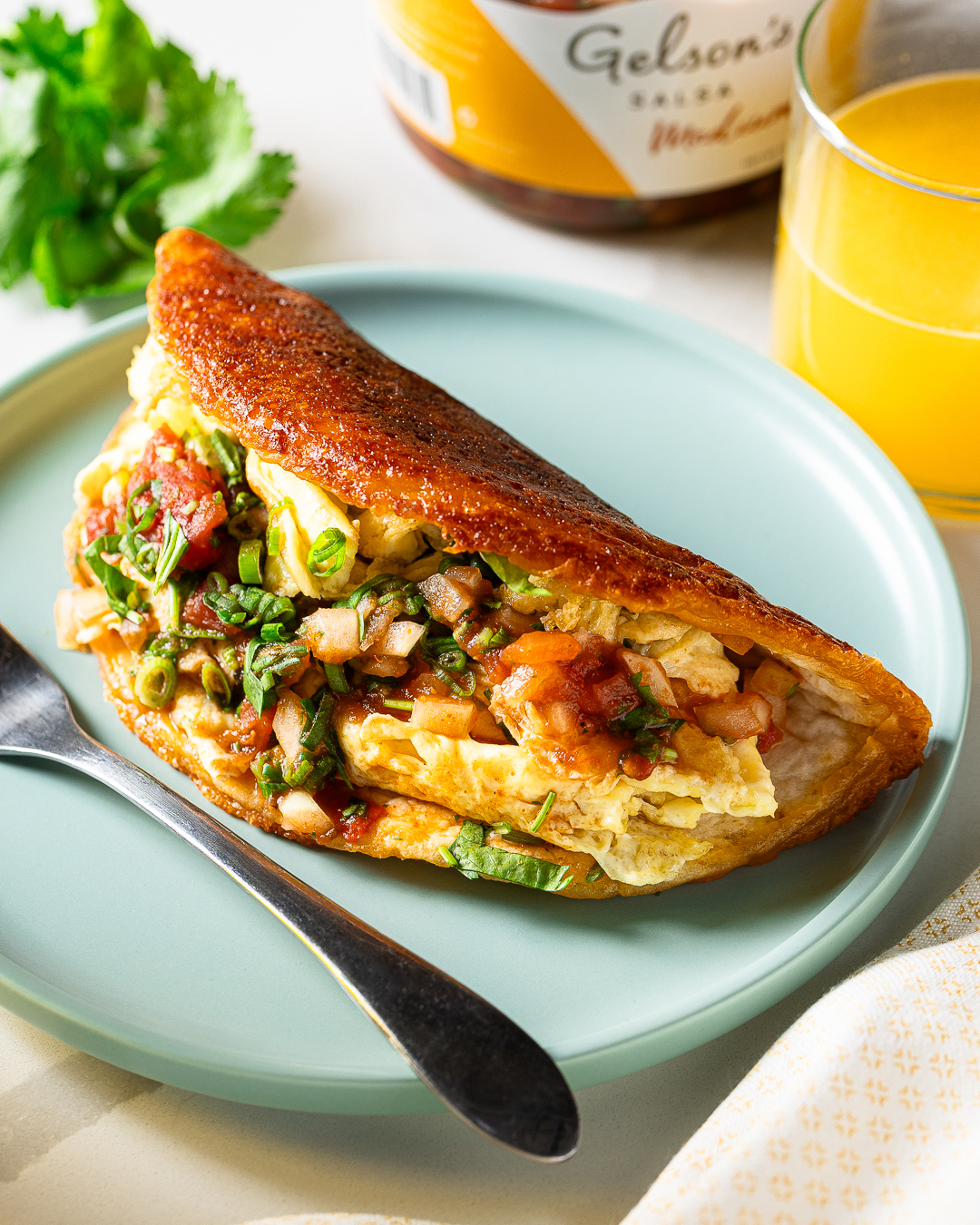 What are we looking at? It's a 4-Step Fried Cheese Breakfast Taco, and the recipe is a little bit of easy-breezy mind-expanding magic. Essentially, you're going to melt a bunch of cheese in a pan, then lay a flour tortilla on top of it — cooking until the cheese is browned and crispy, like a cheese-skirt taco shell. Then you'll fill it with fluffy scrambled eggs and your favorite toppings. We went simple with Gelson's fresh salsa and a handful of cilantro and green onions. It's crispy and crunchy and savory and so, so satisfying.
Would you eat this taco for breakfast or dinner? For us, it's kind of a breakfast-anytime taco.
Here's the recipe:
Heat an 8" non-stick skillet over medium heat. Evenly sprinkle 1 ½ cups shredded sharp cheddar cheese into the pan. When the cheese just starts to melt, place a 6" flour tortilla on top of the cheese. Continue to cook until the cheese is a deep golden brown and very crispy, about 6 minutes. Remove the cheesy tortilla from the pan and set it cheese-side down on a plate.

Immediately add 1 tsp of butter to the pan. Beat 2 large eggs and pour them on top of the butter. Season with 1 tsp kosher salt and scramble the eggs until just cooked through, about 3 minutes.

Transfer the scrambled eggs to the flour tortilla and top them with 3 Tbsp Gelson's fresh salsa, 1 Tbsp minced green onions, and 1 Tbsp chopped cilantro.

Fold the tortilla in half and enjoy immediately.