Appetizer Recipes
5-Step Grilled Corn Cowboy Caviar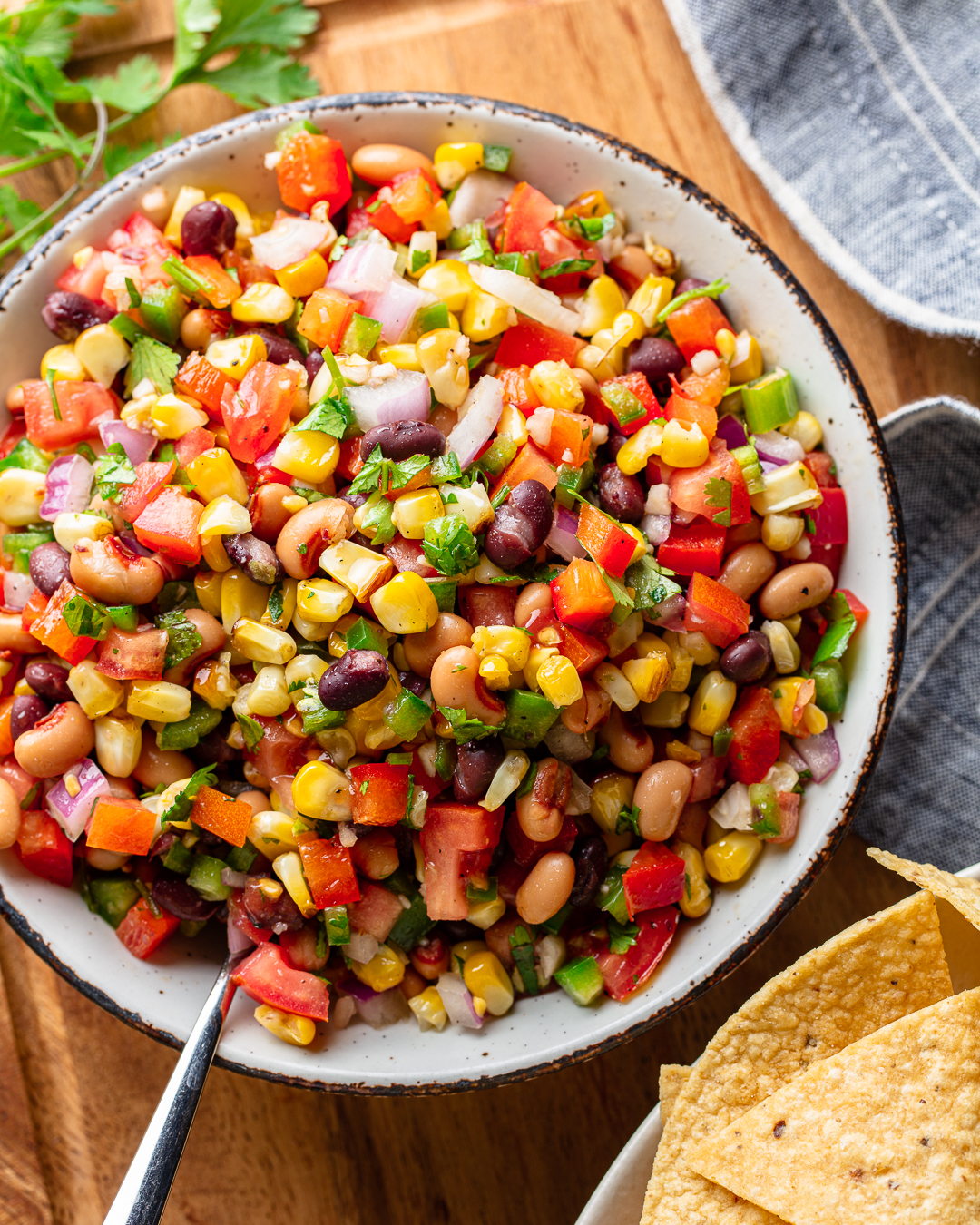 Move over, wimpy dips — this recipe for 5-Step Grilled Corn Cowboy Caviar is hearty and ready to party! This classic summer side is chock-full of sweet, smoky grilled corn, creamy beans, juicy tomatoes, and tangy onions. Every bite is a garden-fresh medley of flavors and textures.
Heads up: This recipe makes a ton, so you'll definitely want to share it with friends. Make a big batch and bring it to your in-laws' barbecue this weekend — or invite your pals over for a happy hour gabfest and keep the leftovers in your fridge for snacking.
Here's the recipe:
In a small bowl, combine ¼ cup extra virgin olive oil, ⅓ cup red wine vinegar, 3 minced garlic cloves, and 1 tsp granulated sugar. Whisk until emulsified and season with salt and black pepper.

Heat a grill to medium-high heat. Brush 4 ears of corn with 1 Tbsp of extra virgin olive oil each. Grill the corn, rotating frequently, for 10 minutes or until slightly charred all around. Let cool for 5 minutes.

On a large cutting board, remove the kernels from the cob by running a sharp knife down the side of the cob. Transfer the kernels to a large serving bowl.

Add 1 15-oz can rinsed black beans, 1 15-oz can rinsed black-eyed peas, 3 diced tomatoes, 1 diced red bell pepper, 1 diced jalapeño, ½ red onion, diced, ½ cup chopped cilantro leaves and tender stems, and 1 thinly sliced green onion.

Pour the dressing over the salad and stir with a rubber spatula until fully combined. Serve with your favorite tortilla chips! Leftovers can be stored in an airtight container for up to 3 days.