Dinner Recipes
5-step Muffuletta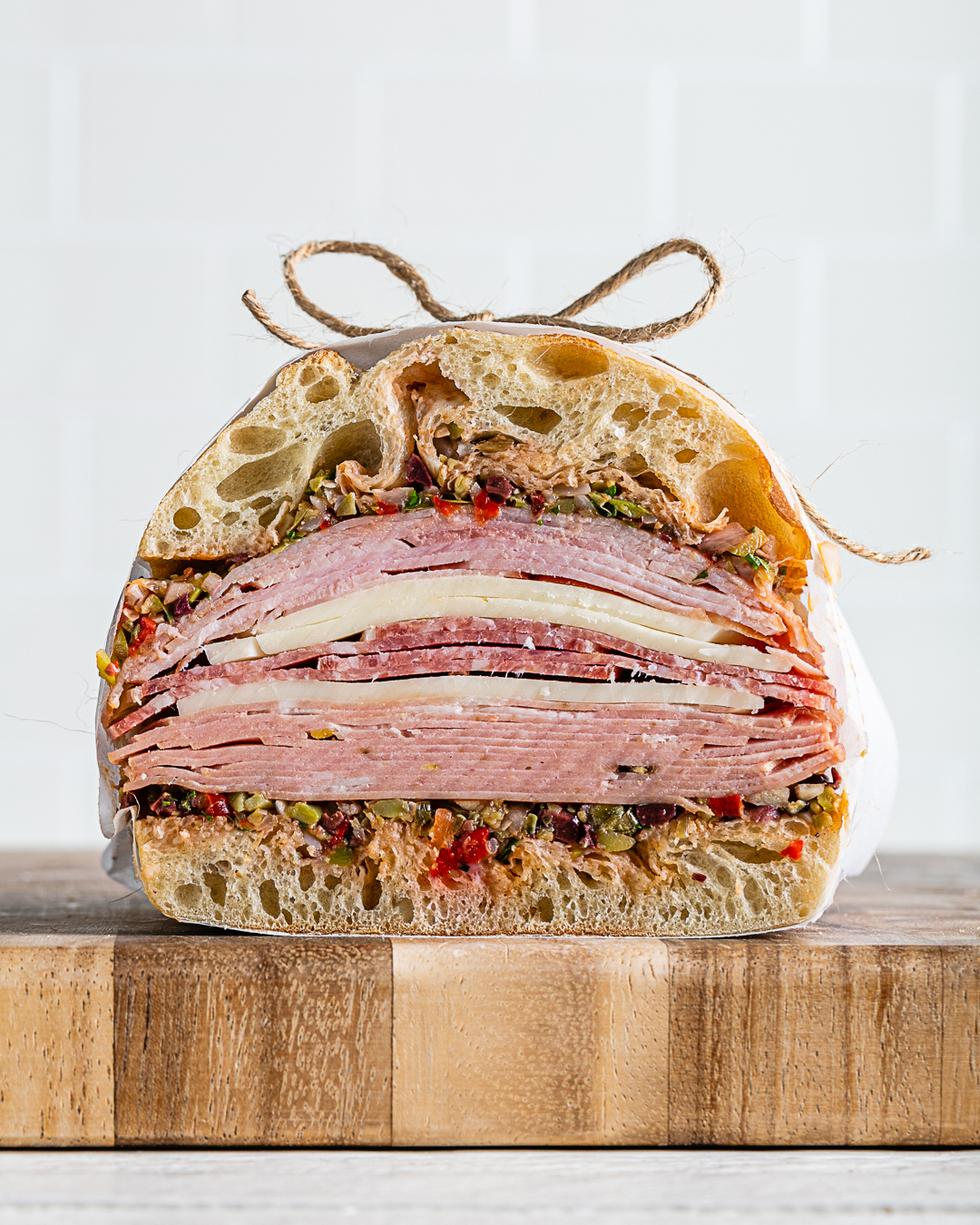 What's with all the green stuff in this sandwich? It's an olive salad, the heart of any muffuletta. We make it with olives, giardiniera, peppers, capers, garlic, herbs, and a zippy vinaigrette. We love how the vinaigrette soaks into the crusty ciabatta. And all that briny heat and mild sweetness is the perfect foil for the profuse layers of meat and cheese in this sandwich. It's like eating a whole charcuterie board in one bite! The best part: muffuletta is a loaf sandwich, so it'll feed the whole team on game day — and keep them happy 'til the next meal rolls around.
Here's the recipe:
In a food processor, combine 1 cup pitted Castelvetrano olives, ½ cup pitted Kalamata olives, ½ cup giardiniera, ⅓ cup roasted red peppers, 2 Tbsp capers, 3 Tbsp chopped shallots, 4 stemmed pepperoncinis, 4 chopped garlic cloves, 1 Tbsp chopped fresh parsley leaves, and 1 tsp chopped organic fresh oregano leaves. Pulse until the mixture resembles pea-size pieces.

Transfer the olive salad to a bowl and stir in 2 Tbsp red wine vinegar and 3 Tbsp extra virgin olive oil. Season with salt and pepper, to taste. Cover and chill for 1 hour to allow the flavors to meld.

Slice 1 large ciabatta loaf in half lengthwise and toast it in a 350° oven for 5 minutes. Spread the olive salad evenly on the insides of both slices.

On top of the olive salad, layer the bottom half of the loaf with 8 oz mortadella, 6 slices mozzarella cheese, 8 oz Genoa salami, 6 slices provolone cheese, and 8 oz thinly sliced ham. Then top with the remaining half of the loaf.

Slice into 6 to 8 servings and enjoy!