Beverage Recipes
5-Step Orange & Peach Sangria Mocktail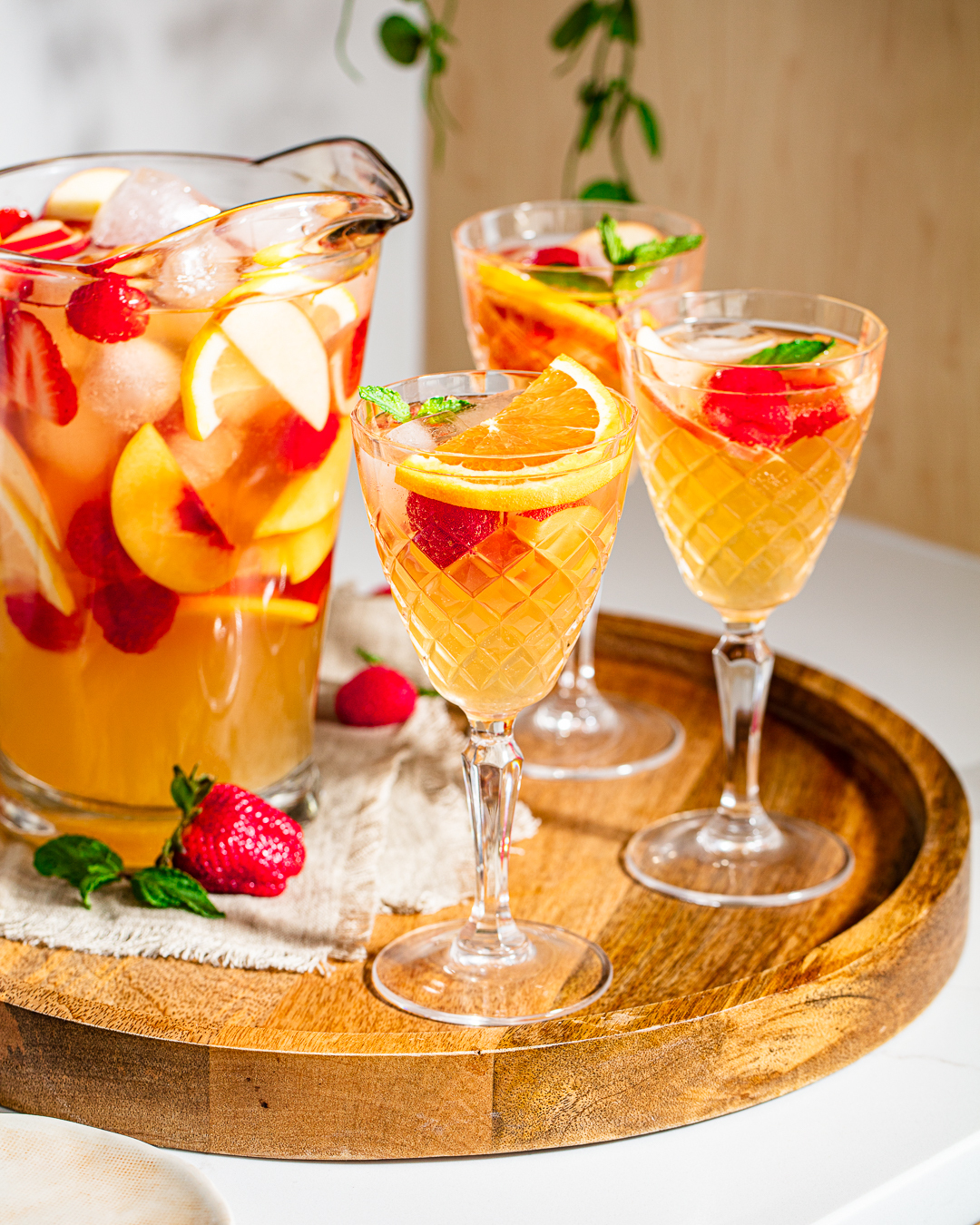 We created this 5-step recipe for Orange and Peach Sangria Mocktail with casual gatherings in mind. A pitcher cocktail takes all the pressure off the host — and this golden sangria is super pretty and deeply refreshing.

Wine is the heart of any sangria, and here we use Giesen Wines 0% New Zealand sauv blanc, which we love for its dry citrus. Then we layer in a simple syrup made with Tazo Wild Orange Tea and honey — an earthy concoction that adds some sweet bottom notes to the drink.

Topped with a peachy sparkling water and bobbing with slices of peach, red berries, and apples, this one is a layered and thirst-quenching sip of summer.

Here's the recipe:

1. Bring ½ cup water to a simmer over medium-high heat. Remove the pot from the heat, add 1 bag Tazo Wild Sweet Orange Tea, and steep for 7 minutes. Discard the tea bag and stir in 2 Tbsp honey until dissolved. Let cool, about 30 minutes.

2. Rinse and thinly slice ½ lemon, ½ peach, ½ cara cara orange, ½ Honeycrisp apple, and 1 cup of strawberries. Rinse 1 cup of raspberries and leave whole.

3. In a large pitcher, combine 1 bottle Giesen 0% alcohol Sauvignon Blanc wine, the honey tea syrup, 1 Tbsp freshly squeezed lemon juice, and the prepared fruit.

4. Chill the sangria in the refrigerator for 1 hour and up to 4 hours to let the flavors meld.

5. When ready to serve, add 8 cups of ice and 2 cans of chilled San Pellegrino Momenti Clementine & Peach, and stir to combine. Serve the sangria in wine glasses and garnish with more sliced fruit and mint sprigs.