Dessert Recipes
Air Fryer Donuts
Donuts, donuts, donuts. Their power over us is positively occult. We buy a baker's dozen because bringing our coworkers or sweetheart or whoever is around a donut seems like a fun thing to do. We buy a baker's dozen because bringing our kids or sweetheart or whoever is around a donut seems like a fun thing to do. They go down so easily … was it 3 or 5?
We've been hoping the world would solve this conundrum for us by inventing a more healthy donut. And now it has, with the air fryer. Donuts minus the frying oil equals go ahead, eat more donuts! Most importantly, it also equals great donuts.
Here we've used a yeasted dough for donuts that are mildly sweet and buttery with a light, cakey texture. Variety being the spice of life, we made them with two toppings. The cinnamon sugar is a warm and cozy classic. The milk glaze is very thin and crispy, and we love the way it melts in your mouth when you bite into the donut, so indulgently sweet.
They're healthier, yes, and really easy to make. The dough comes together with very little labor, like a quick bread. And bonus: there's no frying oil to dispose of and no oil spatter to clean up. They're a fantastic treat for a weekend brunch, when you've got time to let the dough rise, and family to help you eat them — but be careful, just like traditional donuts, they'll be gone in seconds.
Our tip: When we don't have time to make dough, our favorite hack is a can of Pillsbury Grands! Original Flaky Layer Biscuits. Basically, you'll separate the biscuits on a baking sheet and cut the center with 1-inch biscuit cutter or a shot glass. From there, follow recipe directions 1 and 10 to 14. It's dangerously easy!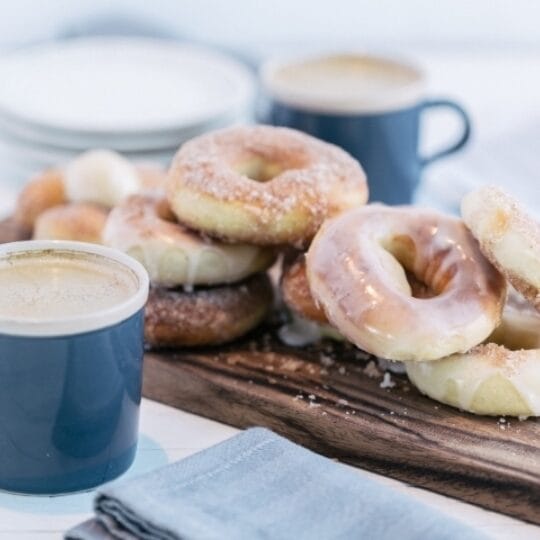 Dessert
Air Fryer Donuts
Serves: 8
Ingredients
¼ cup warm water (100º to 110º)
¼ cup whole milk, plus 2 Tbsp for the glaze, at room temperature
3 Tbsp unsalted butter melted, plus 2 Tbsp for brushing, divided
1 cup powdered sugar (sifted)
Directions
Line a baking sheet with parchment paper. Combine ⅓ cup of the sugar and the cinnamon in a shallow bowl; set aside.
Stir together the water and yeast in a small bowl. Let the mixture stand until it's foamy, about 5 minutes.
Combine the flour and salt, and remaining ⅓ cup sugar in a medium bowl.
Add yeast mixture, ¼ cup milk, egg, and butter. Stir with a wooden spoon until a soft dough forms.
Knead the dough on a lightly floured surface for 1 to 2 minutes.
Transfer the dough to a lightly greased bowl, cover, and let it rise in a warm place until it has doubled in size, about one hour.
Transfer the dough to a lightly floured surface, and roll out the dough to ¼ inch thickness.
Cut out 8 donuts using a 3-inch biscuit cutter. Use a 1-inch cutter for the holes, which you'll also be frying.
Place donuts and holes on a lightly greased baking sheet, cover, and let rise in a warm place for 30 minutes.
Spray the donuts and donut holes with canola oil, giving them a light coating.
Place 4 donuts in the air fryer basket in a single layer (they should not be touching). Close the air fryer and set it to 350°. Cook until the donuts are golden brown, 3 to 5 minutes total.
Remove the donuts from the basket and allow them to cool on the baking sheet. Repeat until all of your donuts and donut holes are fried. The holes will also take 3 to 5 minutes total.
To make the glaze: In a medium bowl, combine the 2 tablespoons milk and vanilla, and sift the powdered sugar over the mixture, stirring occasionally to get a smooth consistency.
To finish the donuts: Brush half your donuts and holes with melted butter and dredge them through the cinnamon sugar mixture. Spoon the glaze over the remaining donuts and holes. Eat immediately.