Snacks Recipes
Air Fryer Elote
If roasting corn in an air fryer sounds like an unlikely proposition, prepare to have your mind blown. After just 15 minutes in the air fryer, our corn emerged tender and charred to smoky perfection. We slathered the cobs in Tajín spices, mayo, crema, cilantro, lime and salty Cotija cheese, and they tasted phenomenal — plump, juicy, creamy, spicy, and for all the world as if they'd been roasted on an open grill.
Elote is Mexican street food, meant to be inhaled curbside while it's still piping hot. Air fryer elote should be similarly consumed — make it for a pop-up happy hour with the S.O. at your kitchen counter. It'll pair beautifully with a Dos Equis Lager. The light floral hops and honeyed finish will be just the thing with the spicy corn.
P.S. Consensus in the test kitchen is that it's worth buying an air fryer just to roast corn. (Although, we felt pretty enthusiastic about air fryer fish tacos, too. And oh my goodness, the donuts.)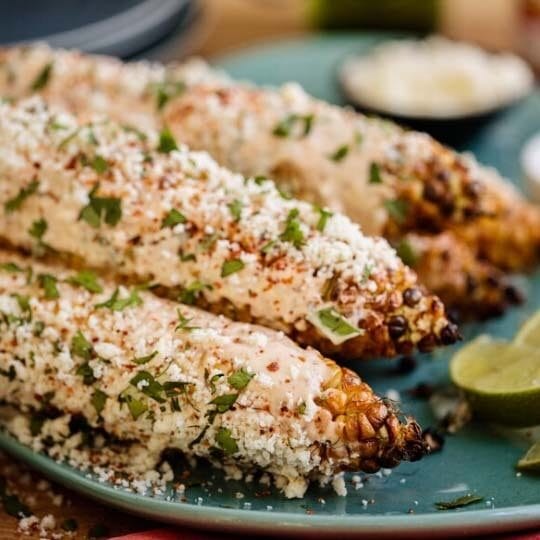 Snacks
Air Fryer Elote
Directions
Shuck the corn, spray or brush it with olive oil, and set it on the air fryer rack.
Set the air fryer to 400º and cook for 14 to 16 minutes, turning halfway through the cooking process, as the top kernels start to brown.
In the meantime, mix together the mayonnaise, crema, Tajín seasoning, lime juice, and salt in a small bowl, and set the mixture aside.
When the corn is done, transfer it to a cutting board or sheet pan and brush on the mayonnaise mixture.
Sprinkle the corn with the Cotija cheese, cilantro, and hot sauce. Serve hot.