Dinner Recipes
Air Fryer Mini Tacos Dorados With Potatoes & Chorizo
Everybody in the test kitchen loves tacos, so when a fresh batch of mini tacos dorados rolled out of the air fryer, we weren't surprised to see ALL THE PEOPLE arrive from nowhere, pack around the prep table, and silently tuck away every last taco. Crunch, crunch, crunch.
What, after all, is not to love about mashed potatoes, Gelson's pork chorizo, Oaxaca cheese, and a metric ton of garlic folded into a mini corn tortilla and fried to perfection? Absolutely nothing. The flavor is pure comfort, the texture is pure magic — meaty chorizo and creamy potatoes in a super crunchy tortilla.
We served our tacos dorados with a bunch of fun garnishes, like shredded lettuce, white onions, spicy radishes, avocado, and Cotija. Oh yes, and a bottle of hot sauce. (Super important!) The whole thing had a kind of constructed nachos vibe that would be perfect at a happy hour or, if your kids dig the heat, Taco Tuesday with the fam.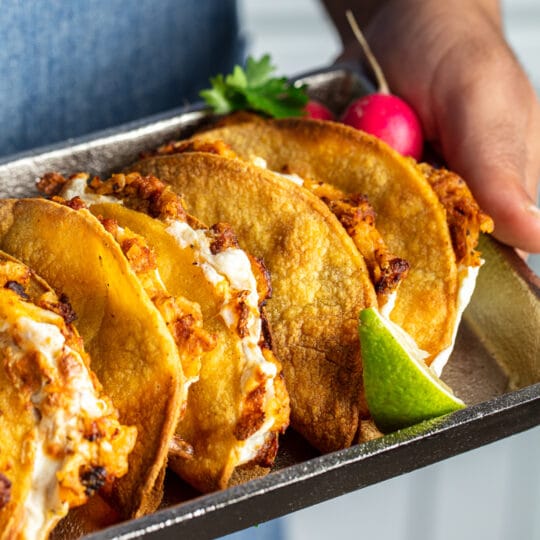 Dinner
Air Fryer Mini Tacos Dorados With Potatoes & Chorizo
Serves: 6
Ingredients
1 ½ lbs Yukon Gold potatoes, peeled and roughly chopped
3 Gelson's authentic-style pork chorizo sausages, casing removed
1 tsp kosher salt, plus more to taste
½ tsp freshly ground Gelson's black pepper
24 "street taco" mini corn tortillas
Vegetable oil, for brushing
½ cup Oaxaca cheese, sliced into 2"-long pieces
Shredded romaine lettuce, for garnish
Diced avocado, for garnish
Diced white onion, for garnish
Thinly sliced radishes, for garnish
Crumbled Cotija cheese, for garnish
Roughly chopped Gelson's organic cilantro leaves, for garnish
Directions
To make the filling: In a large pot, combine the potatoes and garlic. Cover with water by about 1". Bring to a boil over high heat, reduce to a simmer, and cook until fork-tender, about 15 to 18 minutes.

While the potatoes cook, place the chorizo in a medium skillet. Cook over medium heat for 10 to 12 minutes, until the fat has rendered and the sausage is crispy. Use a slotted spoon to transfer the sausage to a plate lined with paper towels to drain.

Once the potatoes are tender, transfer them and the garlic to a bowl, add the salt and black pepper, and mash. Fold in the chorizo and season with salt.

To assemble the tacos: Preheat an air fryer to 400º.

In a large skillet over medium heat, warm 5 to 6 of the tortillas for about 1 minute on each side. Note: cold tortillas will rip when folded.

Generously brush both sides of the tortillas with vegetable oil. Add 2 to 3 tablespoons of the chorizo mashed potatoes to each tortilla, place a few pieces of cheese on top, and fold the tortilla in half. Place the tacos in the air fryer basket, leaving 1" of space between them.

Air fry until crispy and golden brown, flipping halfway through, 6 to 8 minutes.

Repeat steps 5 through 7 with the remaining tortillas and potato-chorizo filling.

To serve, place the tacos on a plate and then top with the salsa verde, shredded lettuce, avocado, onion, radishes, Cotija, and cilantro. Serve with lime wedges.

Recipe source: Chicano Eats