Lunch Recipes
Air Fryer Roasted Tomatoes
This time of year, when juicy, ripe-red tomatoes are fresh off the vine — and it'd be a crime to let any go to waste — we love popping a whole bunch of them in the oven to roast and caramelize. The process can take a few hours, however, which is not the most helpful if you're anything like us and don't always plan your meals accordingly. Luckily, you can speed up the process quite a bit with an air fryer.
The prep for these puppies is simple: we squeeze out all the seeds and juice, slice them into little wedges, and toss them in olive oil with a little salt and pepper, and fresh oregano, rosemary, and thyme. Then they hit the air fryer, where they shrivel and shrink until they develop a deep, smoky, herby sweetness and lightly charred edges. Because of the fryer, these tomatoes turn out much less oily than traditional roasted tomatoes — they're a tad reminiscent of sun-dried tomatoes, but softer and fresher.
With all those toasty herbs and that smoky caramelization, these tomatoes enhance the flavor of any number of dishes. We love tossing them in pastas and salads or scattering them atop homemade pizza for a punchy finish. When we're making sauces, soups, or chilis, we'll throw some in to add roasty depth. But perhaps our favorite way to eat them is on crostini with a drizzle of olive oil, a sprinkling of flake salt, and a side of Chianti — preferably on a sunny patio with the S.O.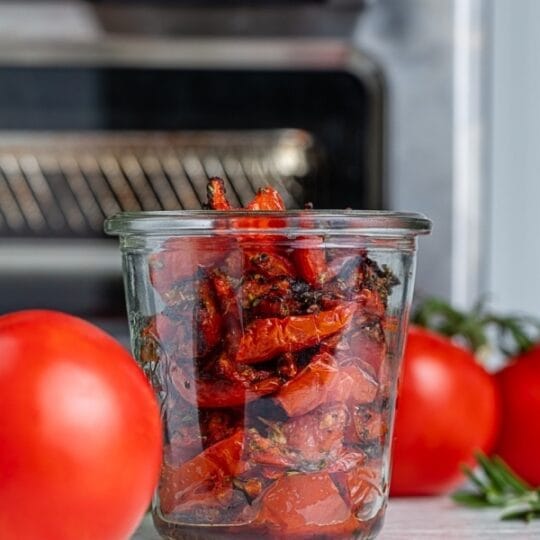 Lunch
Air Fryer Roasted Tomatoes
Serves: 1
Ingredients
1 Tbsp minced fresh oregano
1 Tbsp minced fresh thyme
1 Tbsp minced fresh rosemary
Directions
Using a paring knife, remove the stems and hulls of the tomatoes.
Slice the tomatoes in half on the equator and squeeze out any seeds and juices with your hands.
Cut each tomato half into four wedges and place them in a medium bowl. Add the oregano, thyme, rosemary, salt, pepper, and olive oil, and toss to coat.
Place the tomato pieces on the tray of an air fryer about ¼" apart on all sides. Depending on the size of your air fryer, this may have to be done in multiple batches.
Air fry the tomatoes for 10 to 12 minutes at 375°, or until they have reduced in size by half and the edges are roasted.
Cool and store in an airtight container in the refrigerator for up to 5 days.