Dinner Recipes
Air Fryer Shrimp Po'Boy
When is a sandwich so much more than just a couple slabs of bread and a protein? When it's a po'boy, of course. After a century-long domination of the sandwich scene in New Orleans, this traditionally Southern sandwich has become popular all over the country, with endless regional variations.
We like this recipe because it's basically true to the fried seafood origins of the original, with one top-notch difference. Cooks in the Big Easy may heat up huge pots of oil to make this sandwich, but we used an air fryer — and we're here to say, you won't miss the oil, the effort, or the clean-up. We coat our super fresh Gelson's jumbo shrimp in panko and herbes de Provence, and we love how the air fryer gives them a light, crispy, golden brown crust and a slightly sweet, very tender center.
When a po'boy is referred to as "dressed," that means it has a topping of lettuce, tomatoes, pickles, and mayonnaise. Here, we accessorize with homemade remoulade and fresh veggies. The remoulade is similar to tartar sauce with a bit of spicy New Orleans flair, thanks to some cayenne pepper — add even more cayenne to give it extra zip.
It's true that we can't travel to Mardi Gras this year, but eating this sandwich, we had the feeling of a lazy afternoon in New Orleans, each bite taking us a little closer to Jackson Square and Café du Monde.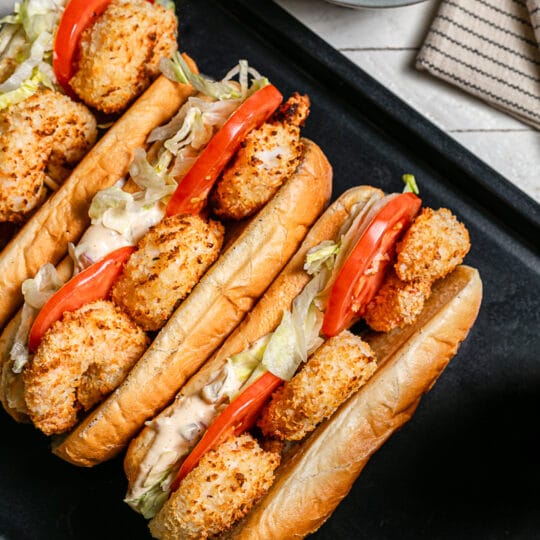 Dinner
Air Fryer Shrimp Po'Boy
Serves: 4
Ingredients
1 Tbsp chopped dill pickles
½ tsp freshly ground black pepper
1 tsp Louisiana-style hot sauce
1 lb Gelson's jumbo shrimp, peeled and deveined
4 hoagie buns, split and toasted
2 cups shredded iceberg lettuce
1 medium tomato, thinly sliced
Directions
To make the remoulade: In a small bowl, combine all of the ingredients until incorporated. Cover and store in the refrigerator until ready to use.

To make the shrimp: Preheat the air fryer to 375°.

In a shallow bowl, mix the flour, herbes de Provence, sea salt, garlic powder, black pepper, and cayenne.

In a second shallow bowl, whisk together the egg, milk, and hot sauce.

Place the panko in a third shallow bowl.

Coat each shrimp completely in the flour mixture, shaking off any excess. Dip the shrimp into the egg mixture, and then the panko, making sure each shrimp is well covered.

Working in batches, arrange the shrimp in a single layer on the air fryer tray and spray the shrimp with cooking spray. Cook for 5 minutes, or until golden brown, then flip the shrimp, spray again with cooking spray, and cook for 5 minutes more.

Spread the cut and toasted sides of the buns with the remoulade, top with the shrimp, lettuce, and tomato. Serve hot.
Recipe adapted from: Taste of Home