Breakfast Recipes
Apple Cinnamon Streusel Muffins
If fall had a signature muffin, it would surely be this one. The crumb is warm and cinnamon spiced, with chunks of tender, juicy apple throughout. And on top? A sweet, crumbly, cinnamon streusel. "This tastes like apple crisp in muffin form," said one of our tasters upon first bite. Others thought, "Apple fritter meets coffee cake." The general consensus: positively scrumptious!
The muffins bake up super moist thanks to a half cup of sour cream in the batter — which, in tandem with all that warm cinnamon, makes them taste even more like coffee cake. We also use both white and brown sugars in the batter to give the muffins a caramelly note, a lovely complement to the apple bits.
And speaking of the apples, we like to use one tart variety, like Granny Smith, and one sweet-tart, like Honeycrisp, to get a puckery complement to the sweet crumb. But feel free to use whatever you have on hand, or better yet, play around with different varieties! It's a fun way to celebrate fall's favorite fruit — and taste how their subtle flavor nuances bake up in the muffins. Whichever apples you use, be sure to cut them into little half-inch cubes so they stay evenly dispersed throughout the muffins. A tip from the test kitchen: if you toss and coat the diced apples in 1½ teaspoons of flour, they won't sink to the bottom.
The streusel is a simple combination of white and brown sugars, cinnamon, butter, and flour. It's so nice and crunchy — the perfect contrast to the wonderfully squishy muffins. (Should streusel be on all muffins? We think yes.) The streusel holds its own, but if you want an extra flourish of sweetness on your muffins, you can drizzle them with a creamy vanilla glaze, as we've done here.
These muffins are perfect for cozy fall brunches with friends or on-the-go breakfasts for those mornings when you hit snooze one too many times — they taste fantastic with a hot, foamy latte, whether homemade or from the drive-thru. We also love them for afternoon pick-me-ups (must get through that 4 o'clock Zoom meeting!) and secret midnight snacks. Shhh!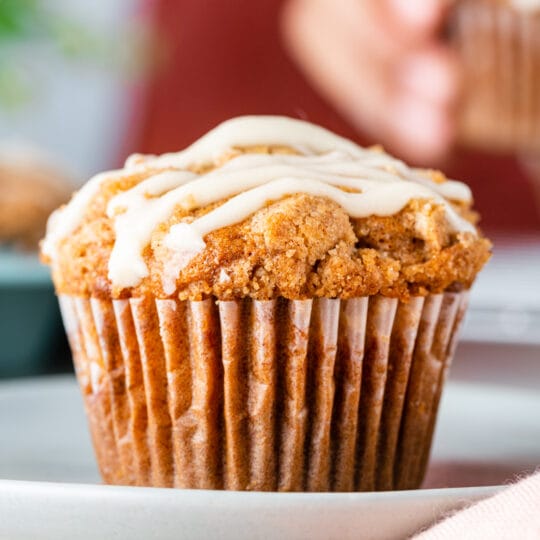 Breakfast
Apple Cinnamon Streusel Muffins
Serves: 15
Ingredients
For the streusel topping:
1 tsp Gelson's ground cinnamon
¼ cup unsalted butter, melted
1 ¾ cups all-purpose flour
1 tsp Gelson's ground cinnamon
½ cup unsalted butter, room temperature
2 Gelson's large eggs, room temperature
½ cup sour cream, room temperature
2 tsp pure vanilla extract
¼ cup milk, room temperature
2 medium apples, peeled and chopped into ½" chunks (about 1 ½ cups)
1 cup confectioners' sugar
½ tsp pure vanilla extract
Special tools: 15 cupcake liners
Directions
Preheat the oven to 425°. Line 2 muffin pans with cupcake liners. Set aside.

To make the streusel topping: In a medium bowl, combine the brown sugar, granulated sugar, and cinnamon. Stir in the melted unsalted butter, and then gently mix in the all-purpose flour. Do not overmix — you want the mixture to have large crumbles. Set the topping aside.

To make the apple muffins: In another medium bowl, whisk together the all-purpose flour, baking soda, baking powder, cinnamon, and kosher salt. Set aside.

Using a handheld or stand mixer fitted with the paddle attachment, beat the unsalted butter, brown sugar, and granulated sugar on high until fluffy and creamy, about 2 minutes. Scrape down the sides and bottom of the bowl as needed.

Add the eggs, sour cream, and pure vanilla extract. Beat on medium speed for 1 minute, then turn up to high speed until the mixture is combined. (It's okay if it appears somewhat curdled.)

Decrease the speed to low and, while the mixer is running, add the dry ingredients and milk into the wet ingredients. Beat until no flour pockets remain, about 1 minute.

Gently fold in the apple chunks.

Scoop the batter evenly into the cupcake liners, filling to just below the top to leave room for the streusel. Crumble the streusel topping over each muffin, and gently press it down so it sticks.

Bake for 5 minutes at 425°, then reduce the oven temperature to 350°. Bake for 15 to 18 minutes more, or until a toothpick inserted in the center comes out clean.

Meanwhile, to make the vanilla glaze: in a small bowl, whisk the confectioners' sugar, heavy cream, and pure vanilla extract until smooth.

Cool the muffins for 5 minutes in the pan, and then drizzle the glaze over the muffins while they are still warm.

Transfer the glazed muffins to a wire rack until completely cooled. Enjoy immediately, or store in an airtight container for up to 7 days in the refrigerator.
Recipe source: Sally's Baking Addiction
Calculate nutrition information for this recipe.