Breakfast Recipes
Asparagus Tomato Matzo Brei
We are always happy to see a box of Manischewitz matzo because it means there will be matzo brei, which is a simple yet much beloved scramble of eggs and cracker. We love it for all the same reasons we are drawn to dishes like chilaquiles or bread pudding — the cracker sops up the eggs unevenly, so that you get crisp bits and soft, almost custardy bits.
In this recipe, we've topped the matzo brei with very crisp and tender sautéed asparagus, juicy tomatoes, and creamy goat cheese. They add even more lush texture to the dish, and they make it more hearty and healthful. Topped with the dill, it's such a fresh, satisfying matzo brei, you could serve it for brunch — or treat your family to a lovely (and deeply comforting) breakfast for dinner!
Our tip: This recipe is meant for two people, but you can scale it up by simply doubling everything.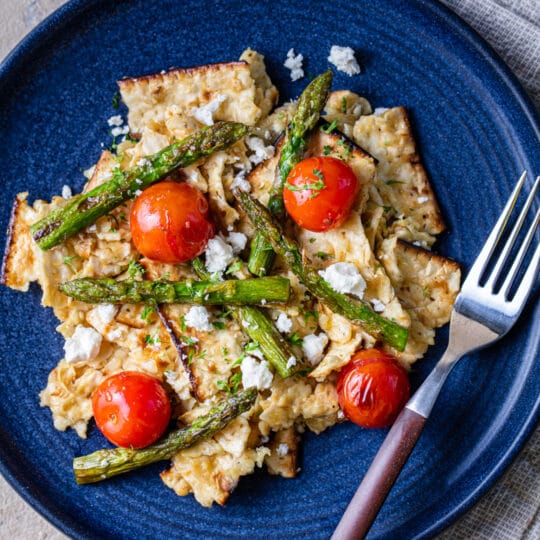 Breakfast
Asparagus Tomato Matzo Brei
Serves: 2
Ingredients
2 Tbsp extra virgin olive oil or butter, divided
½ cup asparagus, cut into 1-inch pieces
½ tsp kosher salt, divided
2 pieces Manischewitz matzos, broken into 1-2 inch pieces
2 Tbsp goat cheese, crumbled
Directions
Heat a medium nonstick pan over medium heat and add 1 tablespoon of butter or oil. Add the asparagus and sauté for 2 to 3 more minutes.

Add tomatoes and a ¼ teaspoon of salt and sauté until the tomatoes are browned and starting to burst and the asparagus is bright green and tender, about 5 more minutes. Set aside.

In a medium bowl, whisk the eggs together with ¼ teaspoon salt and ¼ teaspoon black pepper.

Soak matzo pieces in a small bowl of warm water or in a mesh colander under warm water for 10 seconds to soften slightly.

Drain matzo and add to egg mixture and combine.

Wipe off the nonstick pan and heat over medium heat and add the remaining tablespoon of butter or oil. Add the egg mixture and sauté over medium heat while stirring until eggs are set, about 3 minutes.

Divide matzo brei evenly across two plates. Top with tomato and asparagus mixture, goat cheese, and dill. Serve immediately.

Recipe source: Manischewitz