Lunch Recipes
Avocado Egg Salad & Everything Bagels
We made this very green egg salad with perfectly ripe avocados, chopped dill and parsley, and loads of lemon juice — it's super creamy and fresh. We love having the herbs in the mix. They give the salad some nice flavor and spring flair without squashing its essential egginess. Even without all the mayo, this tastes like the egg salad we all know and love.
The beauty of avocado egg salad, of course, is that it's easy to make — we like to let the kiddos do the mashing. And then it's just a matter of piling it on a toasty everything bagel. Yes, it will taste great on any sort of bagel, but the combo of creamy, herby, crunchy, oniony, seedy, and garlicky is pretty much magical.
Bagel sandwiches are a no-brainer for a fancy midweek lunch or weekend brunch. Fancy? Yes! Bagels are always delicious, and people are generally surprised and delighted to see egg salad — it's one of those classics that most of us forget to make at home.
Our tip: No dill or parsley? No problem! You can use chives, tarragon, or cilantro instead. And if you need some help getting those eggs just right, check out our Home Cook's Guide to Boiled Eggs.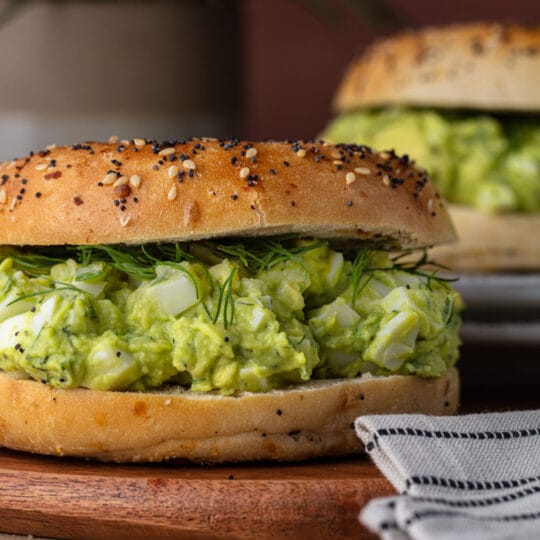 Lunch
Avocado Egg Salad & Everything Bagels
Serves: 6
Ingredients
2 avocados, seeded and peeled
8 hard-boiled eggs, peeled and medium diced
3 Tbsp chopped Gelson's organic fresh dill, plus more for garnish
3 Tbsp chopped Gelson's organic fresh parsley
2 Tbsp freshly squeezed lemon juice
2 tsp extra virgin olive oil
Freshly ground Gelson's black pepper, to taste
6 everything bagels, halved and toasted
Directions
In a large bowl, mash the avocados with the back of a wooden spoon until mostly smooth.

Mix in the eggs, dill, parsley, lemon juice, and olive oil until incorporated.

Season with kosher salt and black pepper.

Divide the avocado egg salad between the toasted bagels and sprinkle some chopped dill on top for garnish. Serve at room temperature.

Store leftover salad in an airtight container in the refrigerator for up to 2 days.
Recipe adapted from: Pinch of Yum