Recipes
Avocado Toast Recipe for Mother's Day Brunch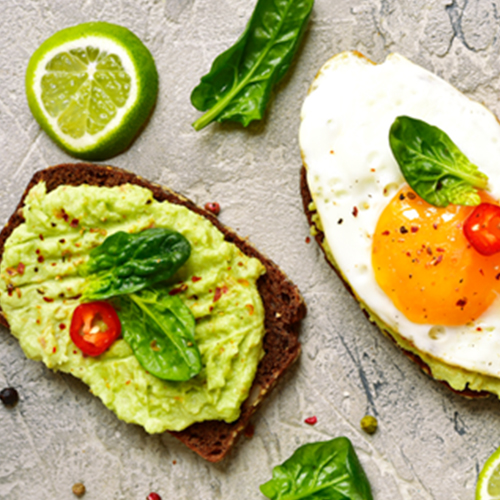 Let Mom linger over this dish from Gelson's Registered Dietitian Jessica Siegel. It's made with California Avocados – revered for their smooth, creamy texture and sublime taste.
The key to this recipe is using excellent quality ingredients, especially ripe avocados and heirloom tomatoes.
Ingredients:
1 teaspoon Napa Valley organic olive oil
2 Gelson's Finest organic omega 3 eggs
pinch Le Saunier de Camargue fleur de sel sea salt
pinch garlic powder
1 slice Food for Life Ezekiel 4:9 bread (orange bag)
1/4 large ripe but firm avocado
1/4 teaspoon fresh lemon juice
pinch black pepper
pinch red pepper flakes
1 leaf butter lettuce, large part of rib removed, leaf torn in half
2 thin slices ripe heirloom tomato
Preparation:
Heat oil in your smallest skillet over medium-low heat.
Crack in both eggs so that their yolks are close together (you will put both eggs on one slice of toast).
Sprinkle with a pinch each salt and garlic powder.
While eggs are cooking to desired doneness, toast the bread.
Coarsely mash the avocado with lemon juice and spread on top of the toast.
Season with a pinch each black pepper and red pepper flakes.
Top with lettuce and tomato slices.
When eggs are cooked, place them on top of the tomato slices.
Enjoy immediately with a knife and fork.
One avocado toast recipe contains:
Calories 320
Fat 19g
Saturated Fat 4g
Trans Fat 0g
Cholesterol 430mg
Sodium 300mg
Total Carbohydrate 19g
Dietary Fiber 6g
Sugars 1g
Protein 17g
Vitamin A 23% DV
Vitamin C 13% DV
Calcium 5% DV
Iron 15% DV