Recipes
Baked Apple French Toast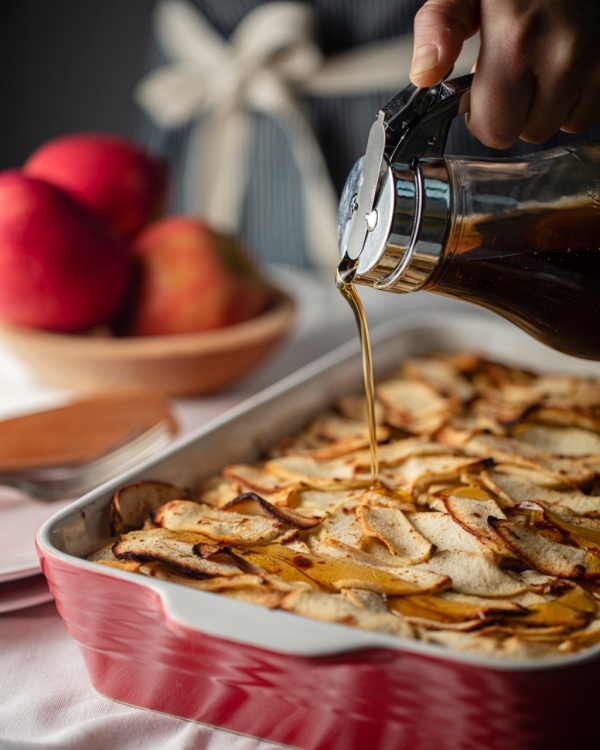 Imagine a breakfast joint where you could order just the soft, eggy center of the French toast — it would be heaven, right? Well, that's pretty much what you get with this recipe. With 8 eggs, 3 cups of milk, and a night in the fridge, even the crustiest baguette doesn't stand a chance, and this French toast is as plush and custardy as they come. It tastes absolutely marvelous topped with a pile of spiced, sweet-tart apples and a generous drizzle of maple syrup.
Baked apple French toast is a gloriously over-the-top breakfast, but it doesn't have to be a big project: You can make it up to 48 hours ahead, so all you have to do in the morning is pop it in the oven. It does take nearly an hour to bake, but that's time well spent frying up breakfast sausages or thick slabs of smoky bacon. And making coffee, lots and lots of coffee.

Our tip: We've deliberately avoided naming a specific apple for the recipe. Any will do and our produce section is full of them — go with your favorite!

Servings: 8 to 12
Ingredients
1 18-inch baguette
8 large eggs
3 cups milk
⅓ cup granulated sugar
1 Tbsp vanilla extract
¼ tsp ground nutmeg
¼ tsp kosher salt, plus more to taste
5 to 6 apples, peeled and thinly sliced
1 Tbsp lemon juice
¼ cup granulated sugar
1 tsp ground cinnamon
2 Tbsp maple syrup
2 Tbsp melted butter
Directions
Lightly butter a baking pan or casserole dish measuring 9 x 13 inches. Cut the baguette into 1-inch slices, and lay them in the pan; you'll need 21 to 24 slices to fill the pan, making a single layer.

In a medium-sized bowl, beat the eggs, then whisk in the milk, sugar, vanilla extract, nutmeg, and salt.

Pour this mixture over the bread, and let it soak in while you prepare the topping.

Peel and thinly slice the apples. Toss them with the lemon juice, sugar, cinnamon, maple syrup, melted butter, and a pinch of salt, and spread them over the bread in the pan.

Cover the pan, and refrigerate overnight or for up to 48 hours.

Preheat the oven to 375º.

Remove the pan from the refrigerator, uncover it, and bake the French toast until the apples are soft and the eggs are set, 45 to 55 minutes.

Remove the pan from the oven, drizzle with maple syrup, and serve hot.
Recipe source: King Arthur Flour