Recipes
Baked Beans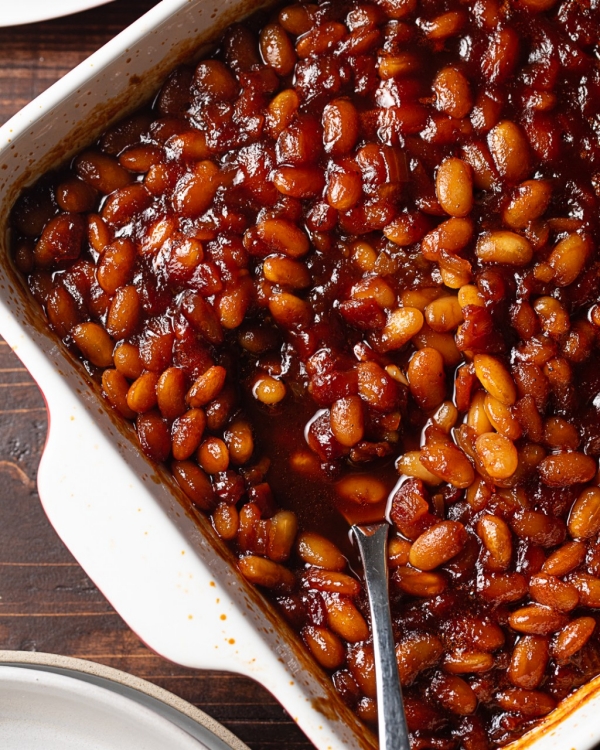 The delightful thing about these baked beans, the thing we admire and crave, is their complete lack of subtlety. We did not skimp on the rich stuff! They've got molasses, brown sugar, and maple syrup for caramel sweetness. They've got thick-cut bacon for smoke. And they've got plenty of ketchup and Worcestershire sauce — they're exceedingly tangy, and we mean that in the best way possible.
In the pot, all that goodness thickens into a sticky barbecue sauce that clings to the beans. Tender, creamy beans, tangy-sweet barbecue sauce, and chunks of salty bacon — they're the perfect complement to just about any meat you might throw on the grill. We've paired them with everything, from burgers to short ribs and hot dogs. Add a side of creamy coleslaw, and you've got a well-rounded dinner.
For a last-minute meal, baked beans are also pretty fantastic spooned over thick-cut slabs of hot buttered toast. Add a fried egg? Yes, we definitely would — and a slice of heirloom tomato if we're feeling fancy.
Tip: Hang on to the leftovers — these beans are even better the next day. In fact, we might go so far as to make a pot a full day ahead of when you need it.
Servings: 12
Ingredients
1 lb dried great northern beans
6 cups water
½ lb thick-cut bacon, chopped
2 large onions, chopped
3 garlic cloves, minced
2 cups ketchup
1 ½ cups packed dark brown sugar
⅓ cup molasses
⅓ cup maple syrup
¼ cup Worcestershire sauce
½ tsp kosher salt
¼ tsp freshly ground black pepper
Directions
Sort the beans and rinse with cold water. Place the beans in a Dutch oven and add enough water to cover them by 2 inches. Bring to a boil over high heat for 2 minutes. Remove from the heat, cover, and let the beans stand for 1 hour, or until they're softened. Note: if you have pre-soaked beans, you can start at step 2.

Drain and rinse the beans, discarding the liquid. Return them to the Dutch oven, add the water, and bring it to a boil over high heat. Reduce the heat to low, cover, and simmer for 1 hour, or until the beans are almost tender.

Preheat the oven to 300º.

In a large skillet, cook the bacon over medium heat until crispy. Using a slotted spoon, transfer the bacon to paper towels to drain, reserving 2 tablespoons of the drippings.

Saute the onions in the bacon drippings until tender.

Add the garlic and cook 1 minute longer.

Stir in the ketchup, brown sugar, molasses, maple syrup, Worcestershire sauce, salt, and pepper.

Drain the beans, reserving the cooking liquid, and place them in an ungreased 3-quart baking dish. Add the onion mixture and bacon to the baking dish and stir to combine.

Cover and bake for 2 ½ hours, or until the beans are tender and have reached the desired consistency, stirring every 30 minutes and adding the reserved cooking liquid as needed. Beans can be stored in an airtight container in the fridge for up to 3 days.
Recipe source: Taste of Home