Dinner Recipes
Baked Potato Soup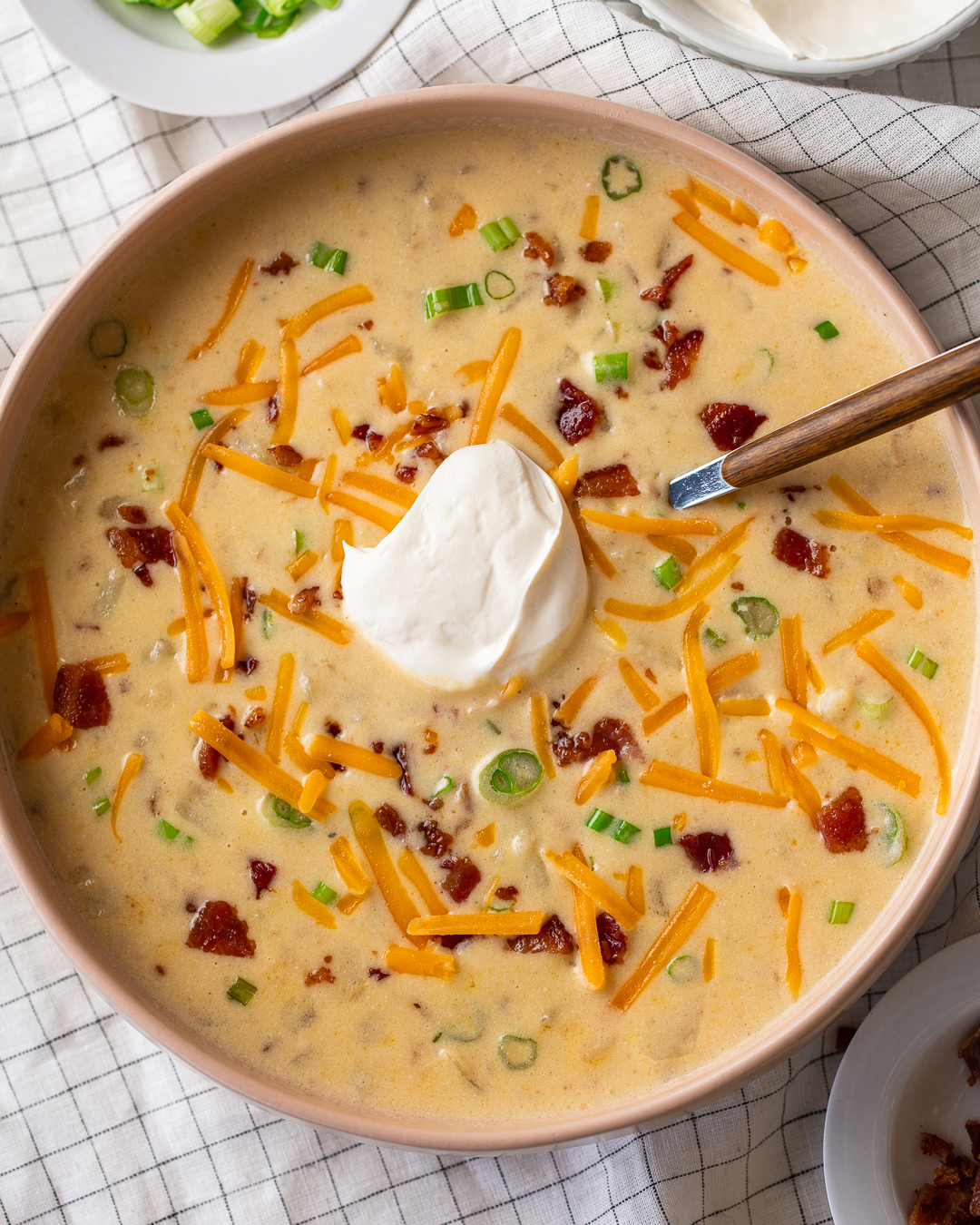 Can you imagine what would happen if you took a fully loaded baked potato and tossed it in your blender with some heavy cream and chicken stock? That's pretty much the idea we're going for here. You make a creamy, comforting soup that's full of tangy cheddar cheese, chunks of soft potato, and crispy bacon — and then load up your bowl with all the best baked potato toppings, like sour cream, green onions, hot sauce, and yes, more bacon. It tastes awesome!

Our tips: We make this soup for family dinners because our kids are so into it. They love picking out their own toppings and stirring them into the soup. So much so, that we sometimes add a few family favorites into the mix, like broccoli florets. We also serve the soup with a great, big green salad tossed in a bright vinaigrette to balance out the cheese and cream and complete the meal.

Servings: 4
Ingredients

4 Tbsp butter
3 lbs baking potatoes, washed, peeled and chopped
1 small onion, diced
3 garlic cloves, minced
2 Tbsp all-purpose flour
8 strips bacon, cooked crispy and chopped (reserve some for garnish)
2 cups heavy cream
4 cups chicken stock
2 cups cheddar cheese, divided
1 tsp Tabasco (or favorite hot sauce)
Salt, to taste
Black pepper, to taste
¼ cup sour cream
¼ cup green onion chopped

Directions
In a large, heavy bottom pot sauté butter, potatoes, and onion over medium heat for 5 to 7 minutes, or until the onions are soft and very fragrant.
Next add the garlic and saute for 1 minute.
Add the flour and stir to incorporate.
Gently mash the potatoes, so they are squished but still slightly chunky.
Add the bacon, heavy cream, and chicken stock, and bring the mixture to a simmer.
Add 1 cup of the cheddar cheese and stir to incorporate.
Add the Tabasco, season with salt and pepper, and simmer for 10 minutes.
Divide the soup between 4 bowls and garnish each with sour cream, chopped green onions, and the remaining cheddar cheese.