Dinner Recipes
Balsamic Roasted Chicken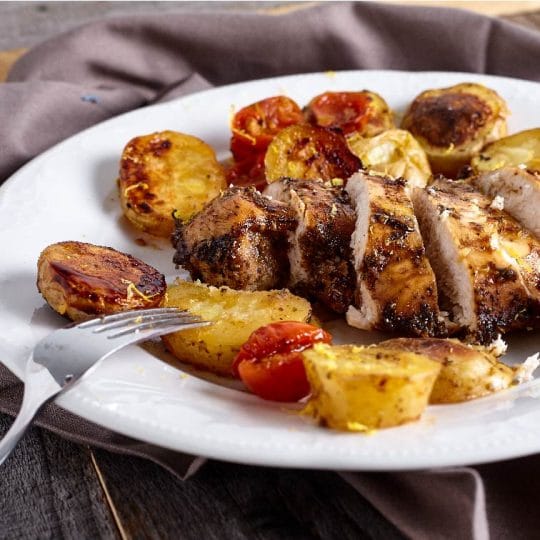 Dinner
Balsamic Roasted Chicken
Serves: 8
Ingredients
1 tablespoon Dijon mustard
3 cloves Melissasorganic garlic crushed
3/4 teaspoon salt divided
1 teaspoon pepper divided
4 Rosie organic chicken breasts on the bone just over 2 pounds skin and fat removed
16 to ounce package Melissas baby Dutch yellow potatoes or whatever spuds are smallest halved
1 head organic cauliflower cut into small uniform pieces
16 Brussels sprouts trimmed halved lengthwise
Directions
Whisk together vinegar, lemon juice, Dijon, garlic, 1/2 teaspoon salt, teaspoon pepper, and olive oil. Place the chicken in a large roasting pan and pour marinade on top and turn chicken to coat. Cover and refrigerate at least 2 hours or overnight.
Arrange oven racks so that one is in the center and one is one rung below it. Preheat oven to 450 Fahrenheit. Drain the marinade off the chicken and reserve it. Turn the breasts meat side up in the pan.
Spray a baking sheet with olive oil cooking spray. Arrange the cut vegetables on the sheet. Season the chicken and vegetables with remaining 1/4 teaspoon salt and teaspoon pepper. Place chicken on middle rack and vegetables below it. Cook chicken and vegetables uncovered for about 15 minutes. Turn breasts over with tongs and pour balsamic marinade over the chicken and add the rosemary sprigs to the pan. Shuffle the vegetables around. Cook both 10 more minutes and turn the breasts meat side up again, add the vegetables to the pan with the chicken, baste everything, and cook 5 to 15 more minutes, until the juices run clear when you cut into the meat at the thickest part near the bone, about 30 to 40 minutes total cooking time.
Remove chicken from the pan and set on a platter to rest. Shuffle the vegetables and sprinkle with 1 teaspoon sugar. Cook 5 more minutes, until brown and tender. Use poultry shears to cut each breast in half. Arrange vegetables on the platter around the chicken and pour thickened marinade on top.