Recipes
Bean Salad with Bacon & Tomato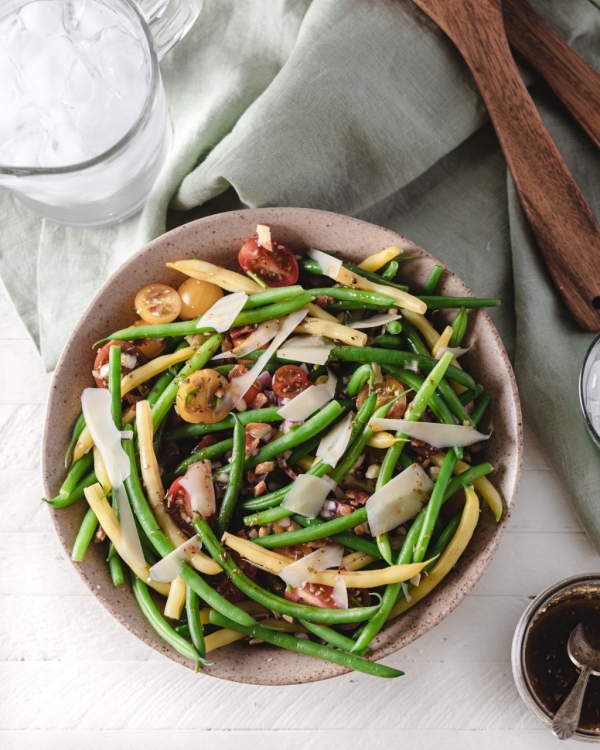 This salad is the next best thing to eating a bean straight off the garden vine. The beans are lightly blanched, so they retain all of their snap and color. We toss them with grape tomatoes, bacon, almonds, red onions, chives, and a honey-balsamic vinaigrette. It's a veritable riot of texture and flavor: grassy, pungent, sweet, nutty, crisp, soft, and crunchy. We are particularly wild for a forkful of charred bacon bits, lush tomato, and honey-sweet dressing — it's like a mini BLT.
This snappy little number will shine in a simple patio dinner. We'd serve it with a grilled steak and a nice bottle of Pinot Noir. If you want to go lighter, think about grilled toast with a thick layer of ricotta — you can pile the salad on top and let the toast soak up all the juices like a giant crouton.
Our tip: Unlike a leafy green salad, this one won't wilt. That makes it perfect for making ahead and for traveling to family potlucks and picnics.
Servings: 4 to 6
Ingredients
4 strips of bacon
1 ½ pounds trimmed green and yellow wax beans, cut to 2 to 3-inch-long pieces
4 Tbsp olive oil
2 Tbsp balsamic vinegar
½ tsp Italian seasoning
1 Tbsp honey, optional
Salt, to taste
Freshly ground black pepper, to taste
1 medium red onion, finely chopped
2 cups grape tomatoes, halved
2 Tbsp almonds, chopped
¾ cup chives, chopped
Parmesan cheese shavings, to taste
Directions
In a large skillet, fry the bacon until crisp. Transfer the bacon to paper towels to drain, and then cut it into small pieces. Set the bacon aside.

Bring a large pot of salted water to a boil. Add the green and yellow wax beans to the water and blanch them for 2 to 3 minutes, until the beans are just barely cooked through but still crisp. Drain and transfer them to ice water to stop the cooking, so they stay crisp and bright. Once they're cool, drain the ice water.

To make the dressing: in a small jar with a lid, combine the olive oil, balsamic vinegar, Italian seasoning, honey, salt, and pepper, and shake vigorously to emulsify.

In a large salad bowl, toss together the beans, bacon, red onion, grape tomatoes, almonds, and chives.

Pour in some of the dressing and toss the salad to coat. Sprinkle in the Parmesan cheese and toss to combine. Adjust the seasoning with salt and freshly ground black pepper and serve with more dressing on the side.
Recipe source: Eatwell101