Dessert Recipes
How to Make the Best Chocolate Chip Cookies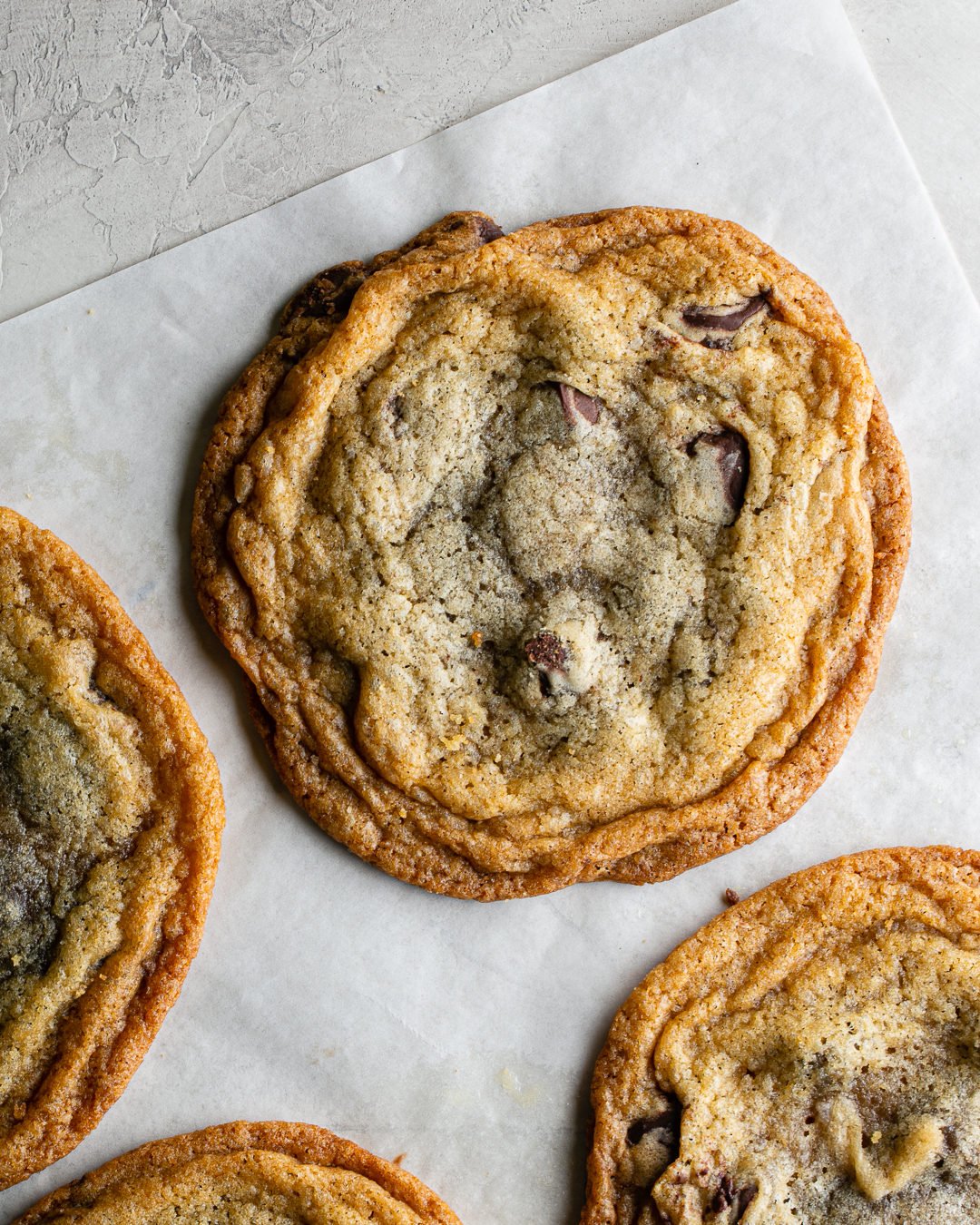 When it comes to making just-about-perfect chocolate chip cookies, flat is where it's at. Keeping a low profile, so to speak, allows cookies to bake up with the ideal (in our humble opinion) crispy edges and chewy centers. And, oh my, the pools of melted chocolate! Yes, it is possible to achieve all those dessert-y feels in just one tiny circle, and our test kitchen bakers have a few tricks up their sleeves to help you get there.
First of all, we change up the ratio here and add more brown than white sugar. Not only does that two-to-one measure provide stronger notes of malt and caramel, but some chemical magic happens when acidic brown sugar reacts with baking soda. Not only does it give the baking cookie more spread, it also gives the end result an amazing texture — chewier and more moist than a traditional cookie.
Second, we've said it before, and we'll say it again — use the good chocolate. In this case, we recommend the more complex and sophisticated flavor of dark chocolate chips instead of semisweet ones. Our chefs swear by Ghirardelli 60% dark chocolate chips: there's so much cocoa in them that they have a seriously deep flavor and they really spread (there's that word again!) for a melty texture.
Finally, be sure to use kosher, not table salt — and use the full teaspoon. It may sound like a lot of salt for chocolate chip cookies, but it tastes wonderful, it brings out all the cookie's rich flavors, and it's one of the reasons you'll keep coming back for more.
Confession: These became a go-to breakfast choice in the test kitchen while the recipe was being developed. If you pair them with a steaming hot drink or a glass of cold milk to start your day, we'll be the last to judge. But they're also good as after-school snacks, desserts, bedtime treats — or as a lovely gift to drop at a neighbor's door.
Ingredients
2 cups plus 2 Tbsp Gelson's all-purpose flour
1 ½ tsp baking soda
1 tsp kosher salt
2 sticks unsalted butter, softened
1 cup packed brown sugar
½ cup granulated sugar
1 large Gelson's egg plus 1 large egg yolk
1 ½ tsp vanilla extract
10 oz bittersweet chocolate chips
Directions
In a medium bowl, whisk together the flour, baking soda, and salt. Set aside.

In the bowl of a stand mixer fitted with the paddle attachment, cream the butter and sugars on medium speed until light and fluffy, 2 to 3 minutes. Scrape down the sides of the bowl, as needed.

Add the egg, egg yolk, and vanilla extract, and mix on low speed until the eggs are fully incorporated, about 30 seconds.

Add the dry ingredients in 2 additions and mix on low speed until just combined, then mix in the chocolate chips, about 30 seconds total.

Transfer the dough to a large sheet of plastic wrap, press it into a ¾"-thick disc, and wrap it tightly. Chill the dough in the refrigerator until firm to the touch and no longer sticky, 2 to 3 hours.

When ready to bake the cookies, preheat the oven to 325° and line a baking sheet with parchment paper.

Portion the dough into 2-oz pieces and roll each piece between your palms to form a ball. Evenly space 5 cookies on the prepared baking sheet, making sure the sides with the most chocolate chips are facing up. Press each ball into a disc about ½" thick. Store the remaining dough, wrapped in plastic wrap, in the refrigerator until ready to bake. The dough can be stored in the refrigerator for up to 2 days.

Bake the cookies for 12 to 14 minutes, or until golden brown on the edges and just set in the middle. Transfer the cookie sheet to a cooling rack by dropping the pan from 6" in the air onto the rack. This will slightly flatten the cookies. Let the cookies cool on the baking sheet for 10 minutes.

Repeat steps 7 and 8 with the remaining dough.

The baked cookies can be stored in an airtight container at room temperature for up to 3 days.
Calculate nutrition information for this recipe.