Recipes
Best Christmas Cookies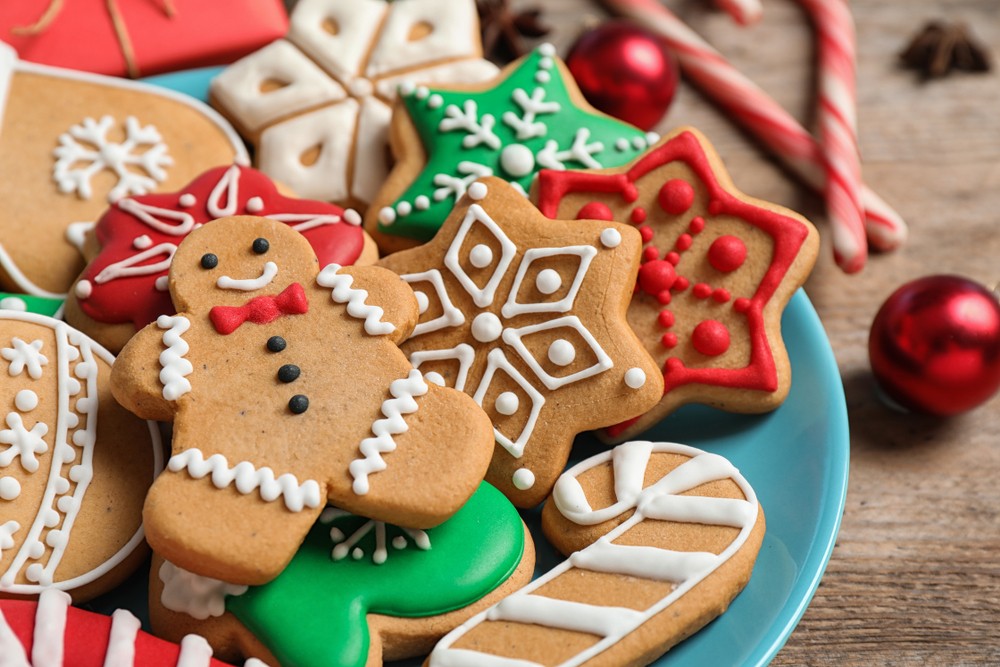 Cookies are a time-honored tradition of the holidays, and just about everybody has at least a few favorite varieties that they look forward to every year. Whether you're the star baker of your family or an enthusiastic amateur in the kitchen, baking Christmas cookies can make the holidays especially magical – and particularly delicious.
The best Christmas cookies are the ones that you want to have around all season long, whether you're relaxing in front of the Christmas tree, heading to a holiday party, or baking up a batch for a family get-together. From simple sweets to impressive showstoppers, we've assembled a collection of cookies that are sure to satisfy your taste for the holiday spirit.
There are a few sweet staples when it comes to Christmas cookies, and no year is complete without at least one gracing the holiday treat table. These are the cookies you may have grown up eating or the ones you are now incorporating into your family's traditions. And if any of these classic cookie recipes are new to you, there's no time like the present to try them for yourself!
Have you ever attempted to make adorable cut-out cookies, only to have them come out of the oven looking like melted versions of their former selves? Finding the best sugar cookie recipe can be tricky, but we've done all the time-consuming testing for you: and this is the recipe we landed on.
This recipe for perfect sugar cookies is packed with plenty of tips and tricks, making it easier to end up with cookies that have defined edges for decorating. For an extra kick of flavor, try adding just a touch of almond extract – it brings a wonderfully nutty element to the classic cookie taste. If you need a recipe for sugar cookie icing, that's included as well.
Adorable gingerbread men and women are an iconic part of the holiday, and for good reasons. They have just the right amount of spice to warm you on a chilly day and offer up a fun cookie canvas for decorating. With this recipe, you can tweak the combination of spices to match your preferences, so if cloves aren't your thing (or you prefer your cookies with less gingery spice), simply adjust the amounts.
To keep your decorating process quick and simple, stick with classic white icing to outline the cookie border and add friendly features. Or, go all-out by mixing up icing in a few different colors and using sprinkles and candies to add character.
The cheerfully colorful swirl of Christmas pinwheel cookies is something you can expect to see at just about any cookie exchange party because these cookies make for a visually pleasing and delightful treat.
The secret to the swirl is creating two colors of sugar cookie dough, which you then layer and roll into a log shape. Once sliced, the swirl will appear. Roll each cookie in holiday-themed sprinkles for a special touch, then bake!
Change up your holiday baking menu with these creative cookies. They might not exactly be traditional, but they definitely are delicious.
The humorous name of these cookies pokes fun at its unusual combination of ingredients, which includes crushed potato chips, pretzel bits, chocolate chips, sprinkles, and flaky sea salt. If you're a fan of salty and sweet pairings, the Santa's trash cookies will undoubtedly become a repeat favorite.
Instead of the usual creamy frosting, these sugar cookies have a crispy, caramelized topping that resembles a creme brûlée. The recipe itself is surprisingly simple, but you'll surely wow your family and friends with these fantastically fancy desserts.
Brookies
Can't decide between brownies or cookies for Christmas? Take a bite out of the best of both worlds with brookies, a combination of two festive favorites. You're literally mashing together brownie and cookie dough, so you can expect a combo-cookie that's everything you'd expect and more.
Did you know that it's entirely possible to create a myriad of magnificent cookies without ever turning on your oven? With these recipes for no-bake Christmas cookies, you can skip straight to dessert.
Gooey Caramel-Topped Gingersnaps
Want a no-bake cookie that you can easily whip up while watching your favorite holiday movie? These gooey caramel-topped gingersnaps are a breeze to prepare, making them the perfect complement to a cozy movie night in.
The combination of chewy caramels and chopped peanuts add a unique blend of textures to the flavorful gingersnaps. Hint: use store-bought gingersnap cookies to make this recipe as simple as possible. Adding the candy coating makes the cookies absolutely irresistible, so don't be surprised if they fly off the table.
For a no-bake Christmas cookie to make with kids, try these nutty Rice Krispies cookies. Requiring just five ingredients and 15 minutes, they put a fun twist on Rice Krispies treats, a classic childhood favorite.
With this recipe, you don't even need to turn on the stove, so even your youngest bakers-in-training can safely participate. It's as simple as melting, mixing, and dropping onto a baking sheet – the trickiest part is waiting for them to cool before you eat them!
These cookies are as beautiful as they are tasty. Pastel mini marshmallows mimic the colors of stained glass, while a coconut coating brings images of snowy winter days to mind.
Being able to make these lovely cookies without heating your oven is an added bonus, and minus chilling time, they take just 20 minutes. We recommend making them the night before you plan to serve them so that they have plenty of time to set for easy slicing.
Sweeten Your Holiday Grocery Shopping with Gelson's
Sugar, spice, and everything nice – if you need it for baking Christmas cookies, you can count on finding it at your local Gelson's Supermarket. We're your go-to grocer for year-round shopping, including during the happy holiday season. Plus, our shelves are always stocked with a wide range of high-quality products, including all your baking basics, fresh produce, pantry staples, and premium meats and seafood.
And if you run into a holiday baking disaster, don't worry because our bakery has you covered. With a variety of delicious baked goods to choose from, enjoying your favorite Christmas treats can be as easy as a quick trip to Gelson's.
Make this Christmas one that's extra-sweet by visiting your nearest Gelson's Supermarket.
Featured Image: New Africa / Shutterstock