Recipes
Best Plant-Based Breakfast Sandwich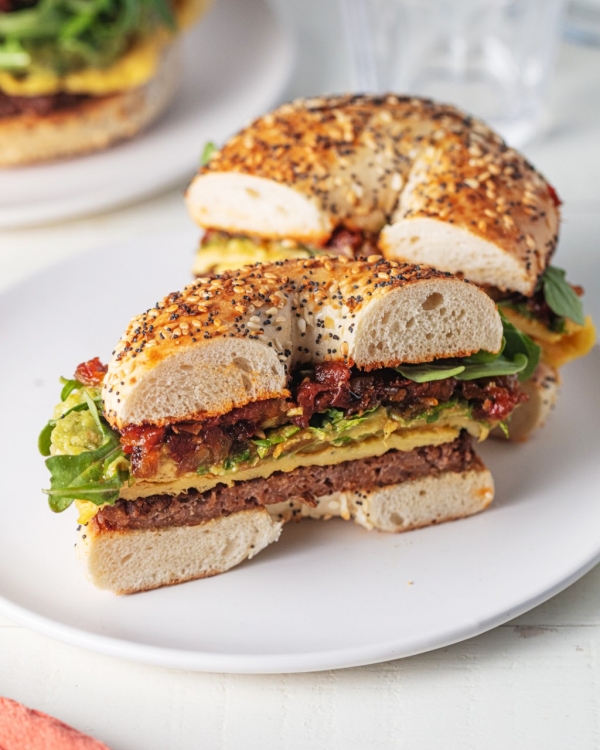 Like all breakfast foods, egg-and-sausage sandwiches come with a fair amount of nostalgia, big giant opinions, and heaps of expectations. So you can imagine the fraught feelings with which we set this plant-based version down in front of our wary tasters — and our self-congratulation when they polished it off with unreserved enthusiasm.
What's the secret to the best tasting plant-based breakfast sandwich ever? Fantastic plant-based ingredients and, of course, all the right condiments in all the right proportions.
We made the breakfast sausages from scratch by combining Beyond Meat Beyond Beef plant-based ground with a handful of classic aromatics — marjoram, red pepper flakes, fennel seeds — and a modicum of brown sugar. In the pan, the patty caramelizes and develops a nice, meaty char. It's got an herby flavor with just a hint of anise, and we love those crispy, spicy-sweet edges.
For the eggs, we used the well-nigh miraculous Just Egg, which is made from mung beans. It scrambles up like a champ. And its pleasantly eggy flavor and firm yet creamy texture show up well in the layers of sausage and toasted everything bagels — very much like the real thing, in fact.
Now, for the magic! As one of our tasters said, "The secret to my heart is condiments — I absolutely love that this thing has chipotle-tomato jam on it!" The jam is a mash-up of preserved tomatoes, garlic, chipotle chiles, and brown sugar. It adds a rich, smoky-sweet quality to the sandwich, the perfect complement to the breakfast sausage. What else is in there? Some bright Gelson's guacamole and peppery arugula for contrast.
All those layers and flavors come together beautifully in the sandwich — it's a big, messy, satisfying delight. If you're looking at the list of ingredients and thinking it's also a big project for the small hours of the day, we have two words for you: meal prep. Both the chipotle-tomato jam and the breakfast sausage can be made ahead of time, so all you've got to do in the morning is fry up the Just Egg and toast a bagel.
You can do that, sleepyhead. If you're not cooking for a family, do it for yourself. Just think: a week's worth of breakfasts, and you're basically saving the planet.
Our tips: Save your leftover chipotle-tomato jam. It will be delicious layered on other sandwiches, smeared on steaks and fish, or tucked in an omelet with some feta. Also, you'll have to open a whole can of chipotle peppers to make this recipe. If you're not going to use the leftovers right away you can keep them in the freezer.
Servings: 6 sandwiches
Ingredients
For the chipotle-tomato jam:
1 Tbsp extra-virgin olive oil
1 small yellow onion, medium-diced
1 batch preserved tomatoes, medium-diced
2 garlic cloves, minced
1 chipotle chile, minced (from canned chipotles in adobo sauce)
1 Tbsp adobo sauce
2 Tbsp packed light brown sugar
¼ cup apple cider vinegar
Kosher salt, to taste
For the Beyond Meat breakfast sausages:
1 lb Beyond Meat Beyond Beef plant-based ground
2 garlic cloves, grated
1 tsp packed light brown sugar
1 ½ tsp marjoram
¾ tsp fennel seeds, crushed or ground
½ tsp kosher salt
½ tsp black pepper
¼ tsp crushed red pepper flakes
1 Tbsp extra-virgin olive oil, divided
For the breakfast sandwiches:
12 oz Just Egg plant-based egg
½ tsp kosher salt
½ tsp black pepper
3 Tbsp extra-virgin olive oil, divided
6 Dave's Killer Bread Epic Everything organic bagels, sliced in half and toasted
6 Beyond Meat breakfast sausages (see above)
12 oz Gelson's guacamole, divided
2 cups loosely packed arugula, divided
1 cup chipotle-tomato jam (see above), divided
Directions
To make the chipotle-tomato jam: Add the olive oil to a medium pot and heat to medium-low. Add the onions and cook for 20 minutes, or until they begin to caramelize. Add water, 1 tablespoon at a time, as needed, to prevent sticking.

Add the preserved tomatoes, garlic, chipotle chile, adobo sauce, sugar, and vinegar, and stir to combine. Bring the mixture to a simmer and cook for 10 to 15 minutes, or until all of the vinegar has evaporated and the mixture is jammy.

Season with salt, stir, and remove from the heat. Note: the jam can be stored in a glass jar in the refrigerator for up to 1 week.

To make the breakfast sausages: In a medium bowl, combine the plant-based ground, garlic, sugar, marjoram, fennel seeds, salt, pepper, and red pepper flakes.

Roll the sausage mixture into 6 equal-size balls.

Heat ½ of the olive oil in a large, nonstick skillet over medium-high heat. Place three of the sausage balls in the skillet. Flatten each ball with the back of a spatula until ¼" thick and cook for 3 minutes on each side, or until browned and starting to caramelize.

Transfer the cooked sausages to a platter, and repeat step 6 with the remaining 3 balls. Note: The cooked sausages can be wrapped in plastic and stored in the refrigerator for up to 2 days, or in the freezer for up to 1 month. To reheat, cook for 2 minutes on each side over medium heat.

To make the Just Egg omelet: In a medium bowl, whisk together the Just Egg, salt, and pepper.

Add ½ Tbsp of the olive oil to a small, nonstick skillet and heat to high. Pour in ¼ cup of the egg mixture and twirl the pan to coat the bottom. Cook for 1 ½ minutes, and then flip the egg over — it's okay if it folds or wrinkles. Cook for 1 ½ minutes more, transfer the omelet to a plate, and cook the remaining 5 omelets.

To assemble the sandwiches: Layer one breakfast sausage, one omelet, 2 oz guacamole, and ¼ cup arugula on the bottom half of a bagel. Spread some of the chipotle-tomato jam on the top half of 1 bagel and top the sandwich. Repeat with the remaining sandwiches. Serve immediately.