Recipes
Blackberry & Thyme Jam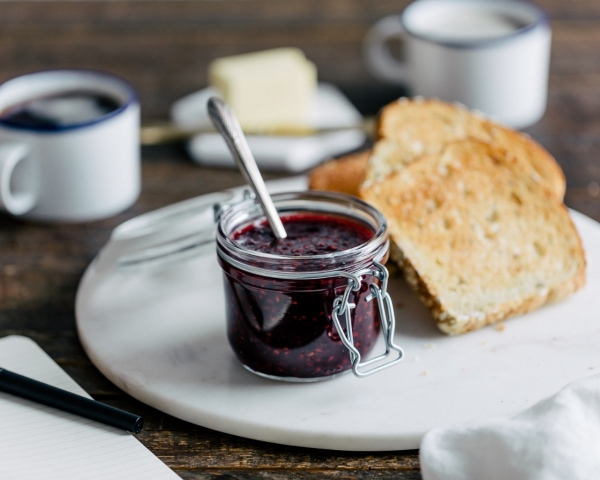 Here's a jam for the toast-loving sophisticates. It has a light blackberry sweetness and it's full of thyme and warm, aromatic spices, like cinnamon and star anise. That complexity sets it apart from sugary jams and jellies, and makes it perfect for sweet and savory settings.

It's splendid in a crepe, and paired with butter, it gives the holes of a crumpet purpose — but it's also wonderful with a slice of nutty Manchego cheese. On toast with almond butter? Oh yes! Basically, we'd put a bowl of it on the table with everything from brunch to appetizers and dessert.

Our tip: Just about everyone loves jam and mason jars, so this very easy recipe would make a great gift to send home with dinner guests or leave with a host.

Yields: about 1 pint

Ingredients
2 cups mashed blackberries
1 cup sugar
1 Tbsp lemon juice
1 cinnamon stick
5 sprigs thyme
1 whole allspice
1 star anise

Directions
In a small pot, combine the mashed blackberries, sugar and lemon juice over medium heat and bring the mixture to a simmer.
While the mixture is heating up, make a cheesecloth sachet and fill it with the thyme, cinnamon stick, allspice, and star anise. Drop it into the blackberry and sugar mixture.
Simmer the mixture for 30 minutes, and then remove and discard the sachet.
Allow jam to cool, and then transfer it to an airtight container. It will keep in the refrigerator for 4 to 6 weeks.