Appetizer Recipes
Blood Orange and Mâche Salad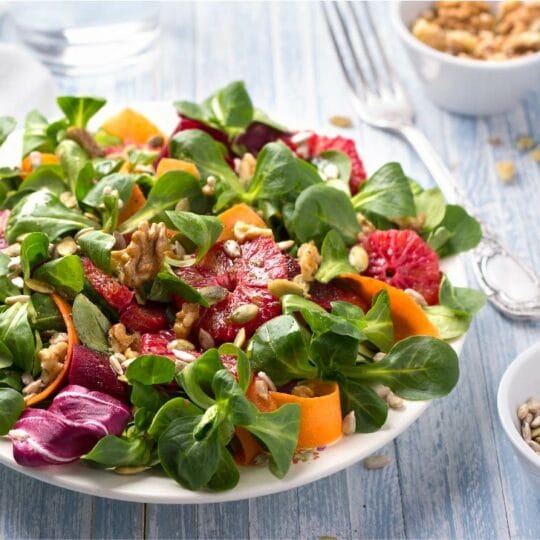 Appetizer
Blood Orange and Mâche Salad
Serves: 4
Ingredients
4 teaspoons Napa Valley organic olive oil
1 3 1/2 ounce package Epic Roots mâche rosettes salad greens
1/2 cup Athenos reduced fat crumbled feta cheese
3 tablespoons Flanigan Farms walnut pieces
Directions
Cut about a third of the end off of one orange and squeeze out one tablespoon of juice. Add it to a small cup. Add olive oil and salt and pepper. Wisk together and set aside.
For the remaining two and two thirds oranges, slice enough off the top and bottom so that the tips of the segments are exposed, then use a small knife to cut off the skin and all the pith using downward cutting strokes. Turn the orange on its side and slice through crosswise, making several thin star like slices. Set aside.
Just before you are ready to serve the salad, toss the mâche, feta, and walnuts with the dressing. Arrange all of the orange slices on top of the salad and serve.