Beverage Recipes
Bloody Mary & Roasted Hatch Chile-Infused Vodka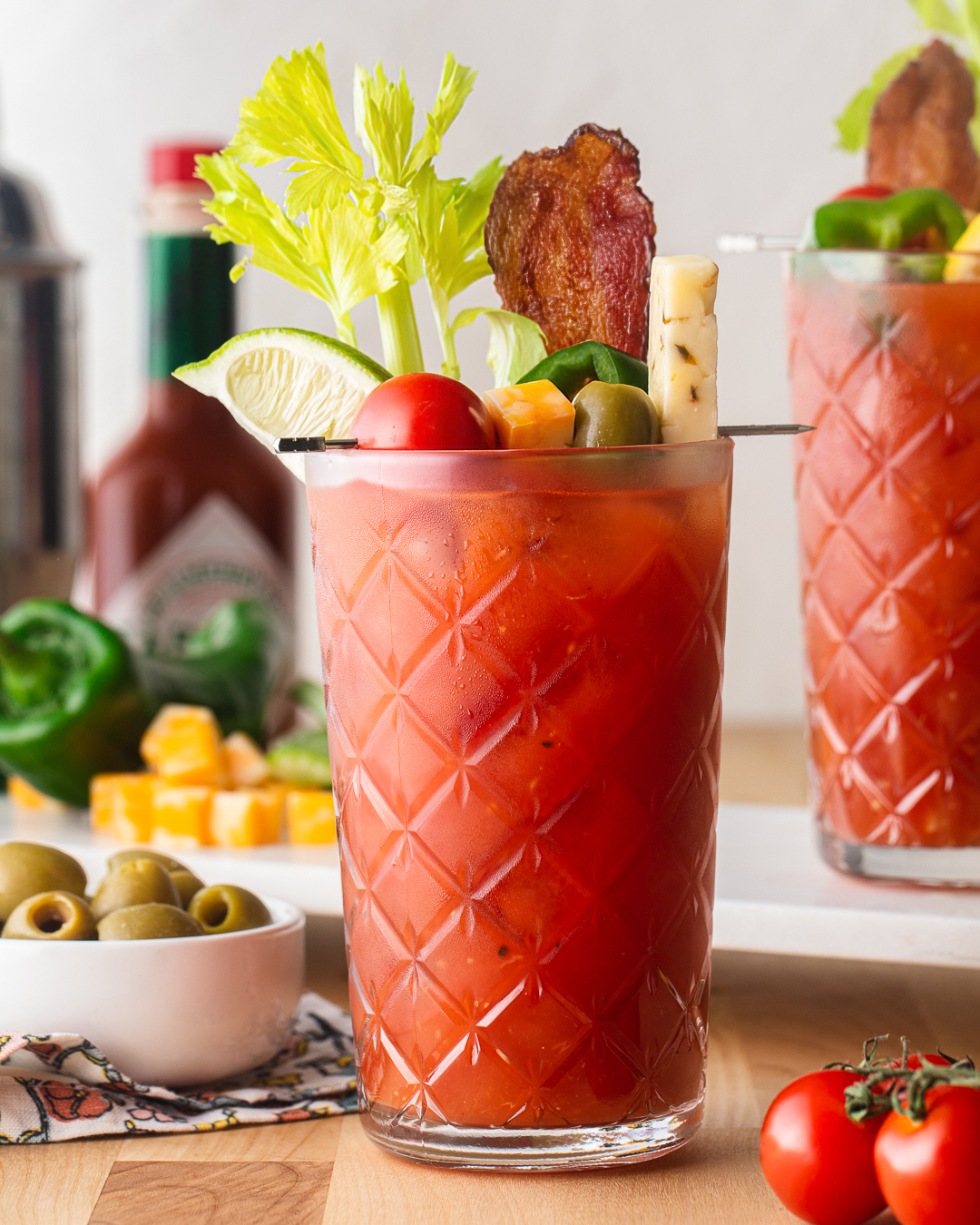 When we were dreaming up new and adventurous things to do with this year's beautiful crop of Hatch chiles, infusing vodka seemed like a no-brainer. Vodka infusions are so easy to make, they taste infinitely more interesting than plain old vodka, and they look smashing in your pantry — there's nothing so cheerful or promising as a Mason jar full of boozy roasted Hatch chiles.
We roasted mild Hatch chiles for our infusion, and we kept the Mason jar in the cool dark of the test kitchen pantry for a full week. Our first taste was full of the chile's savory pungency — its earthy vegetable side. It wasn't mouth-searingly hot, but there was some mild spice and smoke. It was exceptionally pleasant, and we've since had a lot of fun mixing it into cocktails.
Of course, it tastes fantastic in a Bloody Mary. We like how the tomato juice, citrus, Worcestershire sauce, and celery salt smooth out all the pepper and radish in the drink. It has that perfect balance of spicy piquancy. That said, we found the Hatch chile's flavor works well in many of the classic vodka cocktails. For example, it makes a terrific Moscow Mule, bringing all the ginger ale's spice to the fore, and we like it in a vodka and soda with a generous amount of lime juice.
Our tip: Make a few extra Mason jars of roasted Hatch chile-infused vodka for your friends and family. It's a great way to celebrate the Hatch season — and to make it last just a little bit longer.
Servings: 1
Ingredients
For the roasted hatch chile-infused vodka:
3 Hatch chiles, roasted and peeled
1 clove garlic
½ tsp dried red pepper flakes
½ tsp coriander seeds
5 black peppercorns
2 ½ cups vodka
For the Bloody Mary:
Lemon wedge
Lime wedge
4 oz tomato juice
3 dashes Tabasco sauce
2 dashes Worcestershire sauce
Pinch of sea salt
⅛ tsp celery salt
Pinch of coarsely ground pepper
¼ tsp horseradish, peeled and freshly shredded
2 oz Roasted Hatch Chile-Infused Vodka
Ice cubes
Optional garnishes: carrots, celery, olives, pickles, Jack cheese, and Hatch chiles
Special equipment: 1-quart Mason jar
Directions
To make the roasted Hatch chile-infused vodka: Roast the chile peppers over an open flame or on a baking sheet in a 500º oven, until charred and tender.

Transfer the chile peppers to a medium bowl, cover the bowl with plastic wrap, and allow the peppers to cool.

Using a towel, wipe off any charred skin from the chile peppers. Remove the stems and transfer them to a clean 1-quart Mason jar.

Add all of the remaining ingredients, screw on the lid, and store in a cool, dry place for up to 7 days. Note: the vodka can be used after 5 hours, but we recommend letting the flavors steep for at least a week.

Strain the vodka into a clean 1-quart Mason jar, and discard the chile peppers and seeds. The vodka will keep in the fridge for up to 2 weeks.

To make the Bloody Mary: Squeeze the lemon and lime wedges into a shaker. Add all of the other ingredients except the vodka, and stir. Taste the mix and adjust the seasoning, if needed.

Pour the vodka into the shaker. Add the ice cubes and shake.

Fill a pint glass about halfway with ice, and strain the contents of the shaker over it. Garnish and enjoy!
Calculate nutrition information for this recipe.