Recipes
Blueberry Smoothie Bowl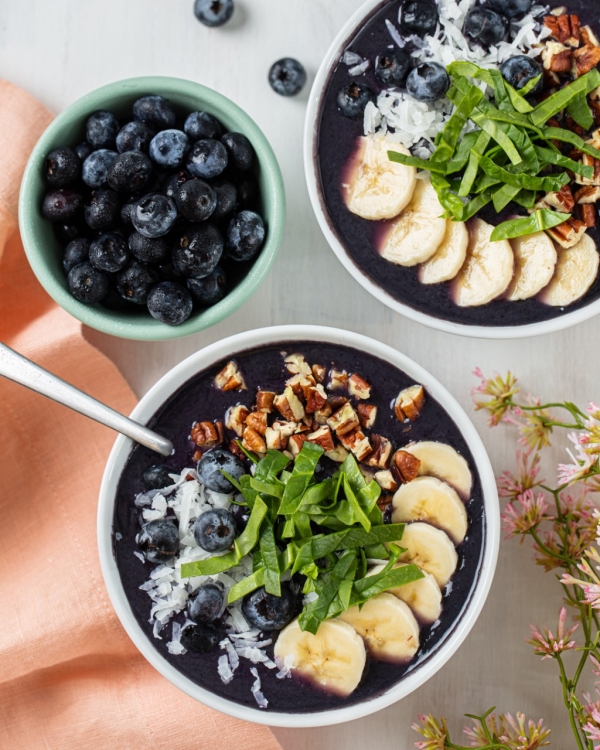 Smoothie bowls are the new cupcake. You'll find them in every wild color known to nature — orange, blue, Kelly green, magenta — and festooned with delightful swirls of fruit, seeds, and nuts. It's no wonder they're the darlings of Instagram.
All that frippery hides a wealth of nutrition. In this recipe, we've whirled up blueberries, spinach, cauliflower, bananas, and almond milk — but all you see is the deep blue of the berries. It tastes fruity and naturally sweet, too. So sneaky! It's a perfect, light, quick workday breakfast or post-workout treat.
Our tips: We've kept our bowl on the humble side, decoratively speaking, but you should feel free to be creative. Try chocolate, trail mix, or slices of colorful fruit, like strawberries, kiwis, and mangoes. Also, if you prefer to drink your smoothie, adding a bit more almond milk will make it more straw-friendly.
Yields: 6 cups
Ingredients
2 cups unsweetened almond milk
1 cup frozen cauliflower
1 cup frozen banana
1 cup frozen spinach
2 cups frozen blueberries
Optional toppings: spinach, bananana, blueberries, and coconut
Directions
Combine all of the ingredients in a blender, and purée until smooth.

Garnish with the optional toppings we've listed or your favorites, like nuts, seeds, chocolate, or the like. Serve immediately.

Recipe adapted from: Elmhurst Milk