Beverage Recipes
Boozy Eggnog Iced Latte
Our test kitchen is, unsurprisingly, full of folks who are really passionate about food. But it's a rare day indeed when a recipe has everyone going completely gaga and falling head over heels with gush-ery. This boozy eggnog iced latte is one such rarity. Between slurps, one of our test kitchen chefs said repeatedly (and at high volumes), "Oh my gosh, this is SO GOOD!" Another said, "I could completely down this latte." And then they did — in under two minutes.
Why is it such a delightful, down-able drink? In part, it's because it's so well-balanced: the cold brew gives it some roasty depth, the eggnog makes it sweet and custard-level creamy, and the splash of fruity brandy gives it a gentle kick. It's also because it drinks like melted coffee ice cream or a boozy milkshake. Add the swirl of whipped cream and fresh grating of nutmeg on top and, well, it's just plain festive.
"You could drink this in the morning! I mean, it has coffee in it!" said one of our tasters, half-jokingly. But the truth is you can: with the half-ounce of brandy, it's a perfect, low-proof libation for holiday brunches; skip it, and you've got a sweet start to the average work day. Want to serve it as a dessert cocktail at this year's white elephant gift exchange? Go ahead and up the booze to ¾ of an ounce.
Our tip: if you have the time and energy, make a batch of homemade eggnog for this latte; it makes the sip even more decadent and rich than it already is.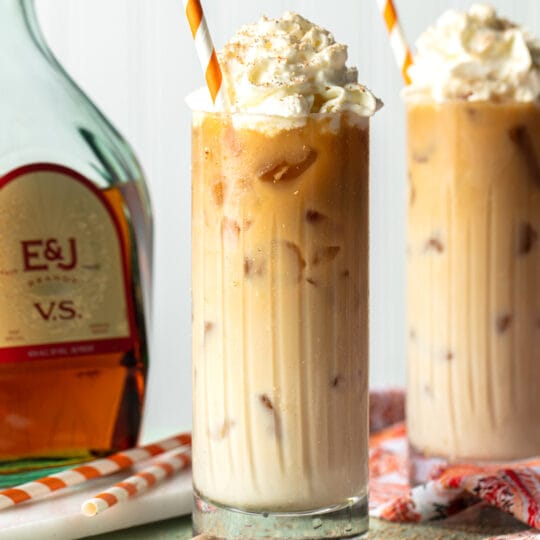 Beverage
Boozy Eggnog Iced Latte
Serves: 1
Ingredients
2 oz espresso or concentrated cold brew
Freshly grated nutmeg, to taste
Whipped cream, for garnish
Directions
In a highball glass, combine the espresso, brandy, and freshly grated nutmeg.

Fill the glass with ice, then pour in the eggnog.

Garnish with whipped cream and additional freshly grated nutmeg. Serve immediately.