Dinner Recipes
Borscht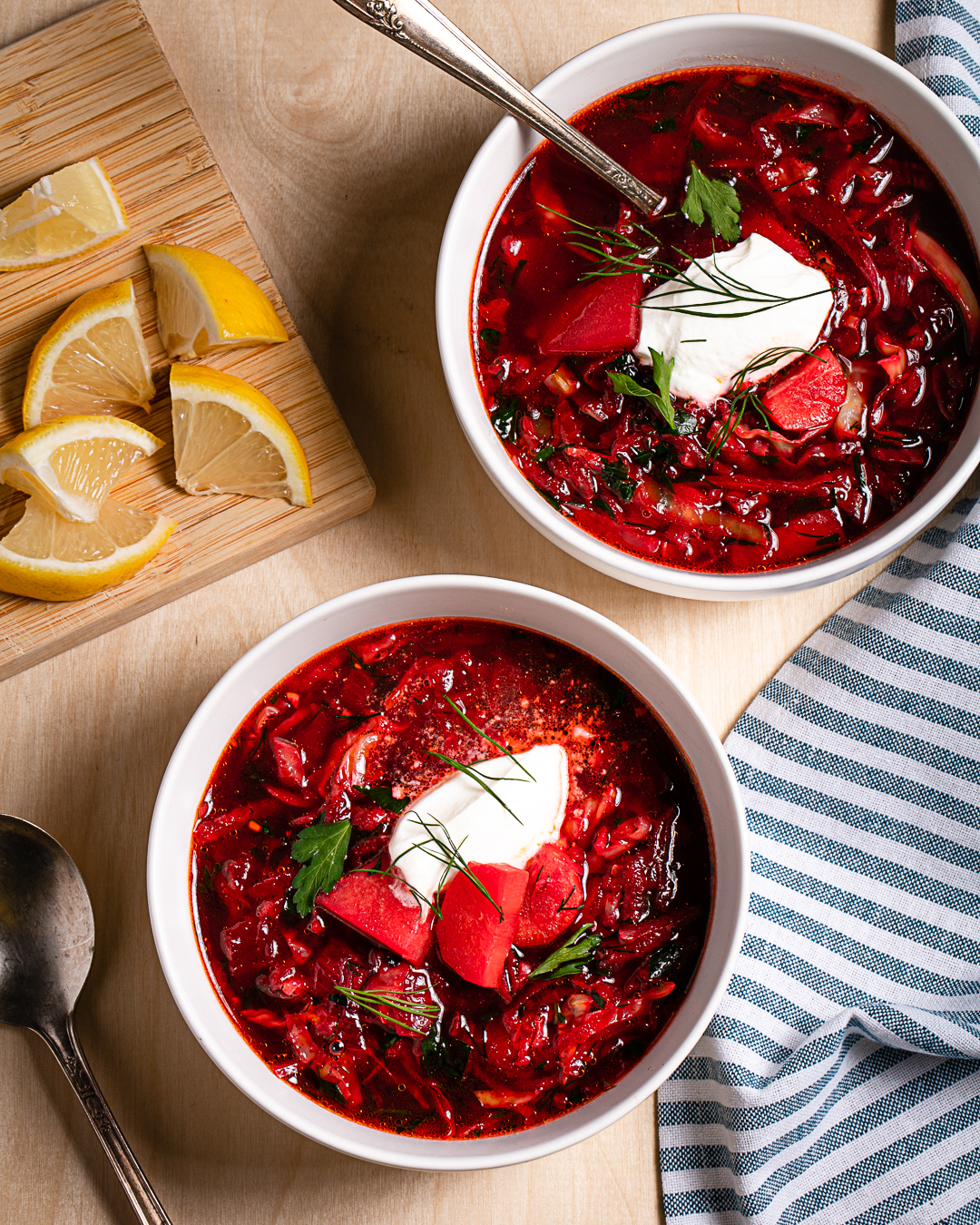 Borscht is one of those dishes that everyone and their grandmother makes a little differently. We often associate this soup with Russian, Ukrainian, and Polish cuisine, but it's actually eaten all over Eastern Europe, the Caucasus, and Northern Asia — and variations typically reflect local crops, weather, and traditions. It can be red, green, or white. It can contain meat or fish, or be completely vegetarian. It can be warm and steamy for winter; it can be chilled for summer sojourns on the patio. This version, a family recipe from one of our test kitchen tasters, takes the cozy, ruby-red route with earthy-sweet beets, an amalgam of common borscht veggies, and an ultra-savory beef broth.

With borscht, the vegetables are almost always precooked before adding the broth — it's a technique rooted in the slow, leisurely process of cooking in traditional Russian masonry stoves. Here, we first sauté some onion to give the soup a caramelized depth. Then, we stir in the grated beets, shredded cabbage, minced garlic, and diced carrots and potatoes, allowing all those hearty veggies to soften a bit before adding the broth. To balance the sweetness of the beets, some iterations of borscht use tart fermented beet juice, but we've used lemon juice and tomato purée for a subtle acidity.
The secret to exceptional borscht is to let it rest for at least a few hours, but preferably overnight, so the flavors can meld and mingle. (This makes it perfect for meal-prepping.) The result is a brothy soup that's so rich and satisfying, you'd think it had meat in it. And the vegetables bring not only an earthy sweetness, but also layers of texture: we love running into a chunk of starchy potato among the shreds of beets and ribbons of cabbage. Right before serving, we stir in fresh parsley and dill for pops of bright, herbaceous flavor — and of course, each bowl gets a dollop of tangy smetana, or sour cream.
This borscht is perfect for winter, when the days are shorter, the temperatures are shivery, and we could all use a meal that's as bone-warming as it is comforting. We might prep it on a Sunday afternoon for a homey (and unfussy) Monday night dinner — perhaps with a side of savory pirozhki, but definitely with a hunk of crusty bread to mop up all that rich, meaty broth.
Our tips: Borscht lends itself well to experimentation, so feel free to try different vegetables, stir in cannellini beans for protein, or play around with the lemon juice to create more of a sour quality. (You might even add a splash of beet kvass, if you're feeling extra puckery.) If you'd like to make the soup vegetarian, we suggest using an umami-rich mushroom broth.
Servings: 8
Ingredients
½ stick unsalted butter
1 yellow onion, diced medium
4 garlic cloves, minced
2 carrots, diced medium
2 large Yukon Gold potatoes, peeled and diced medium
3 medium beets, trimmed, peeled, and grated
3 cups shredded green cabbage
Kosher salt, to taste
½ cup tomato purée
2 qt beef broth
1 Tbsp lemon juice, plus more to taste
Freshly ground black pepper, to taste
¼ cup Gelson's organic fresh dill fronds, chopped, plus more for garnish
¼ cup fresh parsley leaves, chopped, plus more for garnish
Sour cream, for garnish
Directions
Melt the butter in a large stockpot over medium heat. Add the onions and sauté until golden brown and beginning to caramelize, about 15 minutes.

Stir in the garlic, carrots, potatoes, beets, cabbage, and a pinch of salt. Cook until softened, 7 to 10 minutes.

Stir in the tomato purée and cook for 1 minute. Add the broth and bring to a boil. Reduce the heat and simmer, covered, for 20 to 30 minutes, or until the carrots and potatoes are fork-tender.

Stir in the lemon juice, and season with salt and pepper.

Let the borscht cool, cover it, and let it rest in the refrigerator for 3 hours, or preferably overnight, to allow the flavors to meld.

Reheat the borscht in a large stockpot over medium heat. Remove the pot from the heat and stir in the fresh dill and parsley.

Divide the borscht between bowls, top with a dollop of sour cream, additional dill and parsley, and a few cracks of black pepper. Serve with crusty bread. Приятного аппетита! (That's Russian for: Bon appetit!)
Calculate nutrition information for this recipe.