Recipes
Branzino, Clams & Shellfish in White Wine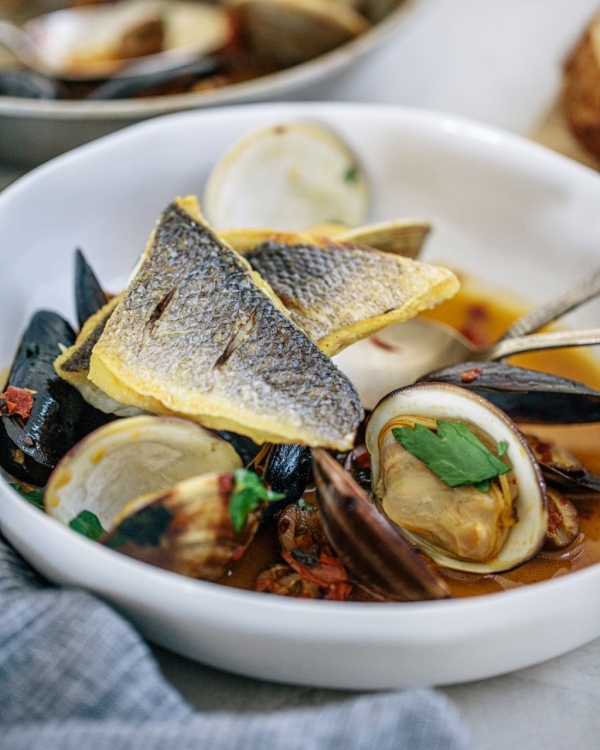 This beautiful fish stew hits all of the classic Mediterranean flavors: briny, herbaceous, and bright. It's full of clams, mussels, and chunks of branzino, but the broth steals the day. The sun-dried tomatoes, garlic, and wine come together to make a rich, savory base, and the clams and mussels add a wonderful brininess. You can almost smell the sea in it, and you want to slurp up every last bit of it.
We do love how crispy the branzino's skin gets and how its buttery flesh provides such a wonderful contrast to all that briny broth — it pulls the dish together. There are a few tricks to pulling that off: Make sure that your pan and oil are very hot. Put the fish in the pan skin side down and lying flat so that it renders its fat and crisps up. To finish it, pop it in the oven, where its flesh will get tender and flaky without overcooking.
This is one of those deceptively fancy dishes. It's absolutely gorgeous with all the open shells and bits of tomato and parsley scattered through the broth and the golden-skinned branzino perched on top — and yet it's very quick and easy. Make it for a date night on the patio. We'd serve it in big bowls, with hunks of bread for dipping, sopping, and swiping up all that good, good broth.
Our tip: We like this stew with hard cider. Think crisp, semi-dry, and earthy with plenty of bubbles, like a Crispin Original Hard Cider.

Servings: 2
Ingredients
Bellucci extra-virgin olive oil
1 small dried hot chile pepper, crushed
6 small hard-shell clams (manila, littlenecks, or cherrystones), rinsed, sand and grit removed
6 mussels, scrubbed and cleaned
12 black olives, pitted and halved
2 sun-dried tomatoes, soaked in boiling water until softened, minced
1 clove garlic, peeled and minced
1 Tbsp parsley, minced
1 cup dry white wine
2 boneless branzino fillets, skin on and cut in half
Salt to taste
Pepper
4 slices of baguette, brushed with olive oil, toasted
Directions
Preheat the oven to 400º.

Coat a 4-quart saucepan with a tight-fitting lid with olive oil. Add the crushed chile pepper and place the pan over medium heat.

When hot, add the clams, mussels, black olives, sun-dried tomatoes, garlic, parsley, and white wine. Stir everything once, then cover the pot and allow the liquid to simmer until all the shells steam open. Discard any shells that do not open.

Pat the branzino's skin dry with a paper towel, and season it with salt.

Coat a medium ovenproof sauté pan with olive oil, bring it to high heat, and then swirl the oil around to temper it. Place the branzino fillets skin-side down in the pan, flat, and sear for about 3 minutes, until the skin is crispy.

Place the sauté pan in the preheated oven. Bake for 6 minutes. Press the fillets with a fork: if the fish flakes immediately, it is done.

To serve, divide the branzino, clams, and mussels between two bowls. Pour the shellfish cooking liquid on top, and season it with pepper. Serve immediately with slices of toasted bread.
Recipe adapted from: Bellucci