Breakfast Recipes
Breakfast Fried Rice
If you've ever smashed a carton of leftover takeout fried rice for breakfast, this recipe is for you. We sauté day-old rice in a shimmering hot bath of sesame oil and green onions, then add a bright soy-driven sauce with bacon, sesame seeds, and red pepper flakes. We like to top our bowl with a couple of fried eggs. Scrambled would be good too, but we love how the yolk breaks over the fried rice like gravy — a creamy foil for all those rich savory flavors. It's the perfect breakfast for the morning after a great night.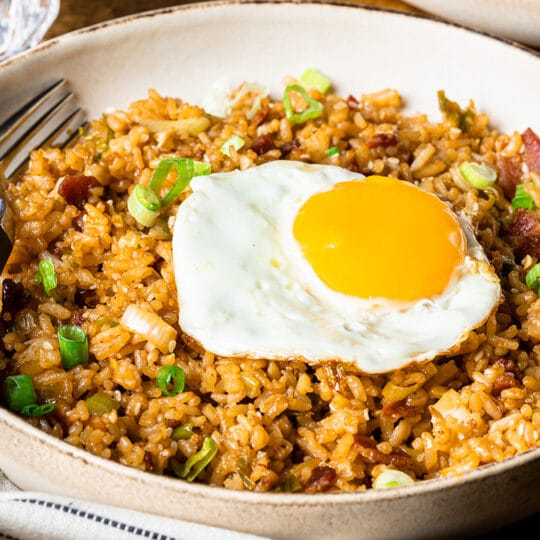 Breakfast
Breakfast Fried Rice
Serves: 2
Ingredients
2 green onions, thinly sliced, plus more for garnish
3 cups day-old, cooked jasmine rice
⅓ cup low-sodium soy sauce
1 Tbsp toasted sesame seeds
¼ tsp crushed red pepper flakes
Directions
Preheat the oven to 425°. Line a rimmed sheet pan with a cooling rack and lay the bacon on the rack. Bake for about 15 minutes or until the bacon is evenly browned and crispy. Set aside to cool.

Once cooled, roughly chop the bacon and set it aside.

Heat the sesame oil in a 10" cast-iron skillet over medium heat until it shimmers. Add green onions and sauté until softened, about 2 minutes, stirring constantly with a wooden spoon to prevent burning.

Stir in the rice, breaking up any large clumps. Add the soy sauce, rice vinegar, toasted sesame seeds, crushed red pepper, and chopped bacon. Cook, stirring, for about 5 minutes or until the rice is warmed through and evenly coated in the sauce. Remove the pan from the heat and set aside.

In a medium nonstick skillet, melt the butter over medium-high heat. Crack both eggs into the skillet and fry until the whites are set and the yolk is still runny, about 5 minutes.

Divide the fried rice between two bowls and place one fried egg on top of each bowl. Garnish with green onions and enjoy.

Leftovers can be stored in an airtight container in the refrigerator for up to 3 days.
Recipe source: FOOD52