Snacks Recipes
Brie, Apple and Walnut Crostini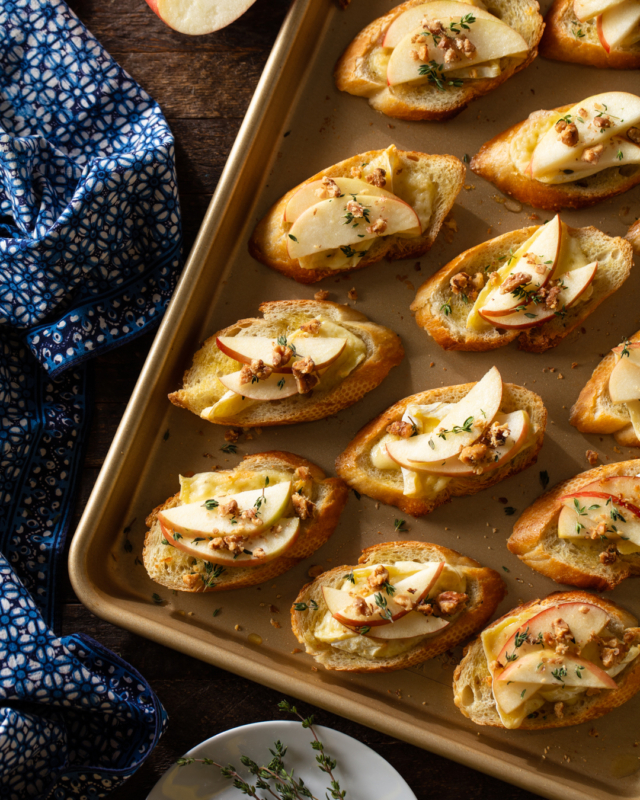 Supremely creamy melted Ermitage Brie meets crisp apple, roasty toasty walnuts, and crunchy baguette — and textures collide under a lovely drizzle of honey and thyme.

This crostini is perfect for early fall, the peak of the apple season. You could use any apple, but SweeTango is our favorite for this recipe — the sweet, punchy flavors it's named for are fantastic with the mildly earthy, double-crème Ermitage Brie.
Speaking of pairings, our tip: With its slightly sweet tropical fruits and layers of sweet butter and toast, Gelson's Chardonnay makes a very pleasing companion for the crostini.
Servings: 4
Ingredients
1 baguette
6 oz Ermitage brie, sliced
1 apple, cored and sliced
Walnuts, toasted
Honey
Thyme

Directions
Preheat oven to 375º.
Brush baguette slices with olive oil on both sides and arrange them on a baking sheet.
Add a slice of brie to each piece, and then bake for 2 – 3 minutes, until the brie is melted.
Top with slice of apple, toasted walnuts, a drizzle of honey, and fresh thyme.