Snacks Recipes
Brioche Buns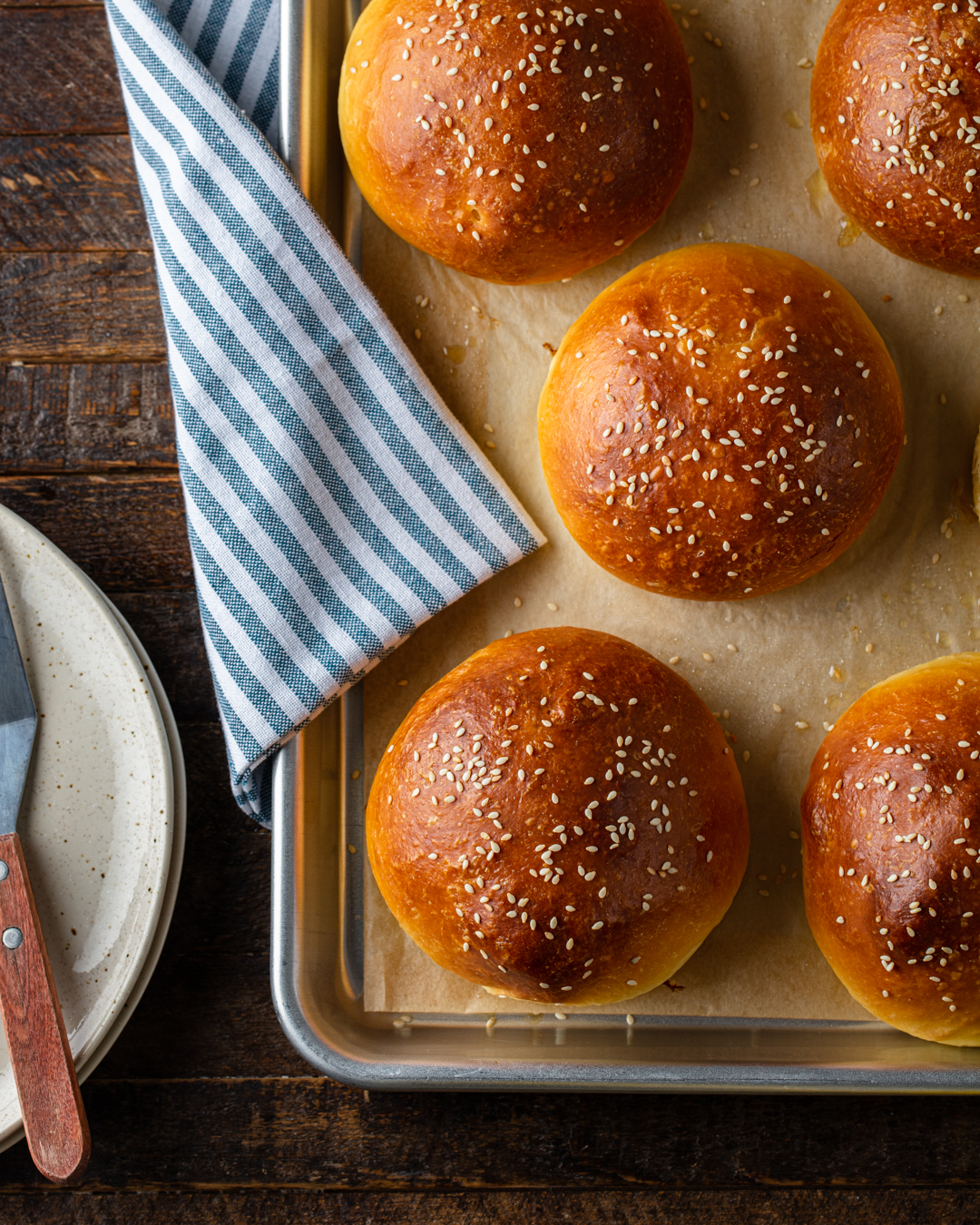 An exceptional bun tastes just as good without a burger as with one, and our tasters enjoyed eating this bun as plain as air. Straddling the fence between bread and pastry, brioche owes its flaky tenderness to plenty of butter and eggs. Given its richness, it's typically eaten for breakfast or dessert, but brioche also makes a phenomenal burger bun. Case in point here. We suspect this is the bun that will ruin you for all others.
Not only is it cute enough to keep as a pet (that bright shiny surface! those adorable sesame seeds!) it has a wonderful eggy flavor and light-as-a-cloud consistency, with just the right amount of squish to give you the best melding of burger, cheese, and sauce. The golden crust and eggy texture hold their own in the face of juicy meat and ripe tomatoes, safely containing any messy burger's incipient chaos from the first bite to the last.
There's no need to limit yourself to burgers here, though. This is the bun you want when you're standing at a buffet and have infinite options, all of which will be improved by a buttery, pillowy platform. Fill it with tuna or egg salad and a few pickles. Pile it with turkey and cheese and ham. Smoosh it with goat cheese and roasted peppers and pepperoncini. Use it for breakfast sandwiches with sausage and egg. Or, you know, enjoy it just as it is.
Servings: 6
Ingredients
2 ¾ cups King Arthur unbleached all-purpose flour
¼ cup nonfat dry milk
2 Tbsp granulated sugar
1 ¼ tsp kosher salt
1 Tbsp instant yeast
3 large Gelson's eggs + 1 large egg yolk, reserving the white for egg wash
¼ cup plus 1 Tbsp water, divided
10 Tbsp unsalted butter, cut into 1" pieces, softened
Spray oil
1 Tbsp Gelson's sesame seeds
Directions
In the bowl of a stand mixer fitted with the dough hook, combine the unbleached all-purpose flour, nonfat dry milk, granulated sugar, kosher salt, instant yeast, eggs, egg yolk, ¼ cup water, and unsalted butter. Mix on low speed until light in color and the dough no longer sticks to the sides or bottom of the bowl, about 20 minutes.

Form the dough into a ball, place it in a greased bowl, cover, and let it rise for 1 hour.

Refrigerate the covered dough overnight to slow its rise and make it easier to shape.

When ready to make the buns, line a baking sheet with parchment paper and spray the parchment with oil. Remove the dough from the refrigerator and allow it to come to room temperature, about 30 minutes.

Turn the dough onto a lightly oiled surface and divide it into 8 pieces, about 3 ½ oz each. Flatten each piece, then pinch the ends together to form a ball. Put the dough on the counter, pinched-side down. Wrap your palm around the back of 1 dough ball and pull it towards you, rotate the ball 45 degrees, and pull again. Repeat this process until you've rounded the dough and created a tight skin around the dough ball. Repeat with the remaining dough balls.

Place the buns on the parchment-lined baking sheet, leaving 2 to 3" between them. Cover the buns with plastic wrap, and let them rise until they're double in size and quite puffy. This may take 1 to 3 hours, depending on how warm your kitchen is. Towards the end of the rising time, preheat the oven to 375°.

To make the egg wash, whisk together the reserved egg white and remaining 1 tablespoon water. Brush the buns with the egg wash, sprinkle with sesame seeds, and bake on the middle rack of the oven for 14 to 18 minutes. Check the buns after 10 minutes and, if they are browning too quickly, tent with foil. The finished buns will register at least 190° on an instant-read thermometer inserted into the center.

Transfer the buns to a cooling rack and let cool completely. Cut in half before serving.
Recipe source: King Arthur Baking
Calculate nutrition information for this recipe.