Recipes
Broccoli Cheese Soup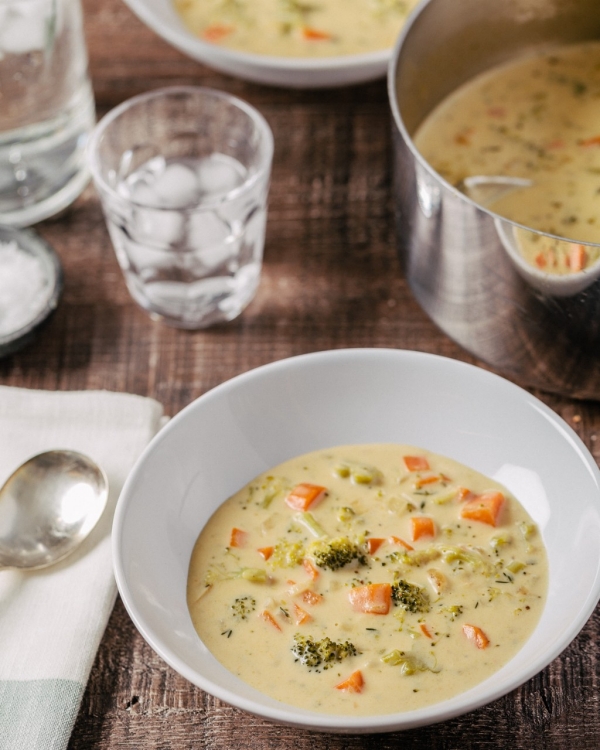 If you've never had it, cheese soup is one of those dishes that sounds like a terrible idea, until you actually eat a bowl of it, and then it becomes an ever more wonderful idea by the spoonful. For many of us, broccoli cheese is a guilty favorite, a very specific craving that comes up a few times a year and must be satisfied.
For our recipe, we've used a very sharp cheddar cheese, so that the rich and uber-creamy broth has more depth and a tanginess that's very pleasing. We've also left the veggies whole to cook in the cream, so they infuse it with their sweet, earthy flavors, and you get tender broccoli florets and carrot medallions in every bite — the perfect textural foil for all that velvety smooth cream. They make the dish feel a bit healthier too.
This soup is so universally pleasing, it's perfect family fodder. Make it for dinner-in-front-of-the-TV night, and just to up the decadence, serve it with salty Röckenwagner pretzel buns — and Alesmith nut brown ale for the grown-ups. (Its malty sweetness will be a nice counterbalance to the tangy cheese.)
Servings: 4 to 6
Ingredients
2 Tbsp butter
1 small onion, diced medium
1 cup carrots, peeled and diced medium
3 cups broccoli, chopped into bite-size pieces
2 cloves garlic, minced
2 Tbsp flour
2 cups vegetable or chicken broth
1 tsp fresh thyme
Salt, to taste
Black pepper, to taste
1 ½ cups cream
1 ½ cups sharp cheddar cheese
½ cup fresh parmesan cheese
Directions
In a medium soup pot, melt the butter over medium heat.

Add the onion, carrot, broccoli, and garlic, and sauté for 5 to 7 minutes, or until the vegetables are tender.

Add the flour and stir to combine.

Add the vegetable or chicken broth and stir to combine.

Add the fresh thyme, salt, pepper, cream, and then slowly whisk in the cheeses. Lower the heat to medium-low, and simmer for 15 minutes.

Serve immediately, while piping hot.