Recipes
Brown Butter Blondies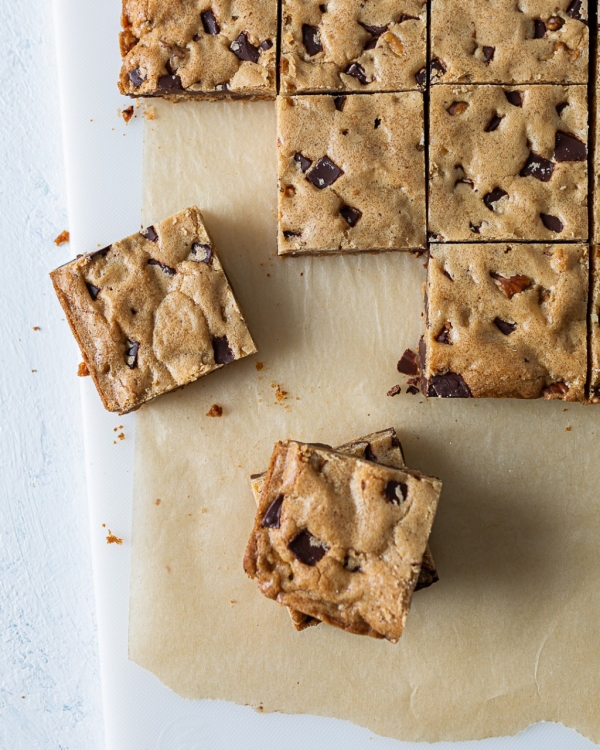 This is one of those incredibly easy recipes that you make once, remember forever, and pull out like a parlour trick a few times a year — amazing everyone with your scrumptious off-the-cuff dessert. It's just a stick of butter, an egg, a cup of sugar, a cup of flour, and a generous pinch of salt. But it produces some of the best blondies we've ever tasted.

The secret is, of course, the brown butter, which makes everything taste better. Browning butter adds a nutty, roasty depth to its flavor. In combination with sugar and vanilla, it gives the blondies toasty caramelized notes. For our blondies, we played all that up by mixing in chunks of chocolate and toasted walnuts — they're the perfect balance of sweet, nutty, and salty. Give us a bottomless glass of milk or steamy latte, and we could eat them all day long.
The fun part is picking out your mix-ins, from M&M's to peanut butter chips, candied ginger, and chopped up candy bars. You can also swap out the vanilla for mint extract, almond extract, or even booze. If you go with the latter, you'll need to add some bake time. But, truth be told, these little brown butter blondies are also pretty terrific plain — so if there are no mix-ins in the pantry, don't let that stop you.
Servings: 16
Ingredients
1 stick unsalted butter, plus more for greasing the pan
1 cup light or dark brown sugar
1 large Gelson's egg
1 tsp vanilla extract
½ tsp kosher salt
1 cup all-purpose flour
1 ½ cups mix-ins*
* We used 1 cup chocolate chunks and ½ cup toasted walnut pieces.
Directions
Heat the oven to 350°F. Line the bottom and two sides of a baking pan measuring 8 x 8 inches with parchment paper and butter the remaining exposed parts of the pan.

In a small saucepan over medium heat, melt the butter, stirring occasionally, until it becomes toasty and browned at the bottom and you can smell the brown butter, about 5 to 7 minutes.

Pour the butter into a medium or large bowl and whisk in the sugar until smooth. Let it rest until lukewarm.

Whisk in the egg, vanilla extract, and kosher salt.

Stir in the flour and mix-ins of your choice.

Scrape the batter into the prepared pan and smooth it with a spatula. The batter will be thick and will take some nudging. Bake for 20 to 25 minutes, until lightly browned at the edges, and an inserted toothpick should come out mostly clean. The blondies will look a tiny bit underbaked when you remove them.

Let the blondies cool completely in the pan. If you prefer warm and fudgy bars, allow them to cool for 10 minutes and then use the parchment sling to slide them onto a cutting board.. Cut into 16 or more squares. Note: blondies can be stored in an airtight container at room temperature for up to a week.
Recipe source: Smitten Kitchen