Appetizer Recipes
Bruschetta with Heirloom Tomatoes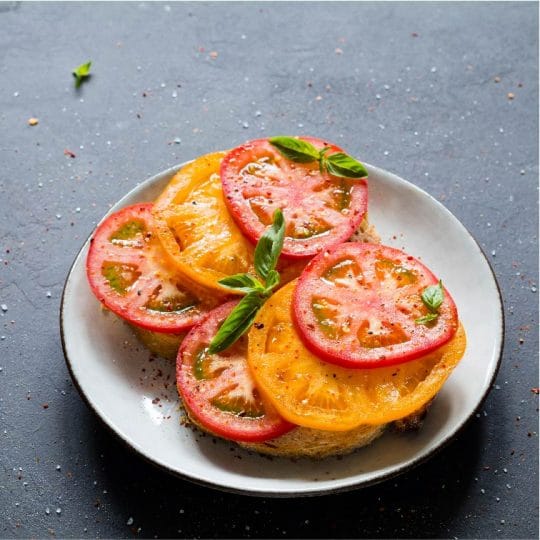 Appetizer
Bruschetta with Heirloom Tomatoes
Serves: 8
Ingredients
2 pounds mixed colors of organic heirloom tomatoes seeded and diced
1/4 teaspoon Le Saunier de Camargue Fleur de Sel sea salt divided
6 cloves Melissas organic garlic 2 cloves minced 4 cloves halved
1/2 cup slivered organic basil leaves
1 pinch crushed red pepper flakes or to taste
1 teaspoon plus 1 tablespoon Napa Valley organic olive oil divided
1 tablespoon Monari Federzoni balsamic vinegar
1 Gelsons Finest rustic bread demi loaf
Directions
Place diced tomatoes in a glass bowl and sprinkle with 1/8 teaspoon salt. Toss gently and let stand for five minutes. Drain off excess liquid.
Add the remaining salt, two cloves of minced garlic, basil, red pepper flakes, one teaspoon olive oil and vinegar to the tomatoes and toss gently. Let stand for 30 minutes.
Preheat oven to 375 F.
Slice ends off baguettes and slice bread at an angle into 32 1/4 inch slices. Lay slices on a baking sheet. Rub cut garlic on tops of bread slices use 1/2 clove for every four slices and use a pastry brush to lightly brush bread tops with remaining tablespoon of olive oil. Toast until just crisp and lightly browned, about five minutes. Use a slotted spoon to pile a heaping tablespoon of the tomato mixture onto the toast. Serve immediately.