Recipes
Brussels Sprouts & Bacon Jam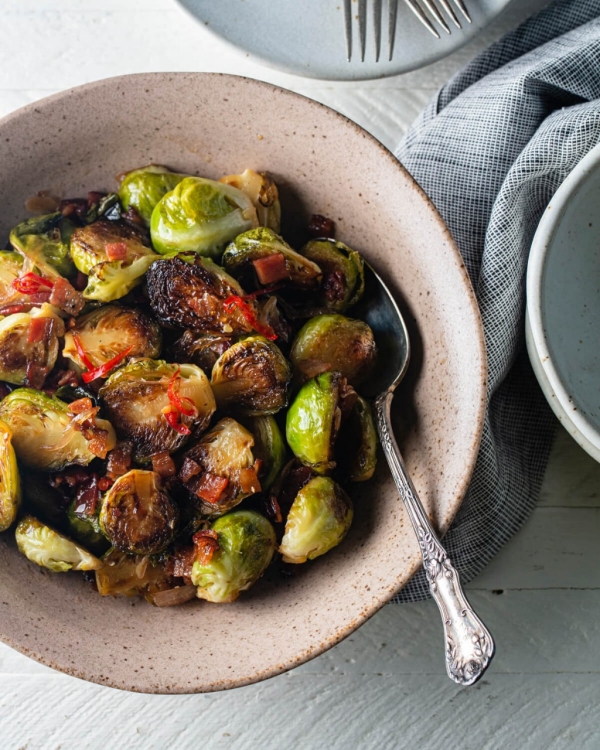 It has been wonderful to watch Brussels sprouts take the food scene by storm. Seared to a crisp and coated in all kinds of bright, spicy sauces, they're the new Buffalo wings. We don't mind at all: a few savory sprouts are every bit as satisfying as their meatier counterparts, and they pair beautifully with a nice, fall bourbon drink. Plus, we feel a little healthier eating them — even if they're slathered in sauce.
For this recipe, we fry up a bunch of bacon, and then sear the Brussels sprouts in the bacon fat. The sprouts are halved, and they crisp up beautifully on the cut side. They get tossed in a piquant combination of chile peppers, garlic, sherry vinegar, maple syrup, and honey. The taste is so luxe: spicy-sweet, bright, toasty, slightly smoky, and so rich. It's almost impossible to stop eating them.
We'd definitely bring these Brussels sprouts to a tiny, socially distant Friendsgiving as an appetizer. They'd also be a welcome zippy note served alongside the turkey at your family's table. Yes, the Brussels sprout used to be controversial, but it's not anymore — isn't it about time you invited it home for the holidays?
Servings: 6
Ingredients
8 oz Gelson's premium sliced bacon, diced
¼ cup grapeseed oil
2 lb Gelson's Brussels sprouts, halved
½ cup shallot, sliced
2 cloves garlic, thinly sliced
1 red long hot pepper, thinly sliced into rounds
2 Tbsp sherry vinegar
½ cup pure maple syrup
1 Tbsp honey
Kosher salt, to taste
Black pepper, to taste
Directions
In a large, nonstick skillet over medium heat, cook the bacon until crispy, and then remove the skillet from the heat, strain off the fat, and transfer the bacon to a paper towel to drain.

Once it is cool, wipe out the pan, add the grapeseed oil, and heat it over medium-high heat until it is lightly smoking.

Add the Brussels sprouts gently, cut side down, shaking the pan to settle them. Sear the sprouts until they're golden brown, about 3 minutes, and then stir them.

Add the shallot, garlic, and red long hot pepper, and sauté until fragrant and tender, 2 to 3 minutes.

Add the sherry vinegar, maple syrup, and honey, stir to combine, and simmer for another 2 minutes.

Add the bacon, cook for a minute to allow the flavors to meld, and then season with salt and pepper — and serve hot.