Recipes
Bucatini & Swiss Chard with Garlicky Breadcrumbs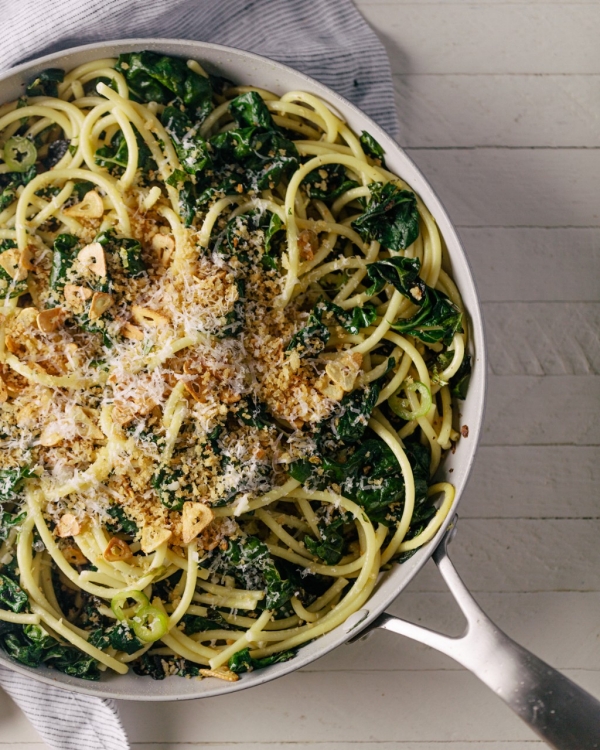 A bowl of bucatini pasta tossed with Swiss chard — it sounds humble, it looks very simple, but we're here to tell you that this recipe is astonishingly flavorful. It's made with a classic Italian combination of olive oil, garlic, anchovies, and chiles, so it reminds us a bit of a deconstructed bagna cauda, and yet it's very much its own thing.
First, there are the panko breadcrumbs. We sauté slivers of garlic in olive oil 'til the garlic is soft and starting to crisp, and the oil is perfumed with it — and then we use that oil to toast the panko. The anchovies are also warmed in olive oil, where they dissolve into a mellow umami-filled paste. To that, we add the chiles and the chard, which wilts into silky piles. The final dish is a chewy pasta, rich and spicy chard, a few sprigs of mint, a bright pop of lemon zest, a little salty pecorino, and then the crispy, garlicky breadcrumbs.
It's such a knockout dish, you could make it for a special night, but we like it for the quieter nights at home. It's the quintessential one-bowl meal, meant to be inhaled (you won't be able to help yourself, it's that good) as you sit in yoga pants and bare feet, sipping wine and watching a movie.
Servings: 4
Ingredients
5 Tbsp olive oil, divided, plus more for drizzling
4 garlic cloves, thinly sliced
⅓ cup panko breadcrumbs
Kosher salt, to taste
Ground pepper, to taste
12 oz bucatini
5 oil-packed anchovy fillets, finely chopped
1 serrano chile, thinly sliced
1 bunch small Swiss chard, ribs and stems removed, leaves coarsely torn
3 Tbsp unsalted butter, cut into pieces
1 cup mint, coarsely chopped
2 tsp lemon zest, finely grated
2 tsp lemon juice
Pecorino cheese, finely grated, for serving
Directions
In a small skillet, heat 2 tablespoons of the olive oil over medium heat. Sauté the garlic, swirling the pan often, until the garlic is golden and crisp, about 2 minutes. Transfer the garlic to a small bowl with a slotted spoon, but reserve the oil in the pan.

Add the panko to the same skillet and cook, stirring often, until golden, about 5 minutes. Season the panko with salt and pepper, and add it to the garlic.

Cook the pasta according to the package directions, and then drain it, reserving 1 cup of the pasta cooking liquid.

Meanwhile, heat 3 tablespoons of the olive oil in a large skillet over medium heat. Cook the anchovies, mashing them with a wooden spoon until only a few flecks remain, about 4 minutes. Add the chile and Swiss chard and cook until the chard is slightly wilted, about 1 minute.

Add the butter, pasta, and half the pasta cooking liquid to the chard mixture and cook, tossing often with tongs and adding more pasta cooking liquid if the sauce looks dry, until the sauce is emulsified and coats the pasta. Remove the pasta from the heat and stir in the mint, lemon zest, and lemon juice.

Divide the pasta among 4 bowls. Top each serving with a drizzle of the olive oil, the garlicky panko, and pecorino.
Recipe adapted from: https://www.bonappetit.com/
Calculate nutrition information for this recipe.