Dinner Recipes
Buffalo Chicken Dip
With a lavish amount of cheese, liberal splashes of hot sauce, big scoops of shredded chicken, and a small, bright twist of lemon, this dreamy dip is destined for the top of your one-food-on-a-deserted-island list. It's rich, creamy, and irresistible, plus it comes together quickly so it's great for last-minute happy hours. Consider making a double batch: it'll disappear fast.
Our tip: Prep is even easier if you use Gelson's rotisserie chicken (that's what we did). Stop by our deli and pick one up!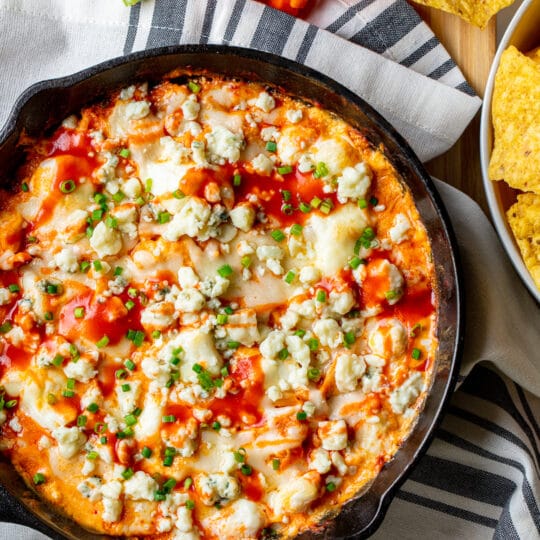 Dinner
Buffalo Chicken Dip
Serves: 4
Ingredients
2 cups cooked and shredded chicken
8 oz Frank's Red Hot Buffalo Wing Sauce, plus more for drizzling
½ tsp freshly squeezed lemon juice
4 oz cream cheese, cut into cubes, softened
½ cup freshly shredded white cheddar cheese
¼ cup blue cheese crumbles
2 tsp finely chopped Gelson's fresh chives
Celery, carrots, and tortilla chips, for serving
Directions
Preheat the oven to 375º.

In an 8" cast-iron or ovenproof skillet, melt the butter over medium-high heat. Add the chicken and hot sauce and stir until the chicken is well-coated and hot, about 2 minutes.

Remove from the heat and stir in the lemon juice, sour cream, and cream cheese until combined. Evenly sprinkle the cheddar cheese on top.

Bake until bubbling around the edges and the cheddar has melted, about 10 minutes.

Immediately garnish with the blue cheese and chives. Drizzle a bit more hot sauce over the top. Serve hot with the vegetable sticks and chips for dipping.

Leftover dip can be stored in an airtight container in the refrigerator for up to 2 days.
Recipe source: New York Times