Dinner Recipes
Burrata & Spring Veggie Slab Pie
If looking at this slab doesn't make you feel like a great big gust of cool spring air just blew into your life, eating it definitely will. Underneath that pile of peppery watercress, sweet mint, and green peas is a rich layer of pesto and buttery puff pastry — it's like this pie has one foot planted in winter. So fresh, yet so rustic and comforting.
It's the kind of dish that will pair beautifully with a light cocktail or a glass of wine. We'd definitely roll it out as an appetizer (people will gasp at its beauty), but it would also make a wonderful weeknight dinner. It comes together in under a half hour. Now who's gasping?
Tip: Need a great pesto recipe? Here you go.
Serves: 6 to 8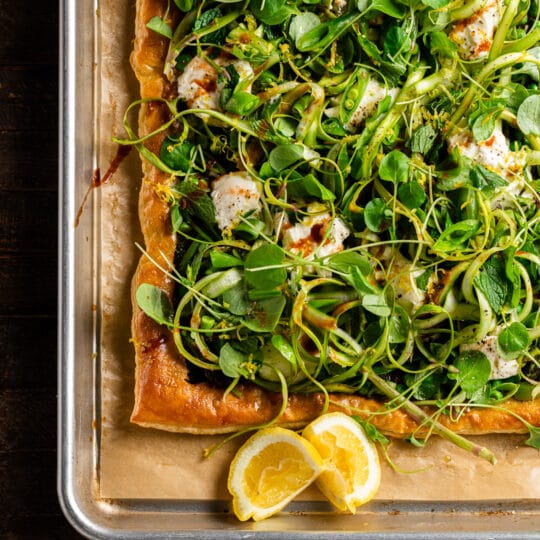 Dinner
Burrata & Spring Veggie Slab Pie
Ingredients
Gelson's organic all-purpose flour, for dusting
1 sheet frozen puff pastry, thawed
1 cup fresh, shelled English peas
1 ½ cups snap peas, thinly sliced, divided
8 oz burrata, torn into bite size pieces, divided
2 Tbsp Gelson's 100% California extra virgin olive oil
Juice of ½ lemon, plus more to taste
2 tsp chile garlic hot sauce
¼ cup Gelson's organic mint leaves, torn
Freshly ground Gelson's black pepper, for garnish
Directions
Preheat the oven to 425º. Line a sheet pan with parchment paper.

On a surface dusted lightly with flour, roll the puff pastry to about 12x15". Transfer the pastry to the prepared sheet pan. Freeze for 15 minutes.

In a small bowl, whisk together the egg and cool water. Brush the puff pastry with the egg wash to coat. Using a paring knife, score a rectangle ½" in from edges of the pastry to mark a crust, and dock the center all over with a fork.

Bake for 15 minutes, until the pastry is puffed and golden brown. Let cool for 5 minutes.

Meanwhile, slice off the asparagus tips and set them aside. Use a vegetable peeler to shave the asparagus stalks into thin strips. Place the shaved asparagus in a medium bowl filled halfway with ice water. Set aside.

Use the back of a spoon to press the center of the pastry flat, leaving the ½" crust elevated. Spread the pesto evenly over the bottom of the pastry.

Scatter the English peas, ½ the snap peas, ½ the burrata, and the asparagus tips over the pesto. Drizzle with the olive oil.

Bake for 5 minutes, or until the cheese is melted. Let cool for a few minutes.

Pat the shaved asparagus dry with a clean towel. Scatter the remaining snap peas, burrata, shaved asparagus, and watercress over the slab pie.

Scatter the lemon zest and drizzle the lemon juice and hot sauce on top. Garnish with the mint leaves, flake salt, and black pepper. Slice and serve immediately.