Recipes
Butter Lettuce Salad & Parm Vinaigrette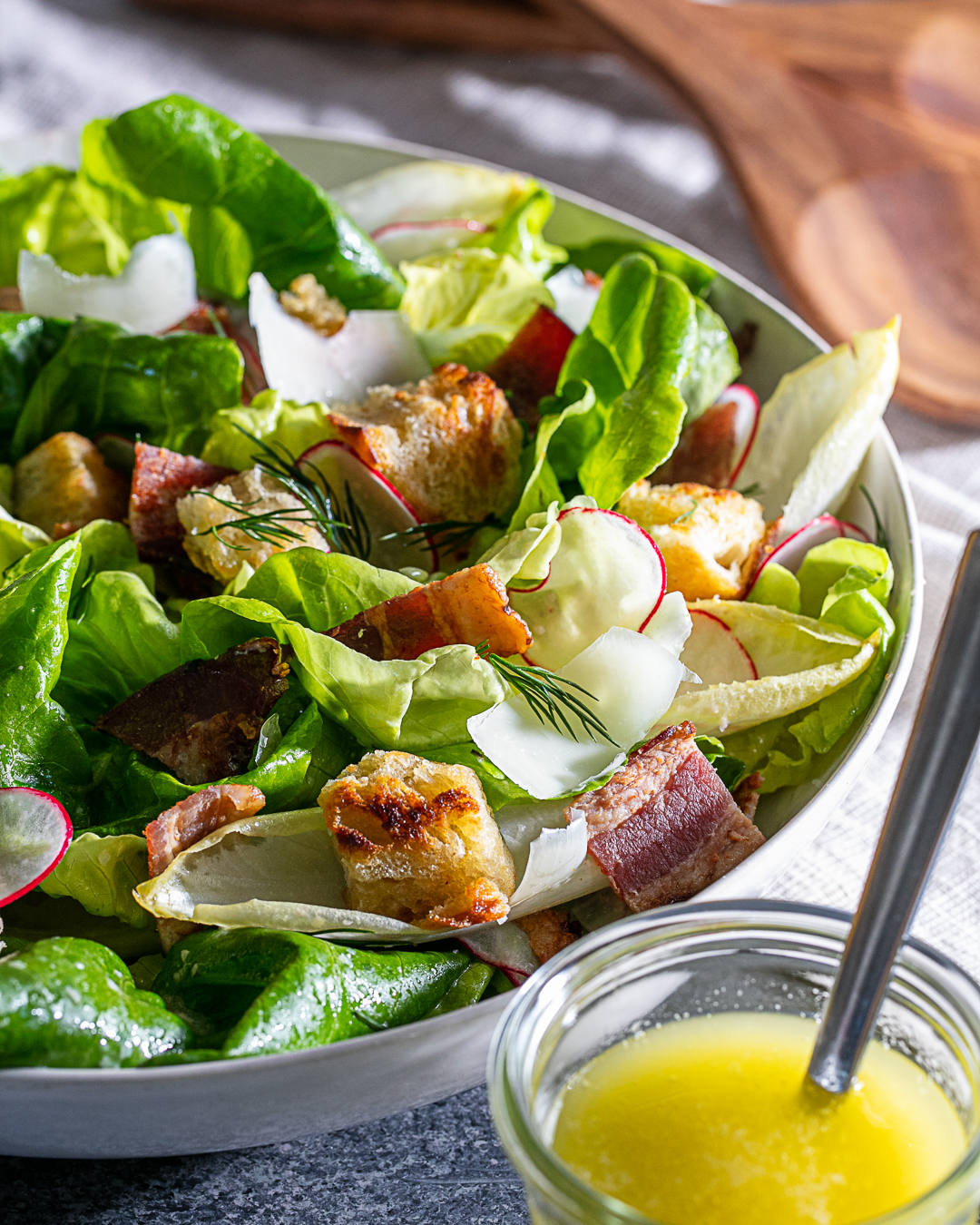 Sure, salads can be made in just a few minutes, tossing together whatever you've got on hand. But sometimes it's nice to take as much care with a salad as you might with a more labor-intensive entrée. Just a few extra steps — cooking bacon, toasting fresh croutons, whirring up a homemade dressing — take your salad from everyday to wowza-worthy.
Each element of this salad brings something special to the party. The croutons soak up the garlicky, cheesy dressing, but they're cut large enough so they stay nice and crunchy. The bacon is a chewy, salty variation to the lettuce's clean crunch. And the additional layers of endive, radishes, and fresh dill complement the lettuce's delicate flavor beautifully.
On a day when you want to take a little more time for a satisfying lunch, serve this salad as a lighter alternative to a Cobb. Or plate it with whatever you've got going on the grill for dinner tonight. And we can't help thinking that it might be the perfect counterpoint to a lazy, boozy brunch this weekend, paired with a loaf of crusty bread and a nice, crisp bottle of white.
Servings: 2 to 4
Ingredients
For the Parmesan Vinaigrette:
2 garlic cloves
1 cup grated Parmesan cheese
2 Tbsp freshly squeezed lemon juice
2 Tbsp white wine vinegar
1 Tbsp plus 1 tsp honey
1 tsp Dijon mustard
½ cup neutral oil (safflower, grapeseed, canola, etc.)
¼ cup extra-virgin olive oil
Kosher salt, to taste
Freshly cracked black pepper, to taste
For the Salad:
6 oz Gelson's bacon
¼ cup extra-virgin olive oil, plus more if needed
4 oz crusty bread, torn into large, bite-size pieces
2 heads butter lettuce, cores removed, leaves separated
1 head endive, end removed, leaves separated
4 radishes, shaved thin
2 oz Parmesan cheese, shaved
Gelson's organic fresh dill leaves, for garnish
Directions
Preheat the oven to 350°.

To make the Parmesan vinaigrette: Combine the garlic and Parmesan in a food processor and pulse until a paste forms. Add the lemon juice, vinegar, honey, and Dijon. Pulse to incorporate.

With the processor running, slowly drizzle in the oils and blend until emulsified.

Season with salt and freshly cracked black pepper and pulse to combine. Transfer the vinaigrette to a jar and store in the refrigerator until ready to use.

To make the salad: Place the strips of bacon onto a foil-lined sheet pan in one, even layer. Bake for 30 minutes, or until crispy. Place the bacon on paper towels to drain and let cool. Once cooled, roughly chop the bacon into large, bite-size pieces.

Meanwhile, to toast the bread, heat a medium skillet over medium heat. Add enough olive oil to the skillet to come up about ¼". Tear the crusty bread into large, bite-size pieces. Once the oil is hot, add the torn bread. Toss the bread in the oil, and toast until golden and crispy on all sides, 3 to 5 minutes. Transfer the croutons to a paper towel-lined plate. Immediately season with a pinch of salt.

Combine the butter lettuce, endive, radishes, bacon, and croutons in a large mixing bowl. Drizzle in just enough Parmesan vinaigrette to fully coat the salad ingredients. Toss well to combine.

Place the salad in a large serving bowl. Garnish with the shaved Parmesan, dill, and more freshly cracked black pepper.
Recipe adapted from: The Original Dish
Calculate nutrition information for this recipe.