Appetizer Recipes
Caesar Potato Salad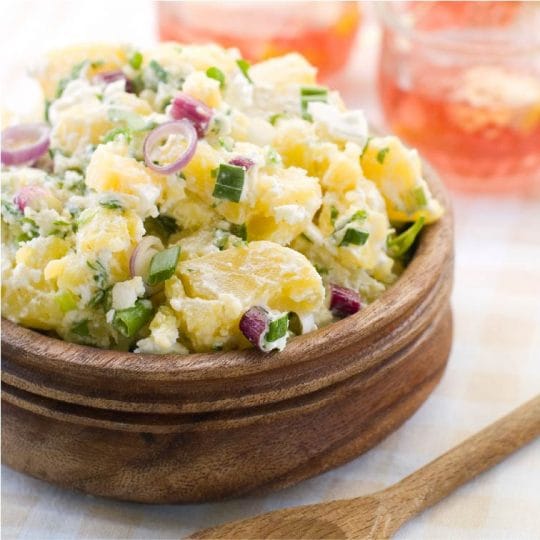 Appetizer
Caesar Potato Salad
Serves: 24
Ingredients
4 1/2 Pounds New Potatoes White Rose Quartered
2 1/4 Cups Diced Red Onion
1 Cup Chopped Italian Parsley
1 Cup Chopped Hard Boiled Eggs
1 Cup Crumbled Gorgonzola Cheese
Salt And White Pepper To Taste
1 Cup Liquid Pastuerized Egg Yolks
4 Tablespoons Pureed Ancovies
4 Tablespoons Minced Garlic
1 Teaspoon Worcestershire Sauce
2 Tablespoons Dijon Mustard
1 Pound Grated Parmesan Cheese
1 Tablespoon Black Pepper
Directions
Salad:
Cover potatoes with cold water, bring to a boil.
Reduce heat and cook at a slow boil until just tender. Drain in a colander and place in cooler to cool quickly.
Combine with the remaining ingredients, toss and serve.
Dressing:
Combine the first 8 ingredients in a bucket. With a bermixer or table mixer running, slowly add the oils and alternate with the lemon juice to prevent breaking until all is incorporated into the dressing. Chill.