Dinner Recipes
Cajun-Style Shrimp & Andouille Pasta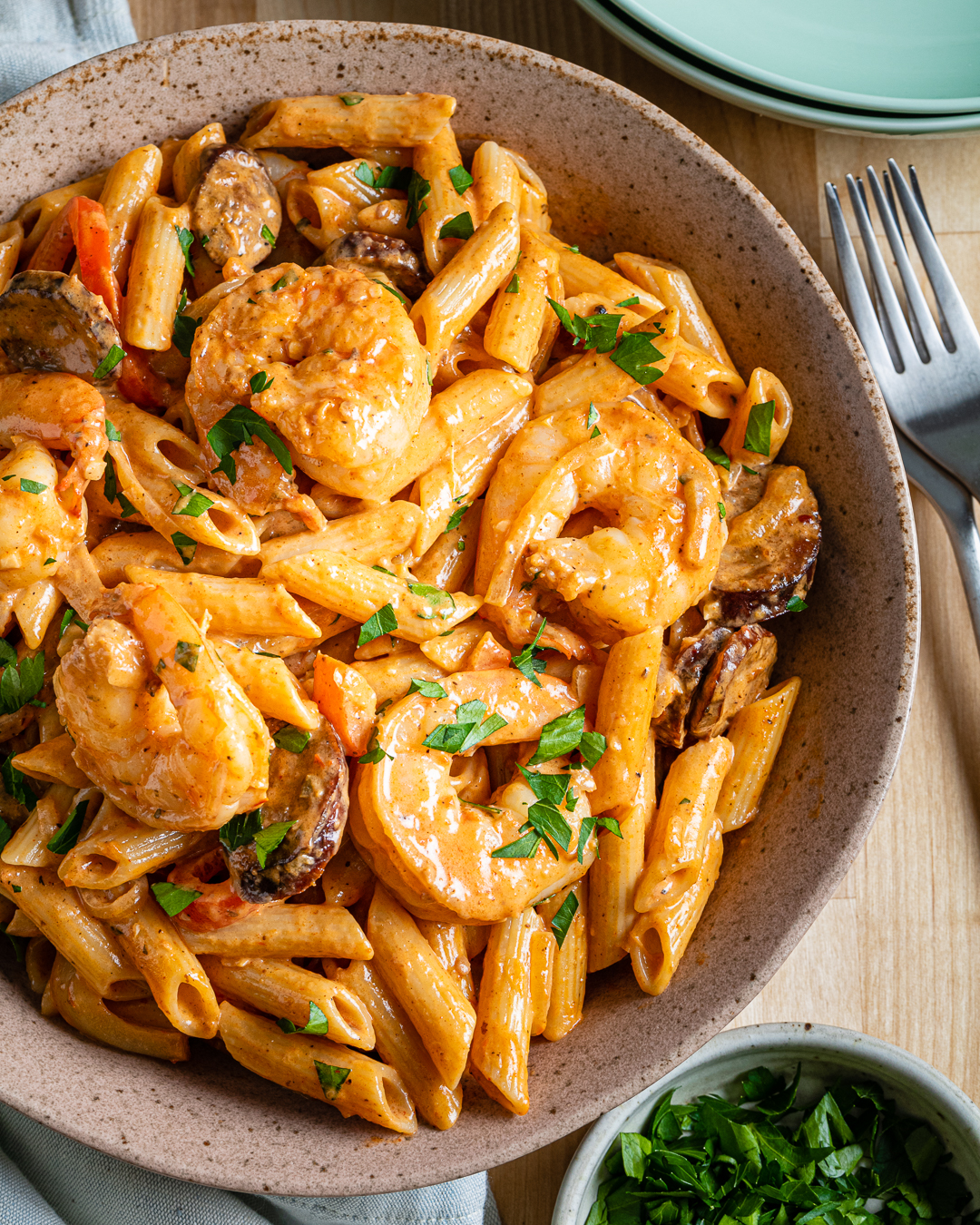 In the test kitchen, we have an enormous amount of love and respect for Cajun cuisine. In part because it combines the ingredients of the Southern Louisiana bayous and coastal regions with a hybrid of West African, French, Spanish, Creole, and Indigenous cooking techniques. But also because it's comforting, hearty, and full of flavor and spice. This creamy, Cajun-inspired pasta has filling, feel-good ingredients like sautéed shrimp and andouille sausage — and naturally, it relies heavily on Cajun seasoning.
Like many spice blends, the exact contents of Cajun seasoning will vary depending on whose kitchen you're standing in. It might include garlic, onion, black pepper, mustard, celery, and ground chiles, such as paprika or cayenne — but in general, it's bold, warm, and zesty. While you could certainly whip up a homemade Cajun seasoning, we opted for a premade version and added a bit of dried oregano for a hint of earthiness.
We use the seasoning to coat the sautéed shrimp. The hot pan toasts the ground chiles in the blend, giving the shellfish a roasty depth. Once the shrimp is cooked through, we brown the andouille in the same pan to enhance its famously spicy, smoky flavor.
The Cajun seasoning also makes an appearance in the tomato-cream sauce, along with yellow onion, red bell pepper, garlic, Parmesan cheese, and a little brown sugar. It's so rich and tangy — the perfect balance of tomatoes and cream — with an absolutely irresistible kick. And it clings to the shrimp, sausage, and penne marvelously.
We finish the pasta with a scattering of fresh parsley, another hallmark of Cajun cooking, for a touch of bright herbaceousness. Not only is it a hearty, flavorful dish, it's well-rounded in terms of texture, too. The al dente penne, the tender shrimp, and (our favorite) the chewy sausage — it's the perfect forkful. We'd eat this pasta every day if we could, with a few dashes of Louisiana hot sauce here, a few dashes there, and a glass of crisp white wine to tame that spicy tingle.
Servings: 4
Ingredients
5 tsp Cajun seasoning, divided
½ tsp Gelson's organic dried oregano
1 lb large shrimp, peeled and deveined
3 Tbsp extra-virgin olive oil, divided
6 oz andouille sausage, thinly sliced
Kosher salt, to taste
10 oz penne pasta
½ yellow onion, thinly sliced
1 red bell pepper, thinly sliced
1 tsp packed brown sugar
3 garlic cloves, chopped
½ cup canned crushed tomatoes
1 cup sodium-free chicken broth
1 cup heavy cream
⅔ cup Gelson's grated Parmesan cheese
Freshly cracked Gelson's black pepper, to taste
1 Tbsp chopped parsley leaves, for garnish
Directions
In a large bowl, combine 1 teaspoon Cajun seasoning and oregano. Add the shrimp and toss to coat.

Heat a large skillet over medium-high heat and drizzle the bottom of the pan with 1 tablespoon olive oil.

Add the shrimp and cook for 2 minutes on one side. Flip the shrimp and cook 1 to 2 minutes more. Transfer the shrimp to a plate and set aside.

Drizzle the pan with 1 tablespoon olive oil, add the sausage and brown until nicely caramelized, 4 to 5 minutes. Transfer the sausage to a plate and set aside.

Bring a large pot of water to a boil (4 to 6 quarts) and add a generous pinch of salt. Following the package instructions, cook the pasta until al dente. Drain the pasta and set aside.

Return the skillet to medium heat, and add 1 tablespoon olive oil. Add the onions, red bell peppers, brown sugar, a generous pinch of salt, and the remaining 4 teaspoons Cajun seasoning. Sauté until the onions and peppers have softened slightly, scraping up any browned bits that you can. Add the garlic and cook until fragrant, about 30 seconds.

Add the tomatoes, chicken broth, and heavy cream. Bring the sauce to a simmer, stirring and scraping up any browned bits from the bottom of the pan, and cook for 2 minutes.

Add the Parmesan cheese, stirring until thoroughly combined.

Add the pasta and sausage, stirring to coat, and cook until warmed through, 2 to 3 minutes. Season with salt and pepper to taste, and then stir in the shrimp.

Garnish with the chopped parsley and serve immediately.
Recipe source: What's in the Pan?
Calculate nutrition information for this recipe.