Dinner Recipes
Cali-Style Carne Asada Burrito
You should know that the day we made this burrito in the test kitchen, one of our chefs ate a whole one — and on taste-testing days, he rarely finishes anything in its entirety. The rest of us? We were right there with him. With grilled flank steak, crispy French fries, tangy sour cream, chunky guacamole, and spicy salsa, how could we not? This burrito has it all!
We especially love the marinade on the steak. It's made with lime juice, olive oil, and white vinegar, which helps tenderize the meat and give it some citrusy verve. Also in the mix: a handful of basic spices — think chili powder, oregano, and cumin. But the best part, weeknight chefs, is that it comes together with just a few quick flicks of a whisk.
In fact, this whole recipe is deliciously simple and efficient. Grilling the steak takes about the same amount of time as it does to bake the frozen fries. And we use Gelson's salsa and guac, so there's no chopping tomatoes or mashing avocados. Hello, Monday night dinner (and let's be honest, Tuesday lunch, too).
Our tip: a fry-filled carne asada burrito is perfect just the way it is, but we highly recommend enjoying it with your favorite hot sauce — it really enhances the flavors of the steak.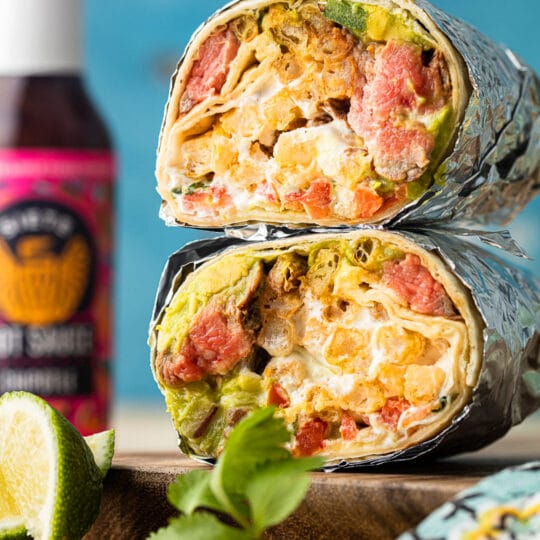 Dinner
Cali-Style Carne Asada Burrito
Serves: 4
Ingredients
For the carne asada steak:
1 ½ Tbsp freshly squeezed lime juice
2 Tbsp extra virgin olive oil
¼ tsp Gelson's garlic powder
¼ tsp Gelson's chili powder
¼ tsp Gelson's dried whole oregano
¼ tsp Gelson's ground cumin
¼ tsp Gelson's smoked paprika
¼ tsp Gelson's cayenne pepper
¼ tsp freshly ground Gelson's black pepper
Canola oil, for the grill
16 oz frozen French fries
1 cup Gelson's guacamole, divided
1 cup sour cream, divided
1 cup Gelson's salsa, divided
Directions
To make the carne asada steak: In a shallow baking dish, whisk together the lime juice, olive oil, vinegar, garlic powder, chili powder, oregano, cumin, paprika, cayenne pepper, salt, and pepper.

Place the flank steak in the marinade and gently flip it a few times to evenly coat. Cover with plastic wrap and refrigerate for 4 hours or overnight.

To make the burritos: Preheat the oven to 400º.

Place the frozen fries in a single layer on a rimmed baking sheet and bake until light golden brown, 15 to 20 minutes.

Heat a grill or grill pan to high heat and lightly oil the grate.

Place the flank steak on the hot grill. Grill for 4 minutes on each side, or until an instant-read thermometer inserted into the center reads 130º.

Transfer the steak to a cutting board, and allow it to rest under an aluminum foil tent for 5 minutes. Slice the steak into 1" strips, cutting against the grain.

In a large, dry skillet, warm the tortillas over medium heat for about 20 seconds per side.

Divide the steak, fries, guacamole, sour cream, and salsa among the tortillas, placing the ingredients in the center of each tortilla.

Fold the bottom of the tortilla over most of the filling, fold both sides in, and then roll the burrito up completely. Drizzle with hot sauce and enjoy immediately.
Recipe source: All Recipes