Recipes
Candied Sweet Potatoes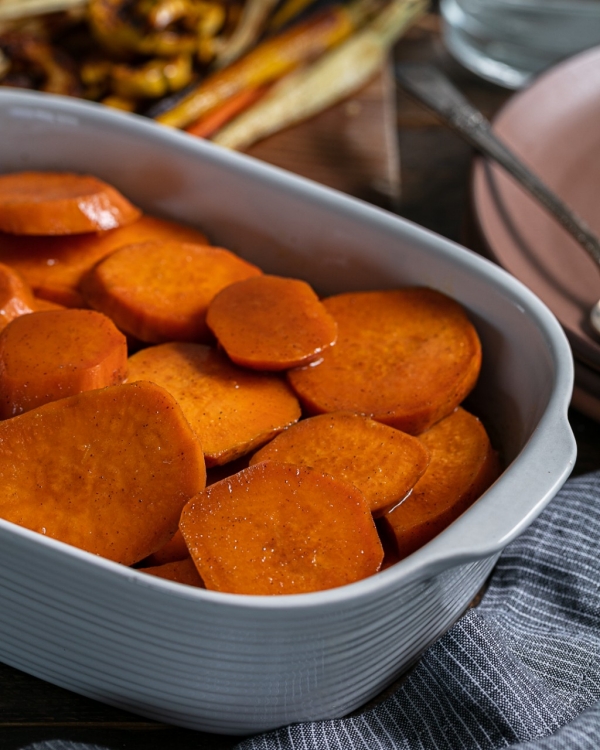 Some families argue over who gets the turkey legs. Some squabble over whether whipped cream or ice cream belongs on top of the pie. And, for many of us, there's a deep divide between those who insist that the only way to eat sweet potatoes is when they're covered with a thick layer of miniature marshmallows, and those who declare that plain old baked and better-for-you is the only way to go.
For all those families, we're here to offer a side dish that promises unanimous satisfaction. This recipe represents the best of both sweet potato worlds.
As you read over the recipe, you might be surprised to see that the sweet potatoes start in a cold oven that's then heated to a moderate 250°. That slow build-up and leisurely cooking time will ensure that every bit of sweetness is coaxed from them. Yes, there's sweetness and spice from the brown sugar, cinnamon, allspice, and ginger. There's even a tangy little kick from a splash of apple cider vinegar. But because they're baked oh-so-slowly and flipped often to cook evenly on all sides, it's the sweet potato's natural sweetness that shines through. While "candied" is in the recipe name, rest assured that Mother Nature will provide most of the sweetness here. (No marshmallows necessary.)
Servings: 6 to 8
Ingredients
2 ½ lb jewel sweet potatoes, peeled and sliced crosswise into ½"-thick rounds
1 cup lightly packed light brown sugar
¼ cup unsalted butter
½ cup water
1 Tbsp kosher salt
1 Tbsp apple cider vinegar
⅛ tsp ground cinnamon
⅛ tsp ground allspice
⅛ tsp ground ginger
Special Equipment: Instant-read thermometer
Directions
In a 9x13" baking dish, arrange the sweet potato rounds in an even layer, overlapping where necessary to fit them all. Set aside.

In a small saucepan, combine the brown sugar, butter, water, and salt, and bring to a boil, stirring often, until the syrup registers 220° on an instant-read thermometer.

Stir in the vinegar, cinnamon, allspice, and ginger, then pour the syrup over the potatoes to coat them completely.

Cover the baking dish with aluminum foil and place it in a cold oven. Heat the oven to 250°. Cook, stopping to flip and baste the potatoes with syrup every 30 minutes, until tender throughout, about 1 ½ hours.

Remove the foil and continue to cook, flipping and basting potatoes occasionally, until they are very soft and glazed in a rich brown syrup, about 30 minutes more. Let the potatoes cool slightly, then serve.
Recipe adapted from: Serious Eats