Dinner Recipes
Caramelized Onion & Fennel Apple Slaw Pizza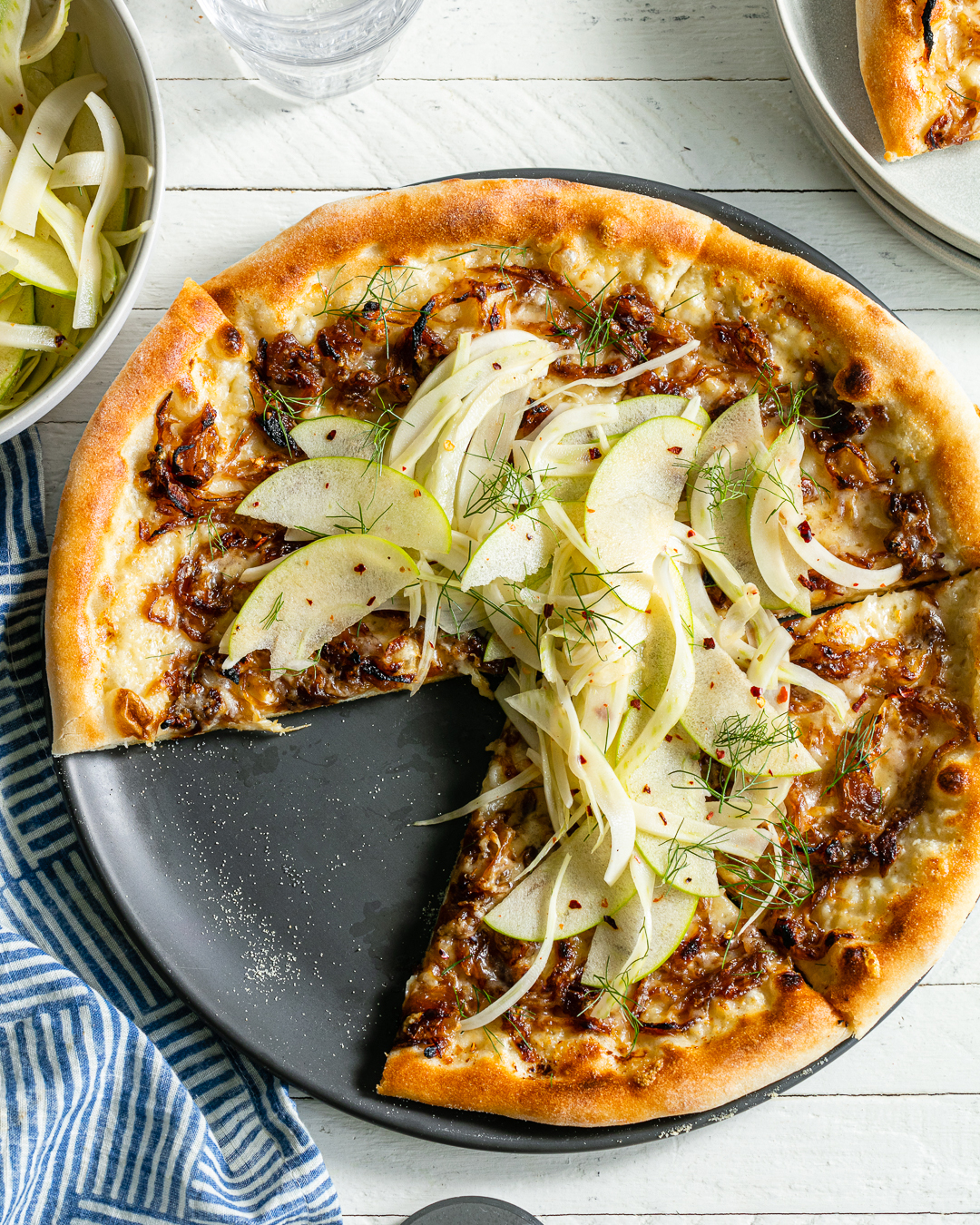 We've made many a pizza in our day, from classic, basil-topped Margherita to a gluten-free number with mushrooms, roasted red peppers, and ricotta. This time, though, we wanted to make something fresh and unexpected — but still satisfying in that pizza way.
We started with our go-to Neapolitan-style crust — it's so chewy and flavorsome, yet so easy and practically foolproof. Then we coated it in a layer of tangy crème fraîche for a creamier spin on white pizza, and scattered caramelized onions and nutty Gruyère cheese all over. In the oven, the thin crust becomes slightly charred and unbelievably crispy, and the cheese and onions meld with the crème fraîche, creating a rich, subtly sweet bite.
You could stop there and have a perfectly acceptable meal. But why settle? In the stylings of pizza covered in a mountainous tangle of arugula, we topped this one with a slaw. It's made with sweet-tart Granny Smith apples and shaved, anise-y fennel, which get tossed in a dressing of Dijon mustard, apple cider vinegar, lemon juice, olive oil, and crushed red pepper. Think: bright, punchy, and just a wee bit spicy.
We love how the slaw balances out the richness of the pizza, adding freshness and crunch to each bite. (Plus, it completely eliminates the need for a side salad.) It's perfect for a laidback family dinner — and that juxtaposition of rich and creamy 'za against fresh and bright slaw means it'll taste amazing with either a light, fruity red or a crisp, citrusy white wine. Heck, we just might pour a glass of each!
Yield: 2 12" pizzas
Ingredients
For the pizza dough:
1 ⅛ cups warm water (115º), divided
3 ¼ cups bread flour, plus more as needed
½ tsp granulated sugar
¾ tsp active dry yeast
1 ½ tsp kosher salt
For the pizzas:
2 Tbsp unsalted butter
4 sweet onions, thinly sliced
1 pinch kosher salt
Bread flour, for dusting the work surface
½ cup crème fraîche, divided
6 oz grated Gruyère cheese, divided
Semolina flour, for dusting the peel
For the fennel apple slaw:
½ tsp Dijon mustard
½ tsp Gelson's crushed red pepper
2 tsp apple cider vinegar
2 Tbsp extra-virgin olive oil
Kosher salt, to taste
Freshly ground Gelson's black pepper, to taste
1 large head fennel, shaved thin, fronds reserved for garnish
1 Granny Smith apple, shaved thin
1 tsp freshly squeezed lemon juice
Special equipment: pizza stone and peel
Directions
To make the pizza dough: In the bowl of a stand mixer, use a rubber spatula to fold together 1 cup warm water and the bread flour until they're fully combined. Cover the mixing bowl with a damp towel for 60 minutes.

With about 10 minutes remaining, in a small bowl, hand whisk the remaining ⅛ cup warm water, sugar, and yeast, and let it stand for 10 minutes.

Add the yeast mixture and salt to the dough, and mix with the dough hook on medium-low speed for 5 minutes. The dough should be tacky but not sticky. If it seems too wet, add 1 to 2 tablespoons bread flour.

Turn the dough out onto a lightly floured surface. Form it into a ball, dust it with flour, place it in a clean mixing bowl, and cover it tightly with plastic wrap. Let the dough rise at room temperature for 60 minutes.

Note: You can use the dough now, but if you transfer it to the refrigerator to ferment for 18 to 24 hours, it will have a lot more flavor and texture. The timing of the recipe is based on refrigerated dough.

To make the pizzas: An hour before baking the pizza, preheat the oven and pizza stone to 550º with the rack in the second position from the top.

Melt the butter in a large skillet over medium-low heat. Add the onions and salt, and stir to coat the onions in the butter. Cook, stirring occasionally, for 1 hour, or until browned and caramelized. Remove from heat. Note: if you can't fit all of the onions in your largest sauté pan, add them in batches, cooking the onions down to make room for more as you go.

Take the dough out of the fridge and let it rest for 30 minutes — letting it get up to room temperature will make it much easier to work with. Divide the dough in half.

Turn one of the halves out onto a lightly floured work surface, and use your palms to press it into a 6" round.

Using your fingertips, press the dough outward, dimpling the dough and stopping about 1" from the edge — this thicker edge will become your crust.

After dimpling, lift the dough off your work surface and stretch it over the backs of your hands, moving it in a circle to create an 8" to 10" round.

Return the dough to your floured work surface, and dimple it with your fingertips, again stopping 1" from the edge. After dimpling, pick the dough up again and stretch it over the backs of your hands. Continue to go back and forth like this until you have a 12" round with a 1" crust.

Spread the dough with ¼ cup crème fraîche — you want to leave the 1" crust dry.

Scatter half the caramelized onions evenly over the crème fraîche, and then sprinkle with half the grated Gruyère.

Turn the oven up to high broil.

Using a pizza peel lightly dusted with semolina flour, transfer the pizza to the preheated stone and bake until the crust is charred in spots and the cheese is melted, 3 to 5 minutes.

Use the pizza peel to remove the pizza from the oven, and allow the pizza to cool for 2 to 3 minutes.

Meanwhile, to make the slaw: In a large bowl, whisk together the mustard, crushed red pepper, vinegar, olive oil, salt, and black pepper. Add the fennel and toss in the vinaigrette.

In a small bowl, toss the apples with the lemon juice, then add them to the slaw and toss to combine.

Cut the pizza, scatter half the slaw on top, garnish with fennel fronds, and serve immediately.

Repeat steps 9 to 17 for the second pizza, then cut and garnish that pizza, and serve it immediately.
Calculate nutrition information for this recipe.