Dinner Recipes
Carne Asada Tacos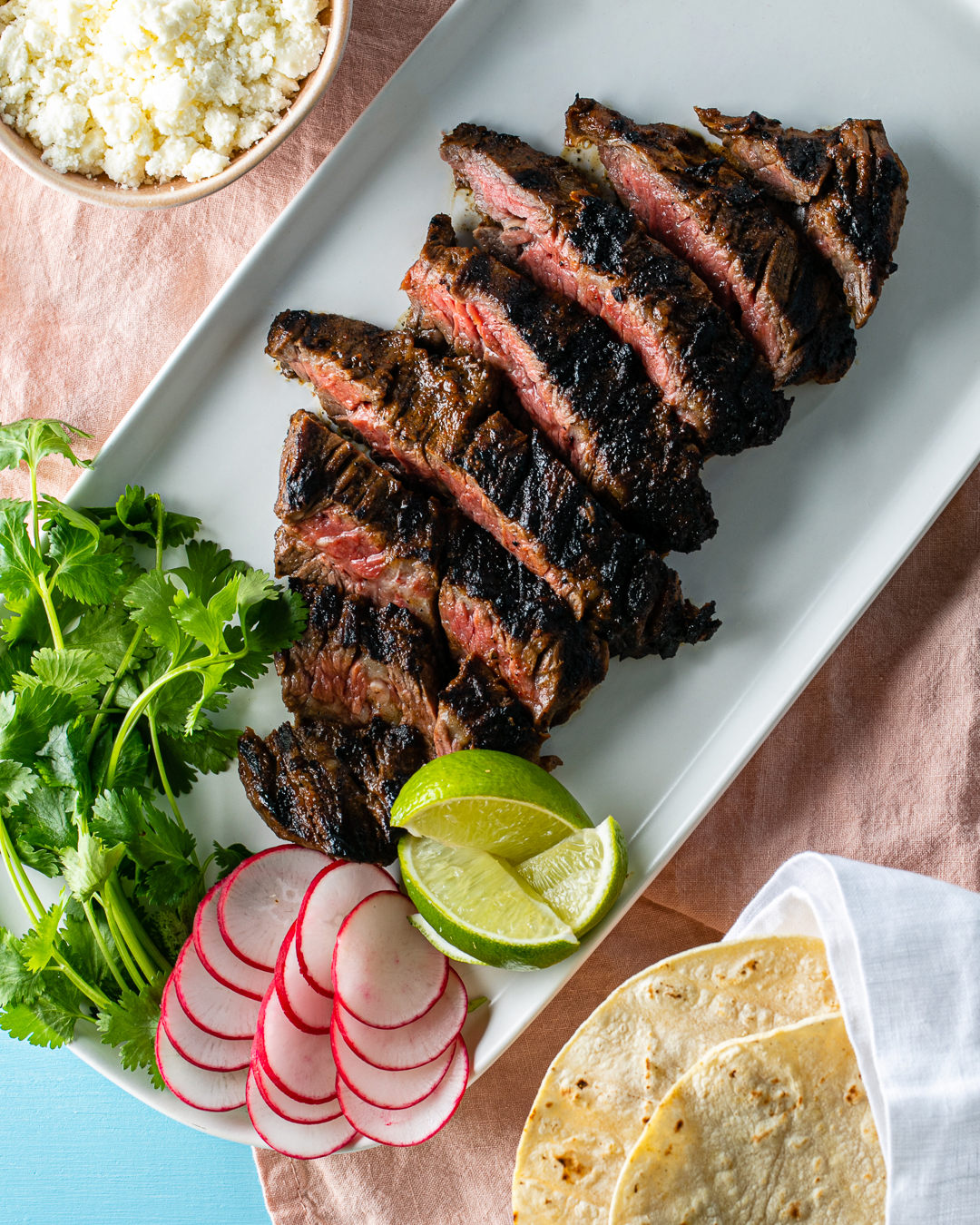 On a scale from one to perfect, tacos are pretty much perfect. And while most anything — chicken, squash, tofu — tastes amazing folded up in a warm corn tortilla, nothing beats carne asada. That charred, rare skirt steak brings so much depth to the taco. And that's especially the case here: we used Roy Choi's (of LA-based Kogi BBQ) signature carne asada marinade, which makes the meat impressively flavorful and aromatic.
Choi's recipe is a combination of garlic (a lot of it), scallions, a quarter cup of ancho chile powder, two jalapeños, fresh cilantro, beer, kiwifruit, mirin, and plenty of citrus. So much flavor! Now, don't let the jalapeños and handful of ancho chile powder scare you off — you can barely taste the heat. (We were shocked, too.) All that chile goodness adds some pleasant smokiness, and on the whole, the marinade makes the steak taste bright, fresh, and tangy. And don't let that long ingredient list frighten you, either! Making the marinade is delightfully easy: just toss everything in the blender, and whirl away.
The marinated steak chars up beautifully on the grill, and you can smell all the different ingredients of the marinade as it cooks — it's completely and utterly mouthwatering. We nestled our pieces of carne asada in toasted corn tortillas with onions, radishes, cilantro, lime, salsa, hot sauce, and queso fresco. But any of your favorite taco toppings will taste fantastic (especially with a frosty cerveza on the side).
Our tip: leftover carne asada would make a wonderful rice bowl for lunch this week … but don't count on having any leftovers; this carne is that irresistible.
Servings: 4
Ingredients
¼ cup garlic cloves, peeled (6 to 8 large cloves)
¼ large yellow onion, peeled
¼ cup scallions, trimmed and chopped into 2" pieces (about 3 thick scallions)
¼ cup ancho chile powder
2 jalapeño peppers, stemmed
½ bunch Gelson's organic fresh cilantro
¾ cup lager beer
Juice and grated zest of 1 orange
Juice and grated zest of 2 limes
½ kiwifruit, peeled
¼ cup mirin
½ tsp kosher salt, plus more to taste
1 Tbsp freshly ground Gelson's black pepper, plus more to taste
¼ tsp granulated sugar
2 lb skirt steak
Grapeseed oil, for brushing grill
Corn tortillas and your favorite taco toppings, for serving
Directions
In a blender or food processor, combine the garlic, onion, scallions, chile powder, jalapeños, cilantro, lager, orange juice and zest, lime juice and zest, kiwifruit, mirin, salt, pepper, and sugar. Purée until smooth, about 30 seconds.

Pat the steak dry and season both sides with salt and pepper. Place the steak in a shallow dish, and pour the marinade over the steak until it's fully submerged. Cover and leave to marinate in the refrigerator for at least 1 hour or up to 2 days.

When you're ready to grill, pull the steak out of the marinade and hold it above the dish, letting the excess marinade drip off, about 30 seconds.

Heat the grill to high heat, and brush with grapeseed oil. Cook the steak for 10 minutes, flipping halfway through, until the outside is nicely charred and the inside is medium (125°), or done to your liking.

Rest the meat for 5 to 10 minutes under tented foil. Slice the steak, and serve warm with corn tortillas and your favorite taco toppings.
Recipe adapted from: "L.A. Son" by Roy Choi
Calculate nutrition information for this recipe.