Recipes
Carrot-Ginger Soup with Coconut-Roasted Shrimp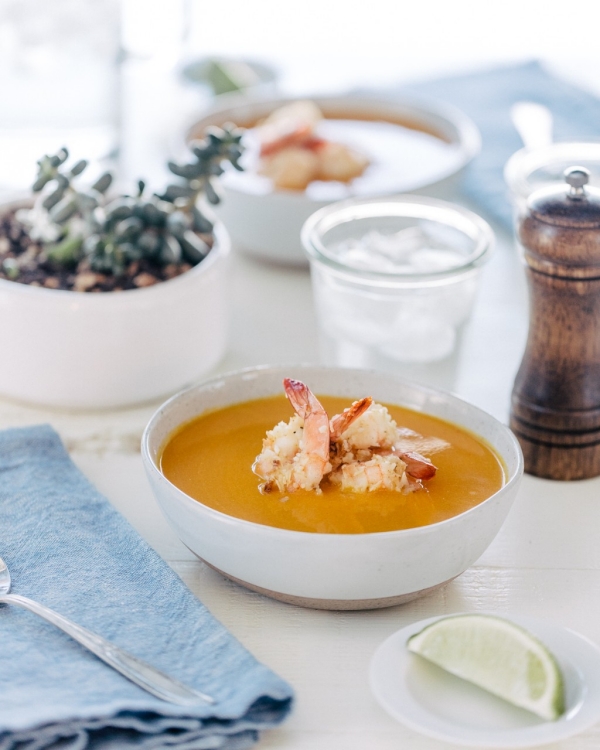 Soup and coconut-roasted shrimp may sound like an odd combination, but trust us, it works. The carrots in the soup are really just a vehicle for the peanut butter, ginger, red peppers, and lime. So the soup is a little like the spicy peanut dipping sauce that comes with Thai spring rolls — only light and creamy and very drinkable. It tastes amazing with the shrimp. They go into the oven coated in coconut and cayenne and emerge looking like gorgeous shrimp macaroons, tender and juicy with a crunchy crust and a salutary pepper kick.

We love the shrimp, and they are so easy to pull off that we've taken to keeping a bag of frozen shrimp in the freezer so that we can make them spur of the moment. They're fantastic on a salad, and we've even served them as an appetizer with dipping sauce.

Our tips: The soup has enough zippy heat to perk you up, for sure, but the fats in the coconut and dairy milk keep it from veering into too spicy. If you want to play with the heat, try taking the crushed red pepper up or down a notch by the ⅛ teaspoon. And if you've got a dairy-free friend coming to dinner, you can replace the skim milk with plain coconut milk beverage.

Servings: 4

Ingredients
2 Tbsp extra-virgin olive oil
1 medium onion, coarsely chopped
4 large carrots (¾ pound), chopped
1 Tbsp finely grated ginger
½ tsp crushed red pepper
3 cups low-sodium chicken broth
3 Tbsp soy sauce
2 Tbsp fresh lime juice
2 Tbsp light brown sugar
1 Tbsp smooth peanut butter
1 tsp Asian sesame oil
1 cup skim milk
¼ cup light coconut milk
Kosher salt and freshly ground pepper
16 large shrimp, shelled
1 ½ Tbsp shredded coconut
Pinch of cayenne pepper


Directions
Preheat the oven to 425°. If you're using frozen shrimp, defrost them in a bowl of cold water and pat dry.
In a large saucepan, heat 1 tablespoon of the olive oil. Add the onion and cook over moderate heat until softened, about 4 minutes.
Add the carrots, ginger, and crushed red pepper and cook for 6 minutes.
Add the broth, bring to a boil, and then simmer until the carrots are very tender, about 15 minutes. Remove from the heat and stir in the soy sauce, lime juice, brown sugar, peanut butter, and sesame oil.
In a blender, purée the soup until it's smooth.
Return it to the saucepan and stir in the skim milk and coconut milk.
Season the soup with salt and pepper and keep it warm while you make the shrimp.
Toss the shrimp with the coconut, cayenne, and remaining tablespoon of olive oil. Season with salt and pepper. Spread the shrimp on a parchment-lined baking sheet and roast for 8 to 15 minutes — or until the shrimp is pink and the coconut is golden and toasty.
Ladle the carrot-ginger soup into warmed bowls and garnish with the coconut shrimp.


Recipe source: Food & Wine