Dinner Recipes
Cauliflower Mac & Cheese
Calling all veggie lovers: If you're looking for a fantastic recipe for cauliflower mac and cheese, this IS it. We coat tender yet crunchy cauliflower in a super creamy cheese sauce, top it with gluten-free panko and loads of cheese, and bake it 'til it's golden brown. Gooey, crispy, crunchy — it's a wonderful thing. And, if you've been thinking about how to reframe your Thanksgiving menu, it'll be the perfect low-carb, gluten-free complement to a traditional roast turkey. Everyone, including the kiddos, will love it.
We borrowed the basic approach to the cheese sauce from our recipe for Mac & Cheese, but we've given it a little more pluck. We start with a garlic-infused brown butter and then fold in heavy cream, sharp cheddar, and a nice, smoky Gouda. A small amount of Dijon mustard and cayenne pepper balances out the rich flavors. The result is tangy sauce with some subtle, smoky depth — just light and complex enough for the foodie adults, but not too flavorsome for the kids. It tastes amazing on the nutty cauliflower.
Our tip: Don't overcook the cauliflower. The cauliflower florets should be parboiled until they're just fork-tender — you want some crunch left in those crucifers.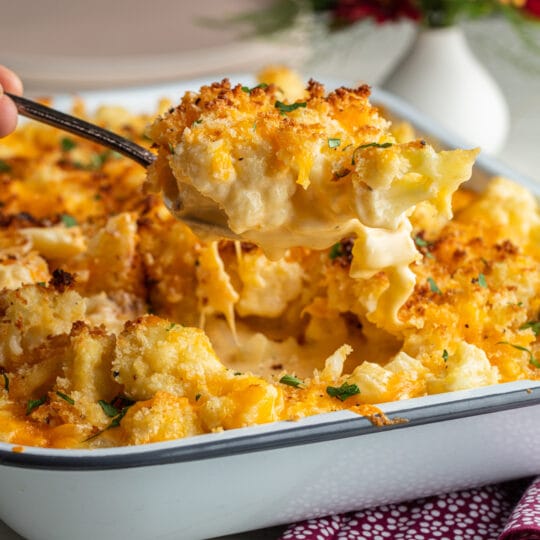 Dinner
Cauliflower Mac & Cheese
Serves: 6
Ingredients
4 medium cauliflower heads, cut into bite-size florets
4 Tbsp unsalted butter, divided
1 5-oz can evaporated milk
8 oz Gelson's sharp cheddar cheese, grated, plus more for topping
8 oz smoked Gouda cheese, grated, plus more for topping
⅛ tsp Gelson's cayenne pepper
Freshly ground Gelson's black pepper, to taste
½ cup gluten-free panko breadcrumbs
¼ cup freshly grated Parmesan cheese
2 Tbsp finely chopped parsley
Directions
Bring a large pot of water to a boil. Season generously with kosher salt and add the cauliflower florets. Cook until just fork-tender, 4 to 5 minutes. Strain and set aside.

To make the cheese sauce: In a medium heavy-bottomed pot over medium heat, melt 2 tablespoons unsalted butter. Cook until the butter browns, stirring occasionally, 5 to 7 minutes.

Stir in the garlic and cook until fragrant, about 30 seconds.

Stir in the heavy cream and evaporated milk. Cook, whisking continuously, until almost simmering, 5 to 7 minutes. Note: you don't want the cream to simmer while you're adding the cheese, so lower the heat if it starts to bubble.

Slowly sprinkle 2 ounces sharp cheddar cheese into the hot cream, whisking continuously. Repeat 3 times with the remaining cheddar, and again with the smoked Gouda cheese. Do not add too much cheese at one time; allowing the cheese to melt completely between additions will give you a smooth, creamy cheese sauce.

Whisk in the Dijon mustard and cayenne pepper, season with kosher salt and black pepper, and remove from the heat. The cheese sauce will be very creamy.

Add the cauliflower to the cheese sauce and stir to coat all the florets.

Transfer the cauliflower mac to a 9x13" baking dish and top with more shredded cheddar and Gouda. Preheat the oven to broil.

To make the breadcrumbs: In a small saucepan over medium heat, melt the remaining 2 tablespoons unsalted butter.

In a small bowl, toss together the panko breadcrumbs, Parmesan cheese, melted butter, and a pinch each of kosher salt and black pepper. Sprinkle the mixture over the cauliflower.

Broil the cauliflower on high for 5 minutes, or until the cheese begins to bubble and the breadcrumbs are golden.

Allow the cauliflower mac and cheese to cool for 5 to 10 minutes. Garnish with the chopped parsley and serve.