Recipes
Cauliflower & Potato Curry Recipe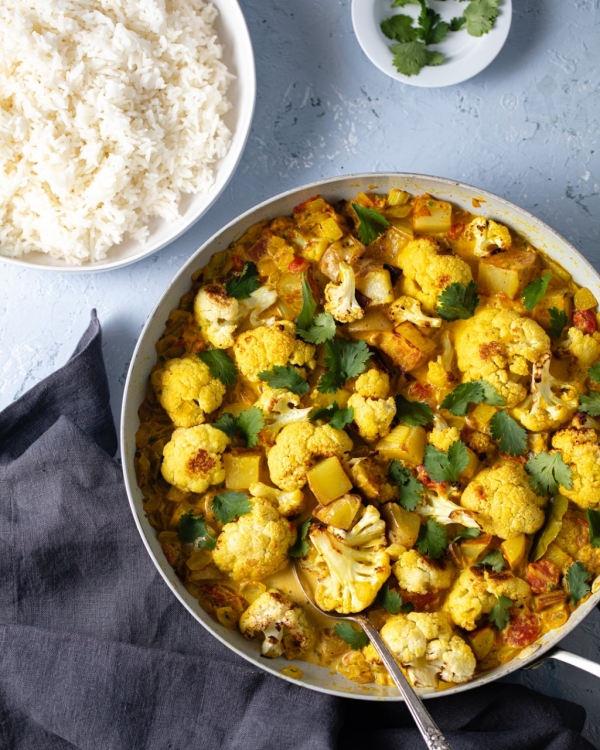 One of the things we love about curries is that they're made with the everyday spices you'll find in a well-stocked spice cupboard, which is to say that you can throw one together at the last minute — and make it just as sweet or spicy as you like. Here, we've gone with a classic combination of coriander, cumin, turmeric, and cayenne. We've added fresh ginger for a sweet zing and a single serrano chile for just a hint of heat. The result is a fragrant, mild curry with lots of earthy-sweet depth. It tastes wonderful with the cauliflower and potatoes — a classic combination.

A word about the veggies: We roast them on a hot baking sheet in a very hot oven for just five minutes or so, and then finish them in the curry. It's tempting to just toss them in the curry for the whole time, but doing it this way gives them a terrific texture. The cauliflower is al dente; the potatoes are creamy and light, and yet still a little dense.
This is a warm, satisfying stew, the perfect antidote to the fall doldrums. We love how the turmeric dyes everything in the dish a golden yellow. Cauliflower has never looked so sunny. Make it on a busy weeknight: it comes together in under a half hour, and if you serve it with something to soak up that creamy sauce — a mound of basmati rice or some warm naan — it's a hearty one-bowl meal. If you have leftovers, package them up for later in the week. The curry is even tastier on day two, and it reheats beautifully.
Servings: 4
Ingredients for the Cauliflower & Potato Curry
1 Tbsp vegetable oil
2 ½ cups diced gold potatoes (1¼ lbs)
1 small head cauliflower, cut into florets
2 Tbsp unsalted butter
1 tsp cumin seeds
1 tsp ground coriander
½ tsp turmeric
¼ tsp cayenne pepper
1 Gelson's organic bay leaf
1 medium yellow onion, chopped
1-inch piece fresh ginger, peeled and grated
3 garlic cloves, grated
1 serrano chili, seeded and minced
½ cup canned, chopped San Marzano tomatoes
1 ½ cups vegetable broth
½ cup heavy cream
½ tsp garam masala
1 Tbsp lime juice
Kosher salt, to taste
Black pepper, to taste
½ cup chopped Gelson's organic cilantro leaves, for garnish
Cooked basmati rice or naan, for serving
How to Make the Cauliflower & Potato Curry
Preheat the oven to 500° and place a rimmed baking sheet in it.

In a large bowl, toss the potatoes and cauliflower with the vegetable oil. Season with salt and pepper.

Spread the vegetables on the hot baking sheet and bake for 5 to 7 minutes, tossing halfway through, until golden brown and al dente.

Meanwhile, roughly grind the cumin seeds with a mortar and pestle or a spice grinder.

In a large sauté pan, melt the butter over medium heat. Add the cumin, coriander, turmeric, cayenne, and bay leaf and cook until fragrant, about 1 minute.

Add the onion and cook until soft and translucent, 5 to 7 minutes. Stir in the ginger, garlic, and serrano chili and cook until fragrant, about 1 minute.

Reduce the heat to medium low. Stir in the tomatoes, vegetable broth, and heavy cream. Bring to a simmer and stir until beginning to thicken, about 5 minutes.

Add the cauliflower florets and potatoes and return to a simmer until the vegetables are cooked through, about 5 minutes. Stir in the garam masala, lime juice and season with salt and pepper.

Top with cilantro and serve over rice or with naan.