Recipes
Celery, Apple & Peanut Salad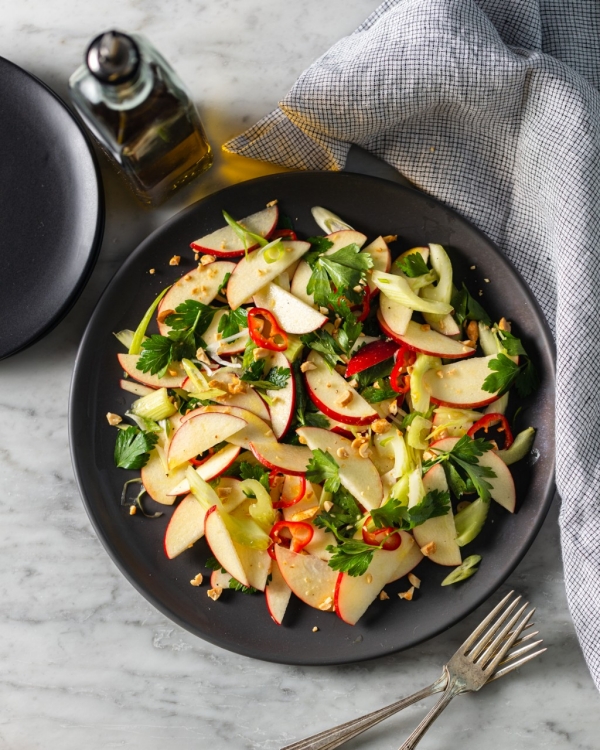 Aromatic celery, crisp apples, curly green onions, roasted peanuts, parsley leaves, and slivers of red jalapeño — this salad combines a surprising mix of sweet, nutty, and spicy flavors with outstanding crunch. We tossed it with lemon juice and olive oil, a simple but punchy dressing that helps the apples hold their color. Eating it is pure joy (crunch, crunch, crunch), and it feels like you're really doing something good for yourself because it's just about as fresh and healthy as they come.
It's a nice, hearty salad all on its own, but a light protein, like a rotisserie chicken, will make it a square meal without overwhelming its more subtle flavors. You could serve the chicken alongside the salad, or if you're working with leftovers, toss it into the jumble — more texture!
Our tip: We like to take this bright, perky salad along on picnics, hikes, and other outdoorsy day trips because it travels really well. The lemon dressing keeps the apples fresh, but you can also slice them into the salad when you're ready to eat.
Servings: 4
Ingredients
4 large celery stalks, sliced ¼-inch thick, diagonally
4 green onions, thinly sliced on a steep diagonal
2 SweeTango apples, halved, cored, cut into ¼-inch-thick wedges
1 red jalapeño, thinly sliced, seeds removed
3 Tbsp lemon juice, plus more to taste
Kosher salt, to taste
Freshly ground black pepper, to taste
¼ cup roasted peanuts, coarsely chopped, divided
½ cup parsley leaves, divided
2 Tbsp extra-virgin olive oil, plus more for drizzling
Directions
In a small bowl, soak the celery and green onions in ice water for 20 minutes, which will make the celery extra crisp and encourage the green onions to curl. Drain the water, dry the veggies on paper towels, and transfer them to a large salad bowl.

Add the SweeTango apples, red jalapeños, and lemon juice, and season with salt and pepper. Toss to combine. Taste and adjust the seasoning with more salt, black pepper, and lemon juice, if needed.

Add half of the peanuts, half of the parsley leaves, and the olive oil and toss to combine.

Garnish the salad with the remaining peanuts and parsley and a drizzle of olive oil. Chill until cold before serving, about 15 minutes.
Recipe adapted from: Bon Appétit