Recipes
Celery Root Soup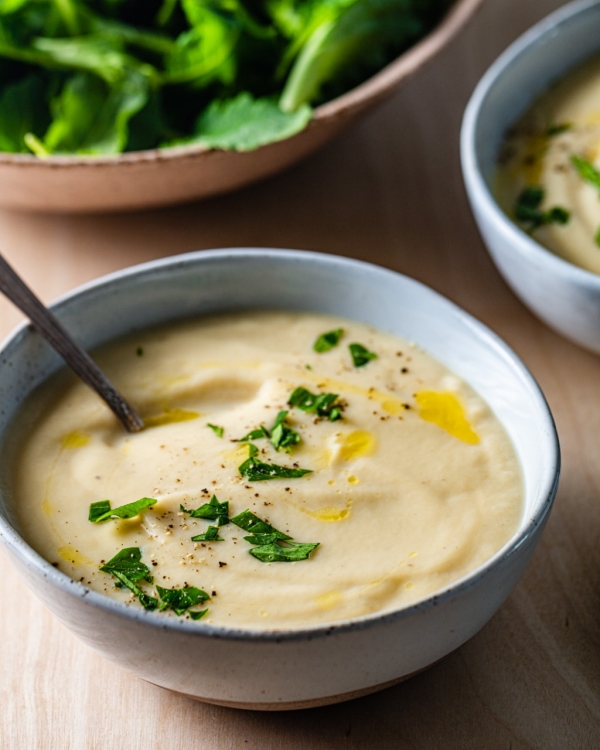 For us, fall evenings call for a thick, creamy soup, like this purée of root vegetables. It's particularly well-suited because it's made with celery root, turnips, and rutabaga, so it has a lighter texture than a potato-leek soup. We've whirled it up with leeks, herbs, butter, and lemon — it tastes so fresh. Given its pale color, the first spoonful is actually a bit of a revelation: earthy-sweet and deeply savory with plenty of bright lemon, black pepper, and just the tiniest hint of bitter attitude.
It's the kind of soup you can throw together quickly for a weeknight meal or the opening act of a larger menu — everything is rough-chopped because it's all going into the blender anyway. It's also a fun soup to play with: The balance of butter, leeks, and root veggies creates a creamy, comforting base. Here, we've used thyme, salt, black pepper, and lemon to heighten the veggies' more complex flavors and to add some brilliance and depth. You can take the lemon and pepper up or down a notch and even swap in other herbs and spices, like dill, ginger, or nutmeg.
If you're having a special dinner, we'd serve this soup as a first course — and garnish it with bright green herbs for color. It will also make a wonderful light dinner served alongside a hunk of crusty bread and a leafy green salad. Or, if you're very hungry, perch a sandwich on the plate with it. Something dunkable.
Servings: 6 to 8
Ingredients
6 Tbsp unsalted butter
2 large leeks, chopped, soaked, drained (white and light green parts only)
3 celery stalks, diced
3 garlic cloves, finely chopped
3 Gelson's organic thyme sprigs
2 Gelson's organic bay leaves
1 ½ lb celery root, peeled and cut into 1-inch pieces
1 lb turnips, peeled and cut into 1-inch pieces
1 lb rutabaga, peeled and cut into 1-inch pieces
8 cups water
2 tsp kosher salt, plus more to taste
¾ tsp freshly ground black pepper, plus more to taste
3 Tbsp lemon juice, plus more for serving
Extra-virgin olive oil, for serving
Chopped parsley, for serving
Directions
In a large, heavy-bottomed pot, melt the butter over medium heat. Add the leeks and celery stalks and cook, stirring occasionally, until the vegetables are tender, about 5 to 7 minutes.

Stir in the garlic, thyme, and bay leaves. Cook 1 minute more.

Add the celery root, turnips, rutabaga, water, salt, and pepper. Bring to a boil, cover, and reduce the heat to a simmer, cooking until all of the vegetables are tender, 30 to 40 minutes.

Remove the pot from the heat and discard the thyme and bay leaves. Transfer the soup to a blender, filling the blender half full. Purée the soup until smooth, about 30 seconds.

Transfer the puréed soup to a clean pot, and continue blending the rest of the soup. If the soup is too thick, add a little water. Season with lemon juice and more salt and pepper to taste.

To serve, ladle the soup into bowls and top with a drizzle of olive oil, a few drops of lemon juice, a crack of black pepper, and parsley.
Recipe adapted from: New York Times Cooking